We hope you are all having a great week, as you may have noticed, the possibility of making an unstake has been enabled, so some investors are already enjoying the profits obtained so far, but, we hope that a large majority will want to continue investing in WOX-DEFI but as we have been managing it since the beginning, with a long term view.
For this reason, we will announce the changes we are making regarding the interest generated both for staking in WOX-DEFI and for adding liquidity to the project. It will still be a big stake compared to other projects, but we will prioritize those investors who sign up to stay on board longer so that together we can build something much bigger.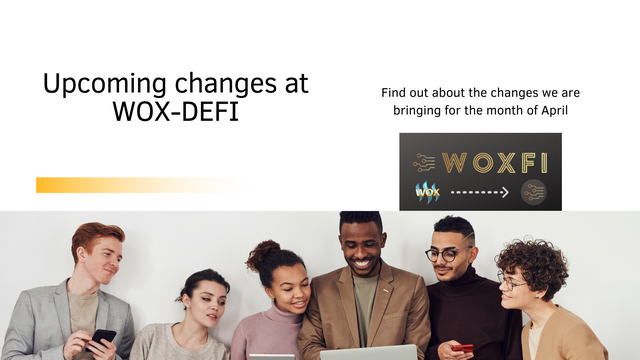 Edited in Canva / Source
Offer as of April 1, 2022
Liquidity mining
1 month = 100%
6 months = 700%
9 months = 1000%
12 months = 1500%
The amounts you can see are fixed, not as in other cases, which vary greatly and only those who enter to invest first take advantage of good margins, and it can also be noted that higher benefits are being offered to all those who sign up to stay with their investment for a longer period of time.
As you can see, the interest rates are still well above what we can see in other projects, but with a view to favor those who have their vision set beyond the month.
And we will also have changes in the earnings obtained by making Stake, which will give 240% in APY (for 1 year).
We are working to build something lasting in time.
---
As always, if you have any questions, please feel free to contact us. We invite you to join our discord channel: