Weiter unten in deutsch...
Thanks to our unbeatable view, we not only have a full panoramic view of Berlin (at least when the weather is nice), but we can also see nearby where you can't see anything from the street above the edge of the roof...
Hidden in one of the neighbouring backyards is a row of buildings / halls / offices whose users remain anonymous except for one: there is, as is well known, a small theatre that has its fundus here. They are plain functional buildings that extend into the third backyard. That's all I know about them...
For a few weeks now, there has been a lot of rumbling on one of the roofs. Lots of material has been hoisted onto the roof and neatly lined up. Some, I think ten, skylights are lying around ready to be installed. Gas bottles, battens of various dimensions... Day 1 left us curious....
The following day, the neatly arranged piles were... rearranged. Everything is now in a completely different position. And became a little more of everything. Day three brought hustle and bustle, numerous construction workers and great heat. The rolls were moved again, one of the skylights unpacked and adjusted on the slope. Later the roofing felt was removed, roof battens and beams were cut out and broken - we were sure: there will be a lot of daylight from above in the future...
Then we spent a day out of the house. To our surprise, the next day the already broken off roof appeared as new again: with new beams, battens, vapour barrier and roofing felt as before. So it wasn't that it had been damaged in any way and needed to be replaced. The skylight was removed again.
And since then it has been quiet. Building quiet. Nothing more happening, nothing more in motion. The weather continued to be fine, there are no visible reasons for the construction stop.
And now there are questions...: you tear open an intact roof, measure in a skylight and then close everything up again as before? Wrong spot chiselled open? The client has changed his mind (too much light is not good at all...?) The material is stored peacefully and so far unmolested in its assigned place and is certainly enjoying a certain loss of value right now... Maybe I should also mention that a crazy accumulation of rubbish and waste has joined the new building materials: who knows when the next wind will 'clean up'...
I know from my own practice situations where a pause has to be taken because a certain permit has not yet been obtained or a progress payment has not been made. But these are the absolute exceptions. Here, on the other hand, it is one of a series of long unfinished building projects; a corner house in our street was completed in over two years, during which time the builders changed three times. At the school next door, a huge scaffolding stood for almost a year. It was erected very quickly, very precisely, very massively and certainly very expensively, making a lot of noise... The scaffolding disappeared again so quietly that it seems unreal: nobody worked on it the whole time.
What's going on - other companies are not getting any more deliveries because the manufacturers and the transporters are having difficulties? I am really unhappy when existing resources are somehow blocked and presumably go to waste.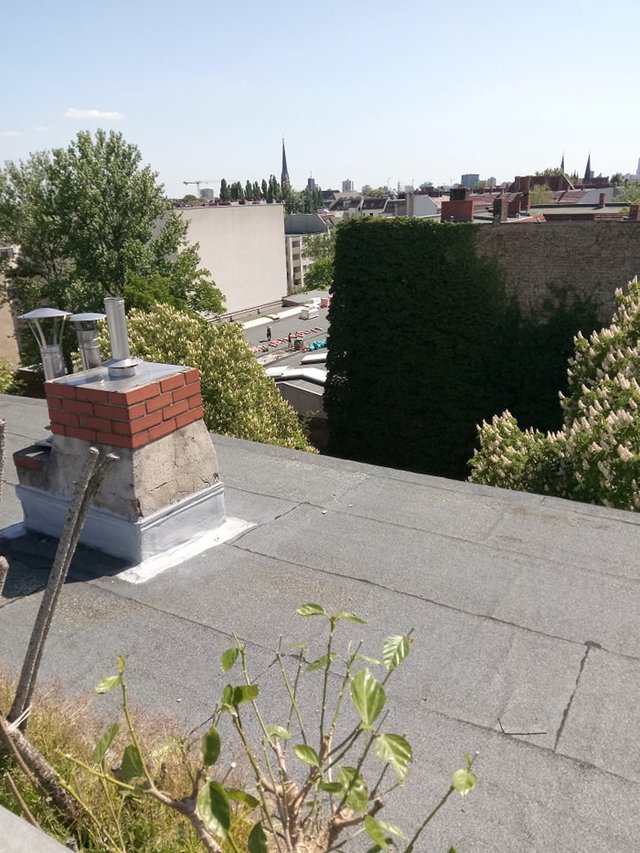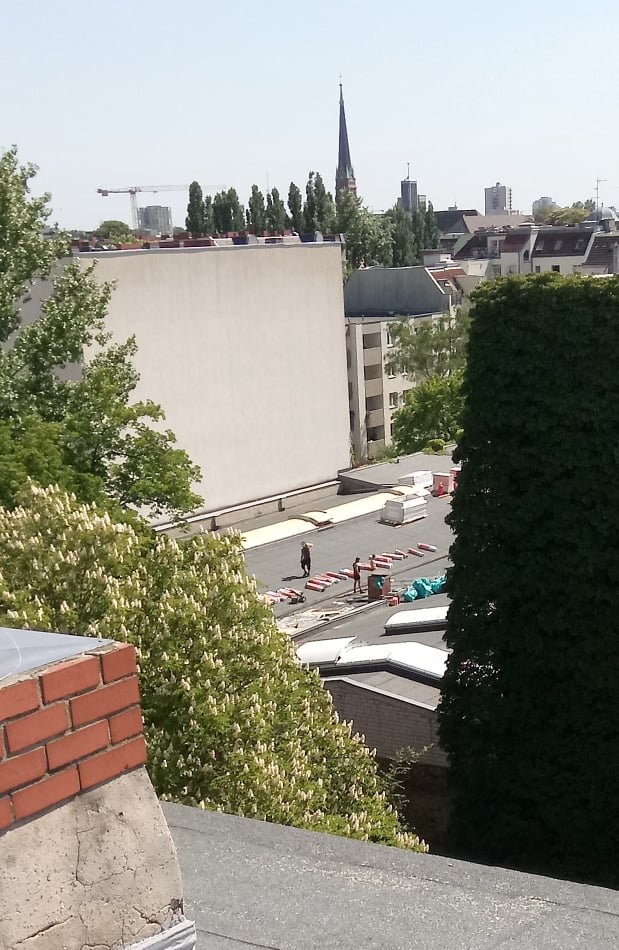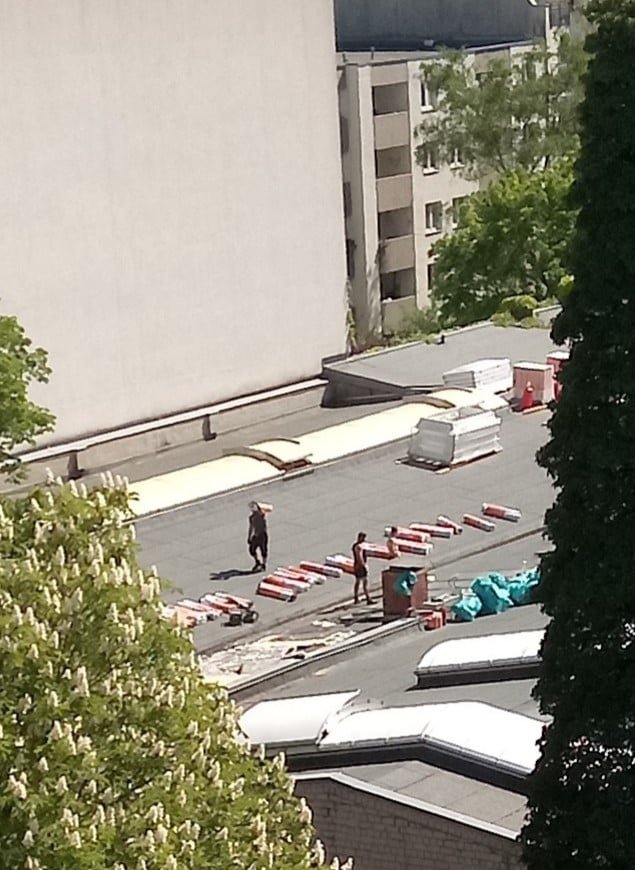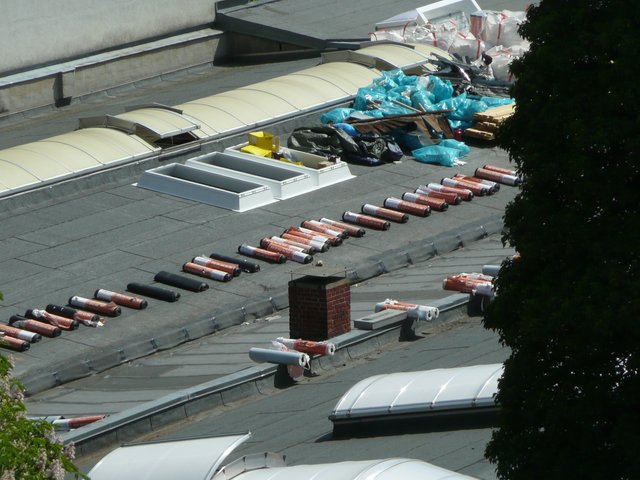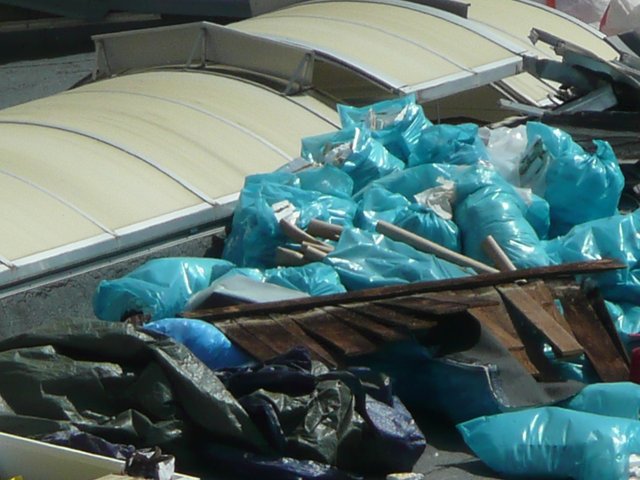 deutsche Version:
Dank unserer unschlagbaren Aussicht haben wir nicht nur voll den Rundblick über Berlin (zumindest bei schönem Wetter), sondern können auch ganz in der Nähe dahin gucken, wo man von der Straße aus oberhalb der Dachkante nix mehr sieht…
In einem der benachbarten Hinterhöfe versteckt sich eine Reihe Gebäude / Hallen / Kontore, deren Nutzer bis auf einen anonym bleiben: es gibt bekanntermaßen ein kleines Theater, das hier seinen Fundus hat. Es handelt sich um schlichte Zweckbauten, die sich bis in den dritten Hinterhof erstrecken. Mehr ist zumindest mir nicht geläufig…
Seit einigen Wochen rumort es nun gewaltig auf einem der besagten Dächer. Jede Menge Material wurde auf die Dachfläche gehievt und ordentlich aufgereiht. Einige, ich glaube zehn, Oberlichter liegen einbaubereit herum. Gasflaschen, Lattung verschiedener Abmessungen… Tag 1 ließ uns neugierig zurück…
Am Folgetag wurden die schönen säuberlichen Stapel… umsortiert. Liegt jetzt alles ganz anders. Und wurde von allem noch ein wenig mehr. Tag drei brachte Hektik und Lärm, zahlreiche Bauarbeiter und große Hitze. Die Rollen wurden wiederum umgelagert, eins der Oberlichter ausgepackt und auf der Schräge angepaßt. Später die Dachpappe abgetragen, Dachlatten und Träger herausgeschnitten und gebrochen – wir waren uns sicher: da gibt es künftig sehr viel Tageslicht von oben…
Dann weilten wir einen Tag außer Haus. Zu unserer Überraschung erschien anderntags die bereits abgebrochene Dachfläche wieder wie neu: mit neuen Trägern, Latten, Dampfsperre und Dachpappe wie zuvor. Also nicht, daß sie irgendwie schadhaft gewesen wäre und der Erneuerung bedurft hätte. Das Oberlicht wurde offensichtlich wieder entfernt.
Und seitdem ist Ruhe. Bauruhe. Nichts mehr passiert, nichts mehr in Bewegung. Die Witterung war weiterhin prima, sichtbare Gründe für den Baustopp gibt es nicht.
Und nun sind da Fragen…: man reißt ein intaktes Dach auf, mißt ein Oberlicht ein und verschließt dann alles wieder wie gehabt? Falsche Stelle aufgemeißelt? Der Auftraggeber hat es sich anders überlegt (zu viel Licht ist gar nicht gut…?) Das Material lagert friedlich und bislang unbehelligt an seinem zugewiesenen Platz und erfreut sich bestimmt gerade eines gewissen Wertverlustes… Vielleicht sollte ich noch erwähnen, daß sich eine irre Müll- und Abfallansammlung zu den neuen Baustoffen gesellt hat: wer weiß, wann der nächste Wind 'mal so richtig aufräumt...
Ich kenne aus meiner eigenen Praxis Situationen, wo eine Pause eingelegt werden muß, weil eine bestimmte Genehmigung noch nicht vorliegt oder eine Abschlagszahlung ausbleibt. Das sind jedoch die absoluten Ausnahmen. Hier reiht es sich dagegen ein in eine Reihe lange unvollendeter Baumaßnahmen; ein Eckhaus in unserer Straße wurde in über zwei Jahren fertiggestellt, während dessen drei Mal die Bauherren wechselten. An der Schule nebenan stand ein knappes Jahr ein gewaltiges Baugerüst. Das wurde unter viel Lärm sehr schnell, sehr präzise, sehr massiv und gewiß sehr teuer aufgebaut… Das Gerüst verschwand so sang- und klanglos wieder, daß es einem unwirklich vorkommt: gearbeitet hat in der ganzen Zeit niemand darauf.
Was ist los – andere Firmen bekommen gerade keine Lieferungen mehr, weil die Hersteller und die Transporteure Schwierigkeiten haben? Ich bin echt unfroh, wenn dann vorhandene Ressourcen irgendwie blockiert und vermutlich verkommen werden.