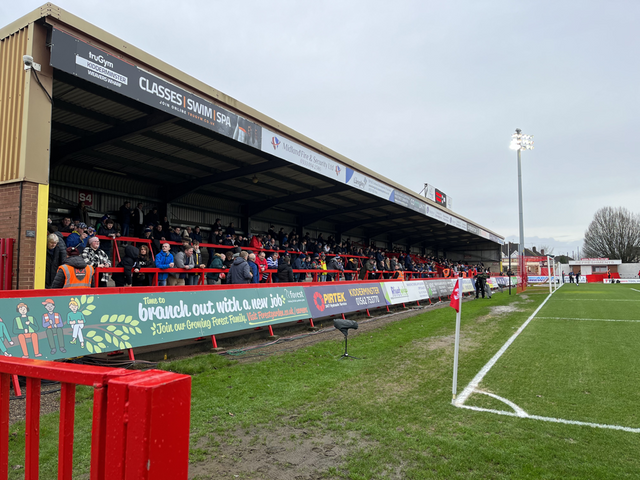 "The Magic of the Cup" - A long held and well known phrase in English football to help describe the emotion when non league teams get to play prestigious matches against top flight opponents. So when Reading were drawn away to Kidderminster Harriers, the lowest ranked side left in the FA Cup 3rd Round, I simply had to go - especially as it's a ground that I've never been to. It also meant that I could wear my "lucky" cup hat (with bells on) - a hat that I believe has never seen a Reading victory since it purchased when we lost the play-off final to Walsall back in 2001. Magic.

The Journey
Kidderminster's a long way from Eastbourne (roughly 5 hours) so I decided to stay overnight in Reading to break the journey up and visit a friend in Worcester on my way. So I set off from Winnersh Triangle (a small train station on the outskirts of Reading) with a few hours in hand to catch up with my friend. Much to my surprise, I wasn't the only one setting off early. When I reached Reading Station, the platform was packed with expectant "fans", carrier bags full of beer, ready for the long journey North. Some faces I recognised and when the train arrived, the train quickly filled.
I soon realised why I recognised these faces... I've been travelling to Reading away games for about 25 years now and many of this lot had been too - It was Reading's "Firm". The hooligan element dressed in their Stone Island gear and Burberry (Aquascutum) scarf getting tanked up. By 11am, our train arrived in Worcester where they would follow me to the local Wetherspoons where I was meeting my friend for lunch - most of them already 5 beers in.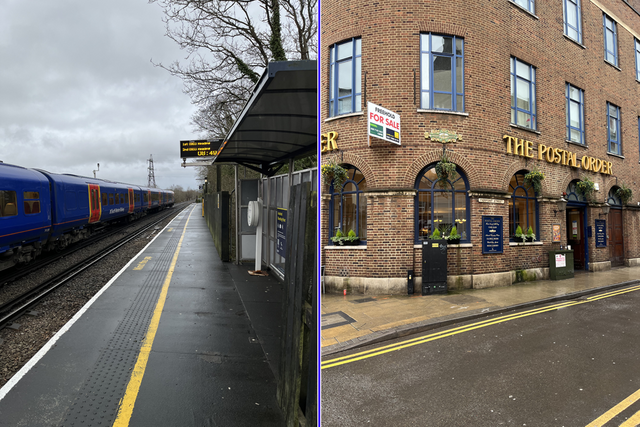 Welcome to Aggborough Stadium
Kidderminster Harriers play in the 6th tier of English football (the 2nd tier of Non League Football) - the National League North and their ground reflects this. A nice, old skool terraced ground with a capacity of around 5,000, nearly 1,500 of which would be the travelling Reading fans. (The official attendance was 5,178, which includes 1,458 Reading supporters.) For me, it's grounds like this that make football - Not your modern, fancy stadia selling gourmet burgers and fine ale. And for them, a big game - so I bought a half/half scarf 🙂
After following the signs reading "Away Fans" with helpful arrows to direct me, I reached a closed gate and was told to go around the other way - i.e. walk all of the way around the stadium. Wankers Stupid signs.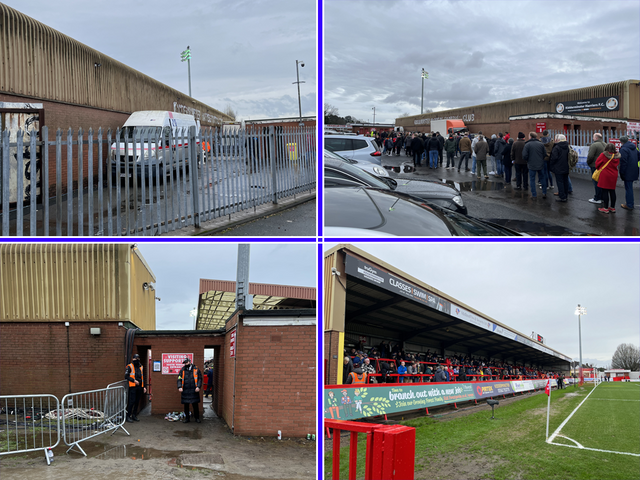 Pre Kick Off
It's probably been 3 years since I last went to a football match - maybe longer... and it was good to be back. We had a covered terrace which is always good for making some noise and the travelling fans were in fine voice...

The Match
I don't know how much I can say about this. This is the worse Reading team that I can remember for a long, long time and is battling to stay in the Championship. The last time we were in this league position (relegation to "Tier 3"), I'd travelled to Oxford United and my memories of that day were less to do with the football and more to do with the riot afterwards - more on that later.
We were dreadful. And against the run of play, we took the lead narrowly before half time. George Pușcaș scoring up the other end of the pitch, his first goal since I don't know when... his first goal this season which for a Forward who's made 18 starts is pretty shit. (5th April 2021 was his last goal.) For a guy on £14,000 per week, I expect more. That's roughly £560,000 he's been paid since he last scored. Regardless, he got his song. Probably the last time we'll ever hear it sung.
1-0 up at Half Time, happy days but we're good at throwing away leads. Only last weekend we managed to throw away a 2 goal lead at home to bottom of the league Derby County in the last 10 minutes but this is different - these guys are Non League and we have a Premier League winner and full internationals on the pitch.
Then some dick head decides to rip an advertising board off the front of the stand. We're talking a 2m x 0.5m piece of fairly hard plastic with sharp corners. In their dick-headedness, they chuck it in the air and it obviously hits somebody. Somehow, this didn't end in violence as an angry father hunted for blood. And who would have blamed him if he had found it.

2nd Half
Back to the football then... The 2nd half starts and they continue to dominate. More so than in the 1st half and after much endeavour, they equalise after 70 minutes. Surely our players would up their game but the response was typical of matches this season. Non existent. They kept going like so many teams have done against us this season and I was hoping we'd hold on for extra time but the inevitable goal came. We were losing 2-1 to a team that plays at the same Non League level as my local team - Eastbourne Borough. This was embarrassing and the atmosphere had changed. This was no longer a fun day out to watch football, things were getting sour.
The board came up - 12 minutes of injury time (6 substitutions, 3 injuries and 3 flares have a tendency to delay things) so there was a little hope of us doing something. Not much though, we hadn't had a shot all half. Then as Kidderminster were on the attack down the other end of the pitch, another dick head, within the group of the original dick head throws a flare onto the pitch, much to the disbelief of the fans around us. Whilst they attack, nobody's going to notice, if we hit them on the break, the game will get stopped - which is exactly what happened. 3 on 2, our best (and only) chance of the half stopped because of some stupid kid. If things were looking ugly before, this was very nearly the tipping point. People were furious.

Post Match
As injury time drew to a close, I was wondering where the police were. The home fans were going to invade the pitch - it was inevitable having won their biggest game of the season and given the people I'd travelled up with, it wasn't going to be just the home fans. The final whistle goes and the pitch invasion happens. From a corner in the away end, it was clear the it wasn't just Kidderminster fans there and those intent on trouble, got exactly what they wanted. As the gobshite kids came to taunt the away end, unaware of the Reading presence on the pitch already, it kicked off. Knowing that most of the dick heads would stay behind to enjoy the lack of police presence, I decided it was time to make my way down to the train station and head home. Not that this was entirely uneventful but probably less so than it would've been to hang around (although the days of opposing fans taking over the opponent's stands are behind us).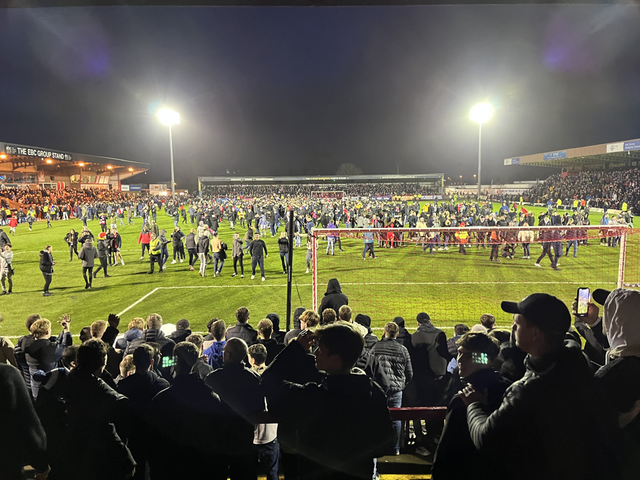 If the West Midlands Constabulary decide (not) to police their 4th Round game against West Ham, I dread to think what will happen. For me though, another fun Away Day and I can't wait for my next one. One thing's for certain though, it'll be a long time before I take the-toddler-gorilla to a match.

Match Highlights
You can even see me in my "lucky" hat if you look closely...
Source

Previous Away Day Tales
Episode 1 - Anfield (20th October 2012)
Episode 2 - The Manor Ground (17th March 1998)
Episode 3 - Griffin Park (20th April 2002)
Episode 4 - Upton Park (31st March 2012)
Episode 5 - Old Trafford (16th March 2013)
Episode 6 - Wembley Stadium (18th Apr 2015)
Episode 7 - Deepdale (26th Oct 2002)
Episode 8 - Hillsborough (11th Jan 2003)
Episode 9 - Highfield Road (26th Dec 2002)
Episode 10 - Ashton Gate (30th Mar 2002)

If you enjoy reading about my Away Days, please let me know in the comments, especially if there's a ground that you'd like me to write about (assuming I've been there).
---
All photos and videos are my own unless a Source is provided
---
I'm always interested in reading your views about Fantasy Sports or Sport in general either in the comments or via your own post, remembering to post in World of Xpilar and using the tag #woxsports or #woxfantasysports.



Footer Source 1Source 2Source 3 + Photoshop