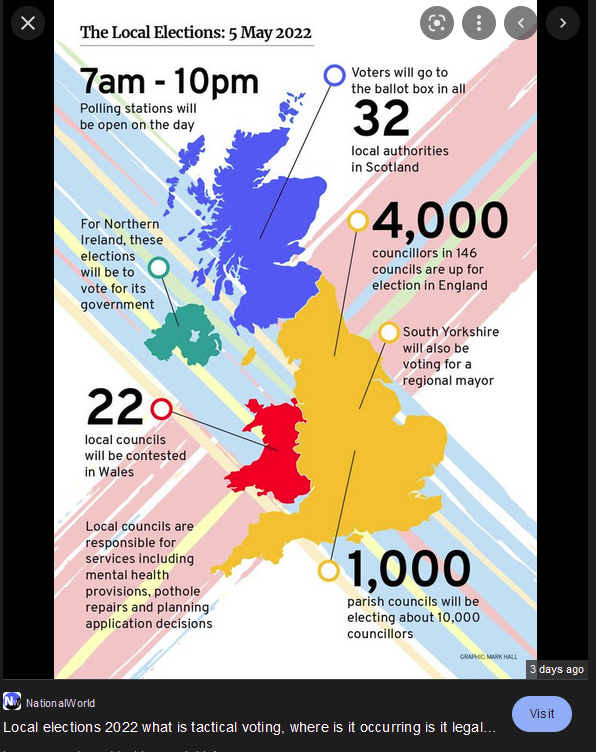 https://www.nationalworld.com/news/politics/local-elections-2022-tactical-voting-legal-uk-3678513
Hello dear Steemians,
As you have seen from the title of my post, today is the day after Election to local councils and it is all around UK and Northern Ireland. The Vote could be given personally yesterday but also on the 5th of May to local Voting point. As to us, because of being to busy and because we do not want to miss the chance we did already a postal vote few weeks ago. Living in Scotland, myself and my hubby supporting two parties SNP, which is Scottish National Party and Scottish Green.
Today we were watching the count that is already started yesterday in England adn also it is easy to see who is in run and who is a biggest loser.
Unfortunately, lately the whole world is watching the "Party Game" of Boris Johnson, PM, who initially denied that it took place, then after evidences appear admitted but said that he will step down once he will hear the result from Police investigation and now when there is a verdict he is still not stepping down. I believe for many normal people who were during the time of lock down at home and some relatives were not able to visit their family for their funerals because they were following the rules, the government was celebrating garden party. That is definitely in the memory of many and I can imagine people would like to pay back to Conservative party and giving their voices other ones. This time the winner is "Labour" and "Liberal" parties.
Conservatives lost council of Westminster and Boris Johnson's Conservative Party lost control of traditional strongholds in London.
https://www.bbc.co.uk/news/election/2022/england/results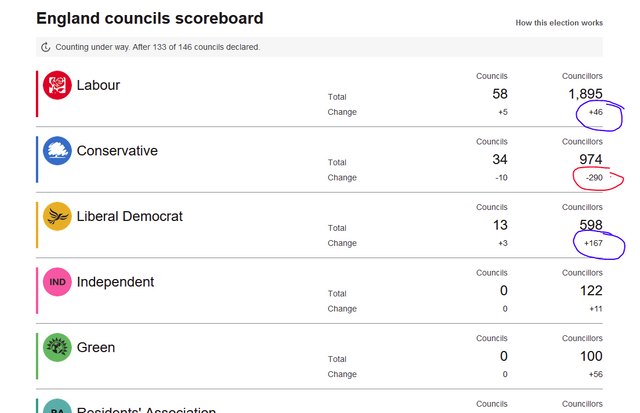 ---
Scotland
---
In Scotland, as mentioned before SNP is the leading party for last decades, Since we are in Scotland SNP is the one of the largest part and remains the strongest party till today.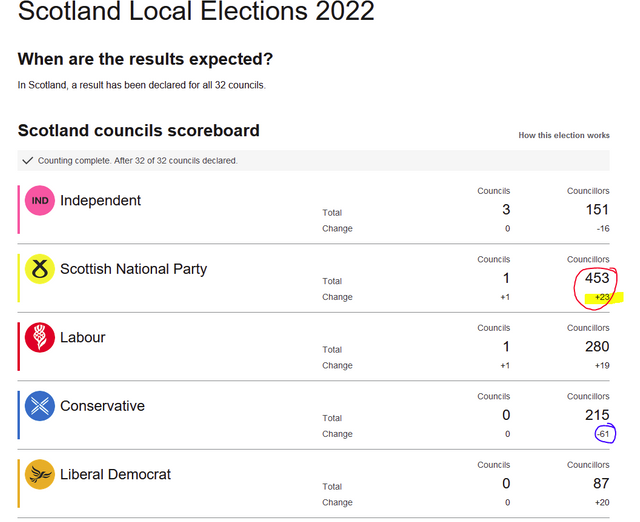 ---
Northern Ireland and new strength of
Sinn Fein Party
---
Since Brexit time there were many difficulties in different aspects of UK, we feel the restriction with Visas, freedom of study abroad for young children and Students. Difficulties to get jobs filled as EU citizens are not coming anymore, we also feel it in Hospital as due to lack of Nursing and Doctors we always had EU workers but now it is not possible to fill the posts. Northern Ireland and Ireland may feel it more than any other part of UK.
That is a reason why for this Local Election in Northern Ireland the party Sinn Fein, which is an oldest Irish party founded in 1905 and translated from Irish Gaelic means "We Ourselves" the aim was to work for the right of all Irish people to attain self-determination.
This Election is also a bit different as it will also be a new Government elected, therefore, for Sinn Fein it is a chance to become first time on of the largest party this time and they have good chances. Another goal of the party was to re-union of Republic of Ireland and Northern Ireland to one country and of course a part of European Union.
That is why this is the most interesting moment to see what the nation has decided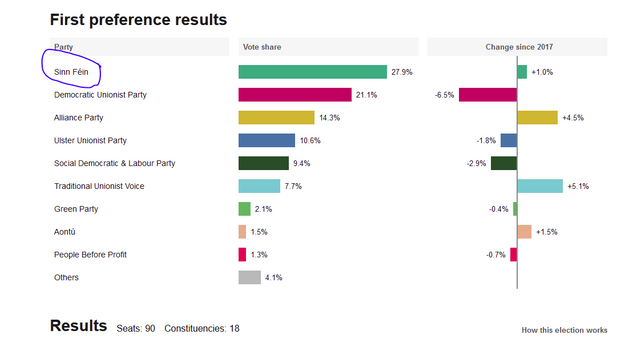 ---
Wales
---
Wales is a beautiful country we lived there for couple of years, the strongest party there was Labour and now seeing the first results it seems that Labour is back there too.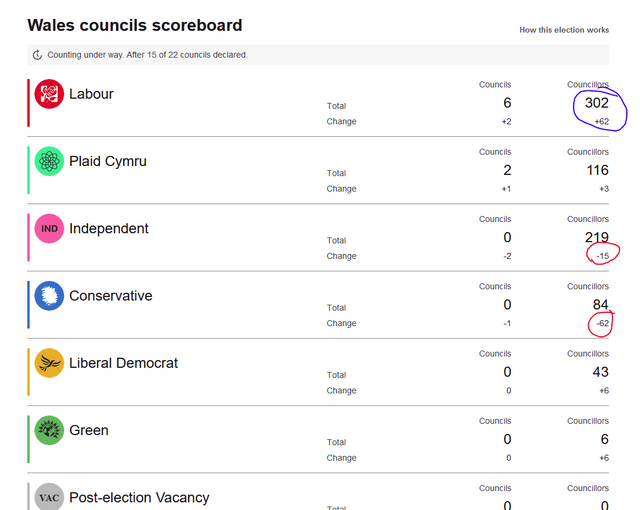 The Final results of Election will be announced tomorrow, so we need to be patient and wait and see.
*
---
CURATION TRAIL @worldofxpilar
---