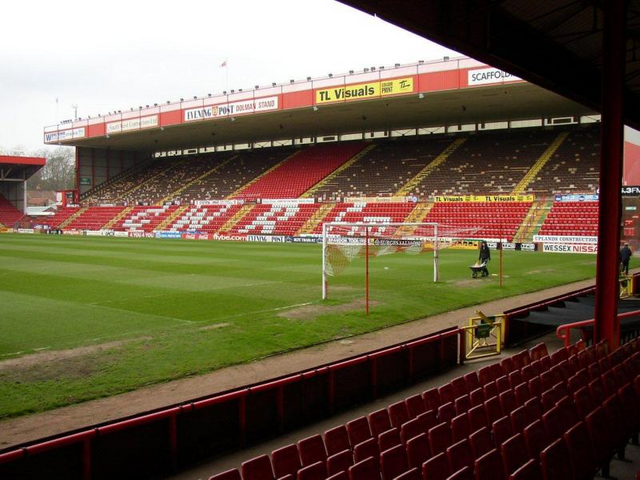 Source
Bristol City's one of those games that as a Reading fan, you enjoy going to. It's an easy drive straight down the M4 or a direct train and a walk from the station (although upon my first visit in 1999, I didn't appreciate quite how far the walk is from Bristol Temple Meads). So I've been a few times. I've also spent a year of my life (2015) living and working in Bristol at the company that made Stephen Lansdown (Bristol City owner) a billionaire (and perhaps somewhat ironically, I missed the 2015 encounter as I was on a course in Henley (just outside Reading 🙄)). And I've just remembered a little story from when I first moved there...

Slight Aside
At the time, property in Bristol was hard to come by (it probably still is) and trying to find somewhere to rent was like trying to buy a bag of flour in early 2020. Doubly so if you had to travel from London for viewings with most properties gone before you'd even arrived. So when I started my new job, I had to stay in a hotel in the city centre where one evening, I decided to sit in the bar and have a well earned pint.
After a while, I hear some football talk in a strong Bristolian accent and boy, was this guy a know it all. Yann Kermorgant was a decent player at the time (at Bournemouth - later signing for Reading when he was well past his best) but no, Mr Know It All wasn't having it. It was all about some guy I'd never heard of, Jonathan Kodjia. It didn't matter what was said, this guy kept banging on about him and how brilliant he is. After a while, I couldn't help but get a look at Mr Know it all who'd obviously played too much Football Manager. And much to my surprise, sat at the table was Bristol City manager Steve Cotterill discussing future transfers with Stephen Lansdown and presumably, Kermorgant's agent. So I guess Mr Know It All really did know it all. Kodja went on to sign for Bristol City for a fee of £2m before Aston Villa saw his talent, paying £11m for him just 1 year later.

Back to Ashton Gate
We drove to the ground on this occasion - our friend Nobber driving (a well earned nickname because he was a nob) and took to our seats fairly close to the front, not too far from the home fans.
Of all of my trips to this ground, this is the match I remember most. We were flying high at the top of the table and Bristol City were pushing to make the playoffs sitting in 6th with 5 games to go (if you're interested in how the season ended, my Away Days Episode 3 - Griffin Park explains all 🥳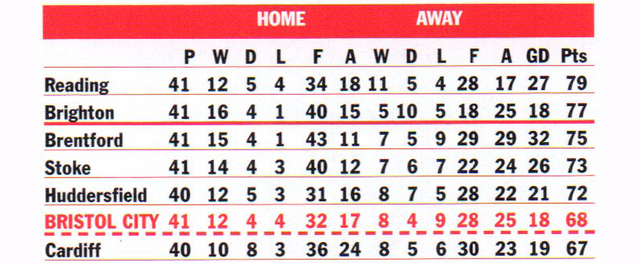 ☝️ From the Match Day Programme
In what was the most frantic start to a game that I can remember, we were 2-0 up within 5 minutes and absolutely rocking. Then it was Bristol City's turn to score 2 goals in quick succession to level things up at 2-2. Just 13 minutes gone. The home fans started to get a bit cocky and the smile quickly wiped off their face with us going 3-2 up just 1 minute later. The most frantic start to a match that I can remember, 5 goals in less than 15 minutes and on course for a 30 goal thriller.
Unfortunately, the 30 goals didn't come and there was to be just 1 more - a 59th minute equaliser for the game to end in a 3-3 draw, just enough to keep us at the top of the table.
Source

The Journey Home
It's not unusual for a journey to get as much coverage as the match but I'll keep this anecdote short. My girlfriend at the time was born in Bristol and was still at Bath University (I'd finished the year before) so rather randomly, Nobber thought that it would be fun to pick her up on the way home and drive her back to Reading. So that's what we did, getting home at least 3 hours later than we probably should have done.

Previous Away Day Tales
Episode 1 - Anfield (20th October 2012)
Episode 2 - The Manor Ground (17th March 1998)
Episode 3 - Griffin Park (20th April 2002)
Episode 4 - Upton Park (31st March 2012)
Episode 5 - Old Trafford (16th March 2013)
Episode 6 - Wembley Stadium (18th Apr 2015)
Episode 7 - Deepdale (26th Oct 2002)
Episode 8 - Hillsborough (11th Jan 2003)
Episode 9 - Highfield Road (26th Dec 2002)

If you enjoy reading about my Away Days, please let me know in the comments, especially if there's a ground that you'd like me to write about (assuming I've been there).
---
I'm always interested in reading your views about Fantasy Sports or Sport in general either in the comments or via your own post, remembering to post in World of Xpilar and using the tag #woxsports or #woxfantasysports.
---
This is a sub-profile of @the-gorilla


Footer Source 1Source 2Source 3 + Photoshop #steemexclusive