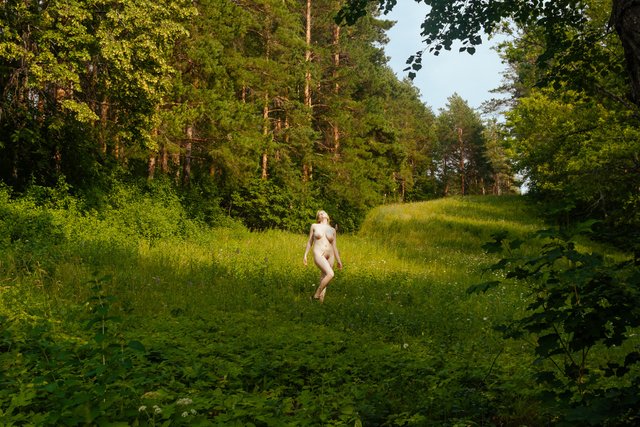 I had a big summer shoot and a lot of things came together in it: a hot day, a forest and the Volga, a wonderful model with proportions close to the national ones.
For me, this is the personification of harmony. Here is the first part of this shoot.
I try to use the shooting location not only as a background, it is important for me to get used to the environment. The heat of the sun, midges, a forest that did not look like a park - all this created both discomfort and lively reactions. It may not be noticeable at first glance. But reactions are important. We are not used to being in nature, and especially in such conditions - without work, without clothes, without a specific purpose. It makes you look around, feel and react. Be yourself, in short.
And personally, it is a special pleasure for me to show you the landscape of the high Volga coast, with a figure of my model inscribed in it.
...
Провел по-летнему большую съемку и в ней сошлось многое: жаркий день, лес и Волга, замечательная модель с пропорциями близкими к народным.
Для меня это олицетворение гармонии. Здесь первая часть этой съемки.
Стараюсь использовать место съемки не только как фон, мне важно вживание в среду. Жар солнца, мошкара, лес, не похожий на парк - все это создавало и дискомфорт, и живые реакции. Это может быть незаметно с первого взгляда. Но реакции важны. Мы отвыкли быть на природе, а особенно в таких условиях - без дела, без одежды, без определенной цели. Это заставляет смотреть вокруг, чувствовать и реагировать. Быть собой, короче говоря.
И лично для меня особенное удовольствие показать вам пейзаж высокого волжского берега, с вписанной в него фигуркой моей модели.