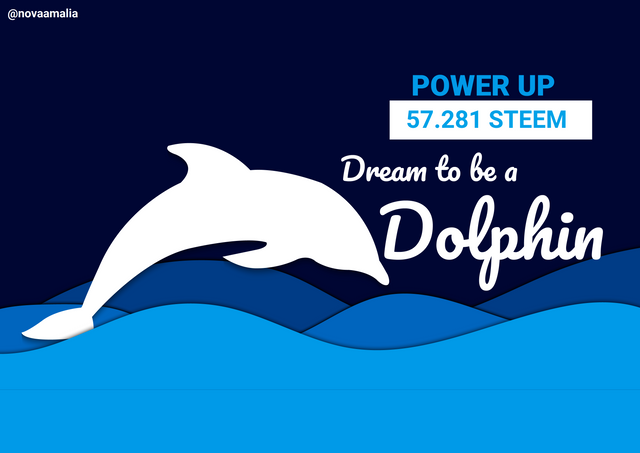 source Edited with Adobe Illustrator CC 2017
---

---
Hello all World of Xpilar friends
---
In this post, I will share the Power Up activities that I do in the @xpilar and @aceh-team communities as a form of consistency to make the my account @novaamalia be more influential in this platform and community with a huge dream to reach 1000 STEEM POWER in May, My target at the end of 2022 is to become a Dolphin by having 5000 STEEM POWER. I hope this community growing and developing while maintaining quality, also more and more members are becoming The Dolphins.
---

---
My steemit account @novaamalia from the beginning I started being active on this platform with the aim of becoming a user who makes a positive contribution by continuing to share quality posts, do power ups, and never withdraw the rewards to stay in #club100.
---

source
@novaamalia
I believe that Blockchain and Steemit will be the right platform to be used as a place of investment in the future, therefore I want to continue to be active and collect as much rewards as possible so that the target of becoming a Dolphin as soon as possible and I can give more influence for this community. So far, I have never made any withdrawals from my account @novaamalia, because I believe that by collecting every reward I get from posting every day, the influence that my account has on this community will be even greater which in turn will increase my reputation.
---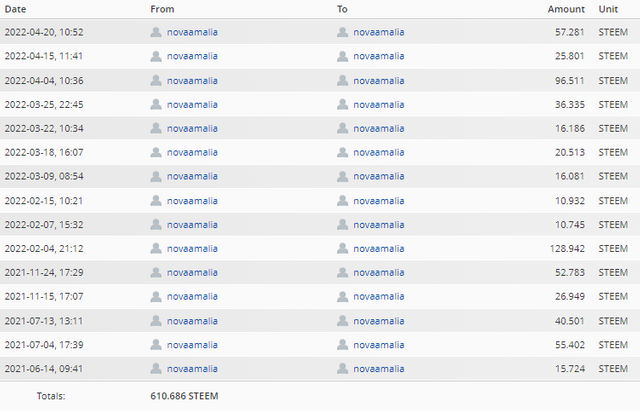 source from @novaamalia
Here i will add 57.281 STEEM to Power-Up from the results of my posts in the last week, although not much but I try to continue to do it regularly and stay in #club100 even though the reputation and amount of STEEM POWER I have currently is still small, I will continue to increase little by little a bit until my target of becoming a Dolphin arrived.
---

---
The following is the Power Up Steem process that I did:
---
1). Previously I had 679,308 STEEM POWER and will add 57.281 STEEM.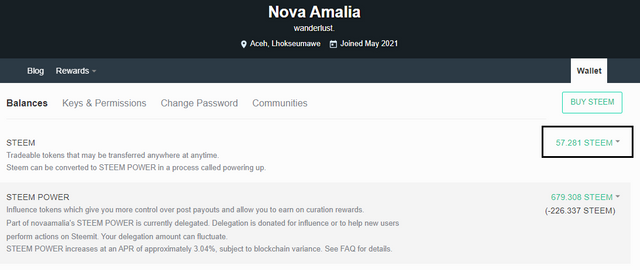 source
---
2). The picture below is when I process the STEEM POWER Transfer to Vesting @novaamalia Account.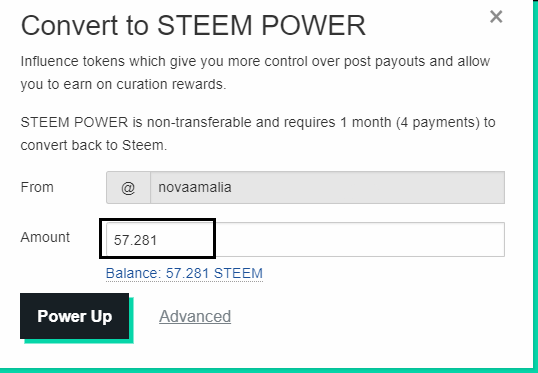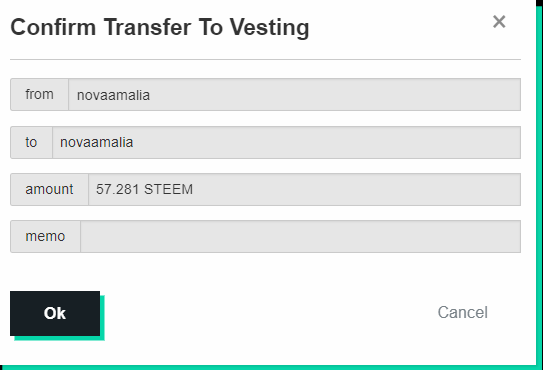 ---
---
3). After successfully going through all the processes, the @novaamalia account currently has 736.590 STEEM POWER, and I hope that I can continue to do it regularly so that my target will be achieved soon.
---

source
---
4). Proof of Power Up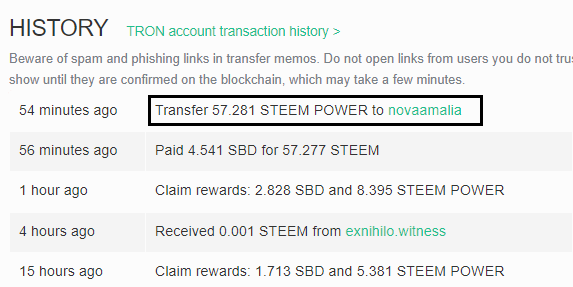 source
---

---
I just want to say thank you to @sultan-aceh and also the @aceh-team community who have provided the opportunity for me to join and share photography content in the World of Xpilar community and also give support to my posts. Hopefully, I can continue to share interesting content and hone my photography skills so that my posts will be of better quality in the future.
---

---
---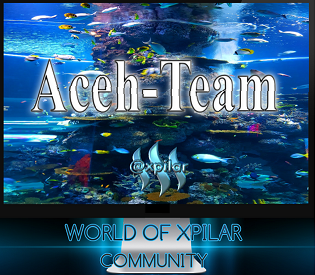 ---

---