Sporangium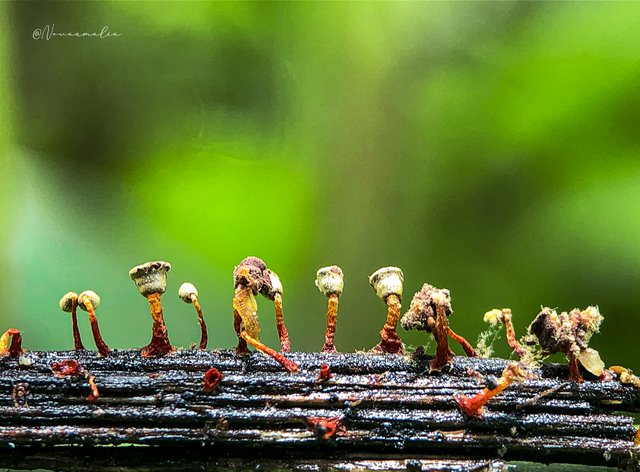 ©2022 @novaamalia
---

---
Hello all World of Xpilar friends
---
Back again with me @novaamalia in the @xpilar and @aceh-team communities, in this post, I will share information about mushrooms photographed using macro photography concepts. This activity has become a routine hobby that I do when I have free time, taking photos of plants using a micro perspective macro will make our perspective different, and there are many beautiful things that we will find after photographing it.
---

---
I found a small plant similar to a mushroom growing on a rotten log lying in my backyard, it grew in rows almost filling the log. After searching through Google lens, I found that the object I encountered was a Sporangium - source that is similar to a fungus because it produces the same spores, I thought that this was a type of wood fungus-like Mycenaceae, and it wasn't.
A Sporangium - source is a form of spore that can exist in almost all types of fungi and similar plants, it produces spores by mitosis according to Wikipedia sources.
---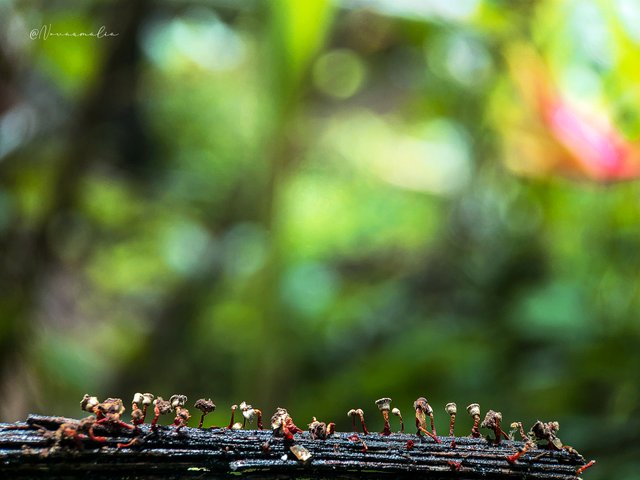 ©2022 @novaamalia
---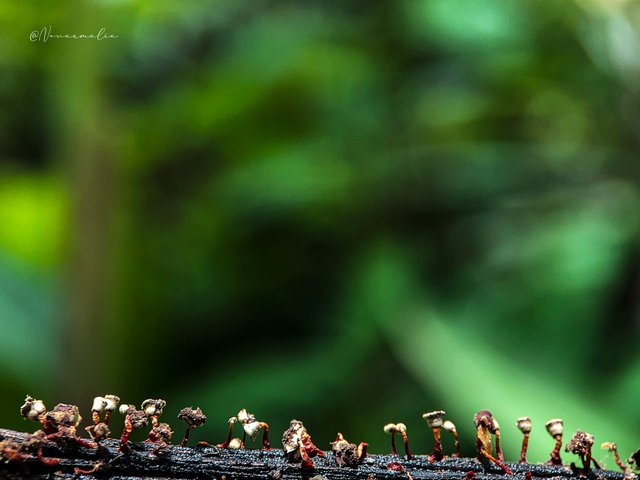 ©2022 @novaamalia
---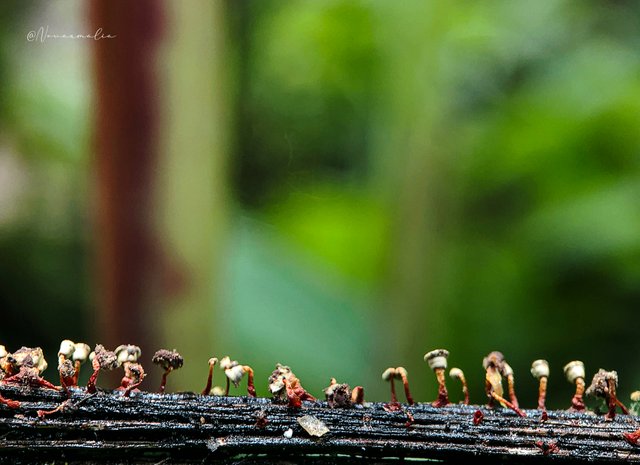 ©2022 @novaamalia
---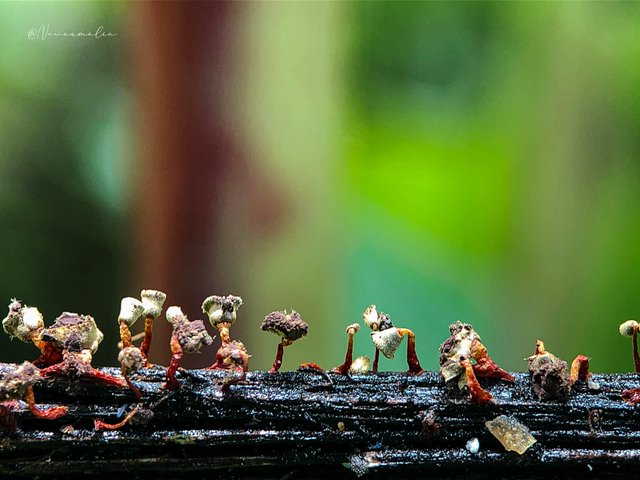 ©2022 @novaamalia
---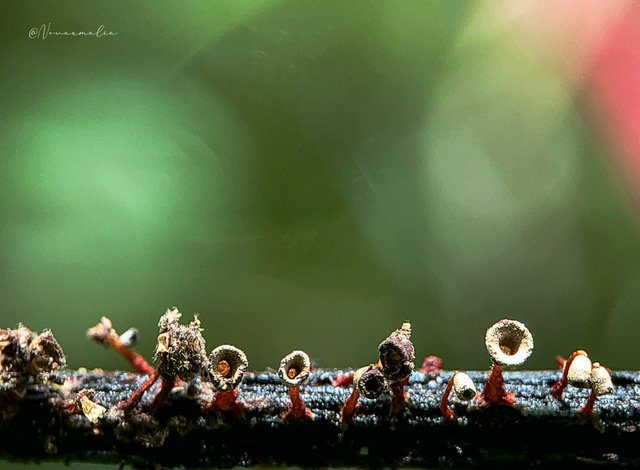 ©2022 @novaamalia
---
It is shaped like a mushroom that has a brownish hood and orange stems, they grow in rows of different sizes on weathered logs. I photographed it from several angles because I think the object I found this time was a little bit unique from the wood mushrooms that I don't usually see.
---
This Sporangium - source grows almost the same as mushrooms, in moist places and is commonly found in the tropics. The results that I get from taking photos of these mushrooms are so eyed catchy even though I only use a camera from iPhone 8 with additional 100mm macro lens, but I am grateful because I can learn new things every day when shooting different small objects.
---

---
---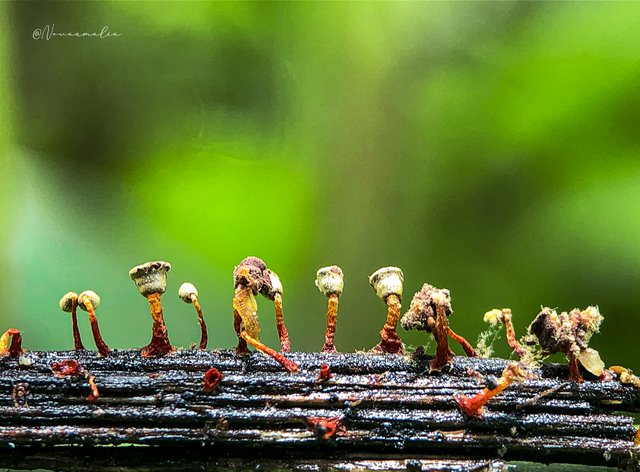 ©2022 @novaamalia
---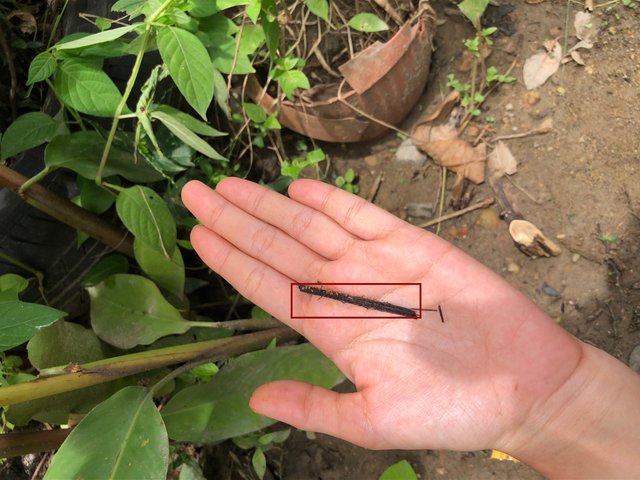 ©2022 @novaamalia
---

---
| Object | Fungus |
| --- | --- |
| Camera | Iphone 8 |
| Lens | Lensbong Custom 100mm |
| Location | Aceh, Indonesia |
| Author | @novaamalia |
| Year | 2022 |
---

---
I would say thanks to @sultan-aceh and also the @aceh-team community who have provided the opportunity for me to join and share photography content in the World of Xpilar community and also give support to my posts. Hopefully, I can continue to share interesting content and hone my photography skills so that my posts will be of better quality in the future.
---

---
---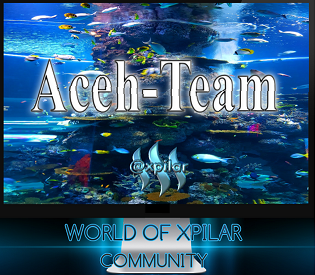 ---

---