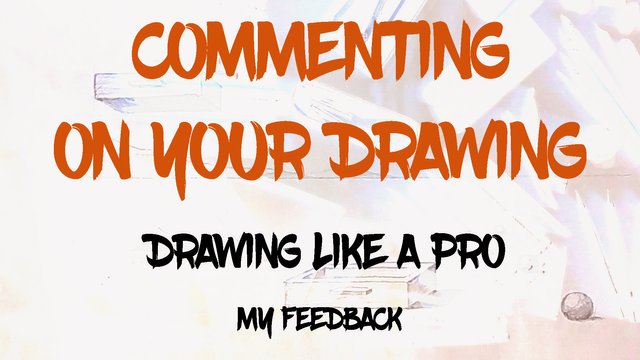 Hi friends!
Within the "Drawing like a pro" lessons, I'll go to include a section to help those who want to get technical advice on their drawings without necessarily following my classes or participating in homework contests.
Just ask me and show me your drawing and I will do my best to give you my sincere opinion about your drawing and my advice if needed to help you improve your skills.
My opinion will be based on the technical aspects of the drawing process, I will not judge the artistic quality of the drawing or the style of it because both aspects belong to the subjective field of aesthetics and my goal is to contribute to improving your knowledge and skills in drawing not to judge your work.
*
-----------------------------------------------
As introductory words I will tell you some aspects related to drawing.
° Observation:
Very important, learning to observe, establish a comparison between what you are seeing and what you are drawing.
° Criticism:
Learning to observe our drawing free of prejudices or affections to detect some mistakes or enjoy of our successes is fundamental.

You will learn these skills of observation and criticism little by little as you practice.
° Knowledge: It comes from study.
Before drawing something it is very useful to have some knowledge of it, the more knowledge you have the fewer mistakes you will make.
*
-----------------------------------------------
Commenting the drawing made by @stef1.
*
I liked the first impression that gave me this drawing, very clean and delicate.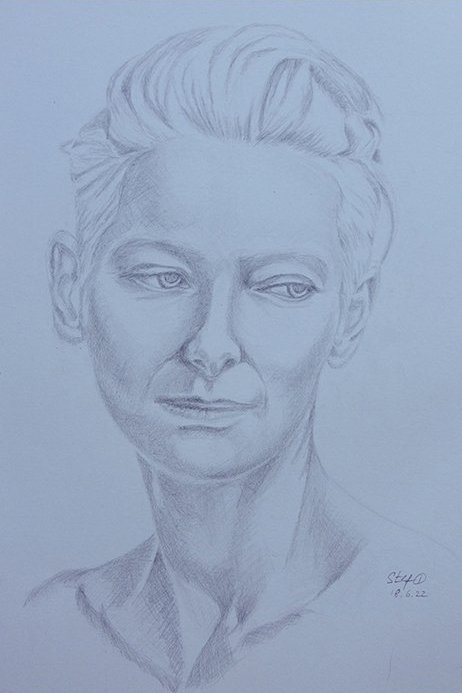 However, I see some small details, in the eyes, and on the sides of the nose.
Knowledge:
The pupils are a hole (black) that becomes large or small depending on the light it receives.
In this drawing, the pupils are surrounded by a black line and are not drawn as a black hole.
Observation:
Compare the shades of gray in the reference image with the values in the drawing and note that the gray on the sides of the nose (below) is too dark relative to the grays drawn on the face and the edges are too sharp. They should be more blurry.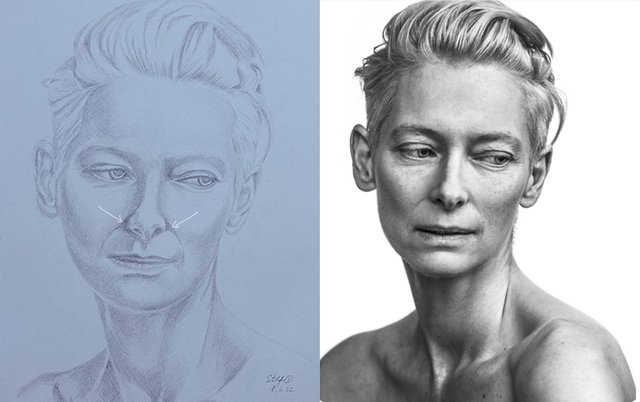 Squinting when looking at a drawing subject or model is quite useful to better appreciate the differences between lighter and darker areas.
By emulating the squinting here below you can better see what I mean.
Always practice squinting to observe where the darkest areas are and where the lightest points are.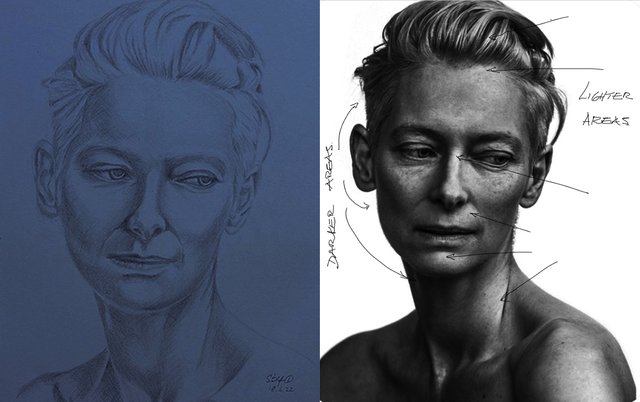 It never ceases to amaze me the wonderful capacity for observation that we have and of which we are not aware, so we do not bother to educate it.
Always try to sharpen your capacities of observation consciously. You will see how great it is to realize that each time you observe more and more details that you had not noticed before.
Draw with the objective of learning and not that your drawing becomes an artistic piece. You will see that this attitude will allow you to draw more freely without the pressure of making your drawing perfect and you will be able to look at your work with a critical spirit. If possible, set your drawing aside for a few hours or days. When you see it again you will see many things that you had not noticed before, then go ahead with your drawing.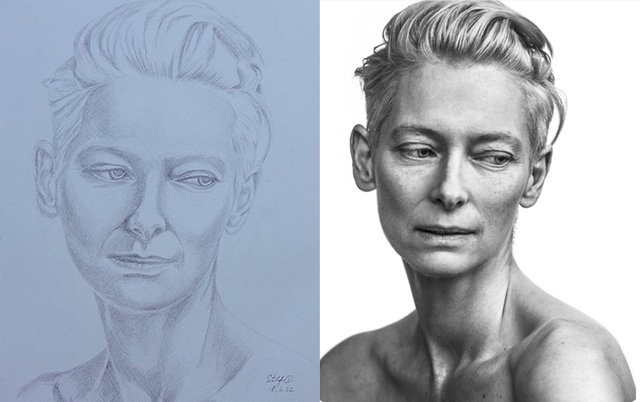 I suspect that you did not delve into the contrast of the tones for fear of losing your drawing. It happens to all of us, the more difficult it is for us to make a drawing, the more we love it and we do not dare to do more for fear of destroying what we have already achieved.
Go ahead with this drawing, don't be afraid. No matter if you lose the drawing you'll gain in experience and the next one will be much better.
See Lesson 16
*
-----------------------------------------------
Well, I hope my opinion and indications will be helpful for you and our friends and these become a stimulation to continue to draw better and better, Think that you already have strong skills to draw and painting.
-----------------------------------------------
I wish you a very nice day and good exercise!
-----------------------------------------------
Here are the links to the previous related posts.
1-Introduction - 2-Introduction - 3-Introduction - 4-Introduction -
5-Introduction - 6-Lesson - 7-Lesson - 8-Lesson - 9-Lesson - 10-Lesson -
11-Masterclass - 12-HW Contest - 13-Lesson 14-Lesson - 15-Lesson -
16-Lesson - 17-HW results - 18-Masterclass - 19-HW Contest - 20-Lesson - 21-Lesson - 22-Lesson - 23-HW results - 24-Lesson - 25-Lesson -
26-Masterclass - 27-HW Contest - 28-Lesson - 29-Lesson
-----------------------------------------------
100% SP (manual transfer to SP)