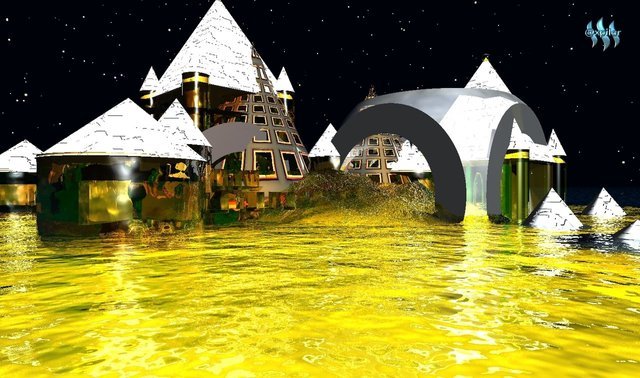 VESTIGIOS DE UN PUEBLITO DE TECHOS CÓNICOS
En sus inicios – hace unas cuantas decadas -se sentia en cierto ambiente la algarabía, en las adyacencias de una comunidad. La razón: un pueblito sería construido, según, muy hermoso. Pasan los años, y, mientras; los equipos competentes en su ardua labor allí trabajaron para el logro de tales objetivos. Y, ¡al fin! el añorado pueblito de casas de techos cónicos se hizo realidad. Las casas fueron habitadas y la emoción de sus habitantes no cabía dentro de sus pechos por la hermosura de tal ambiente. Parecía un pueblito de cuentos de Hada por lo pintoresco del lugar. A la par con el proyecto de construcción los efectos del ambiente: contaminación, recalentamiento de la tierra etc. iban de manera "silenciosa" causando sus efectos. aparentemente imperceptibles a la simple vista del humano. Hasta que progresivamente, las aguas de color amarillo, debido al arrastre de las algas que tiñen el mar desbordado fue ocupando espacio como consecuencia del derretimiento de los glaciares, y se fue anegando el añorado y hermoso pueblito de casas de techos cónicos .
Lo que fue expectativa y alboroso por el vislumbre de lo que sería un pueblito hermoso se convirtió en lamento - todo se había desvanecido-
Muchos de lo que allí trabajaron arduamente quedaron anonadados cuando al pasar los años regresaron a ver lo sucedido.
La lección: en las condiciones en las que este mundo se encamina, debido al deterioro del ambiente, lo más sensato es "pisar tierra", es decir no hacernos "la vista gorda" ante lo que es inminente, tal como lo fue no solo para el pueblito de las casas de techos cónicos, sino en otros espacios geográficos de nuestro globo terraqueo.
Debemos ser más cuidadosos tomando las previsiones para evitar mayor contaminación en el ambiente.
Espero les haya gustado, gracias por la inversión de su tiempo al leer.
____________________________________________________________
VILLAGES OF A VILLAGE WITH CONICAL CEILINGS
In its beginnings - a few decades ago - the hubbub was felt in a certain environment, in the vicinity of a community. The reason: a small town would be built, according to what was very beautiful.
Years go by, and while; Teams competent in their hard work there worked to achieve these goals. And finally!
the long-awaited town of houses with conical roofs became a reality.
The houses were inhabited and the emotion of its inhabitants did not fit inside their breasts because of the beauty of such an environment. It seemed like a fairy tale town because of the picturesqueness of the place.
Along with the construction project, the effects of the environment: pollution, overheating of the earth, etc., went "silently" causing their effects. seemingly imperceptible to the naked eye of the human. Until progressively, the yellow waters, due to the dragging of the algae that stain the overflowing sea, was occupying space as a result of the melting of the glaciers, and the long-awaited and beautiful little town of conical houses was flooded.
What was expectation and boisterous at the glimpse of what would be a beautiful little town turned into regret - everything had vanished-
Many of those who worked hard there were stunned when as the years passed they returned to see what happened.
The lesson: in the conditions in which this world is heading, due to the deterioration of the environment, the most sensible thing is to step on the ground, that is, not to turn a blind eye to what is imminent as it was not only for the small town of Las conical houses, but in other geographic spaces.
We must be more careful taking precautions to avoid further contamination in the environment.
I hope you liked it, thank you for the investment of your time reading.