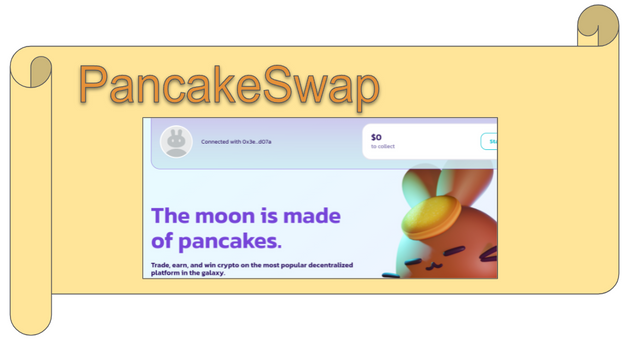 [ITALIAN]
The English version is immediately after the Italian version
Oggi ho aperto la piattaforma di Pancake swap
https://pancakeswap.finance/swap
Purtroppo non sono molto familiare con la DeFi e credo che debba cercare di sforzarmi a capire meglio i meccanismi di piattaforme come PancakeSwap.
PancakeSwap è una piattaforma di finanza decentralizzata e allo stesso tempo è un DEX (ovvero Exchange decentralizzato)
La piattaforma gira su Binance Smart Chain.
Qui di seguito lascio una guida in italiano dove spiega alcuni dettagli della piattaforma:
https://www.criptonauti.it/guida-a-pancakeswap-cose-e-come-funziona-su-binance-smart-chain/
Le piattaform DeFi che conosco per popolarità sono: Sushiswap, Uniswap, AAVE.
Andiamo a vedere su CoinMarketCap in che posizione si trovano i relativi token delle piattaforme citate prima e la piattaforma oggetto di questo post, cioè PancakeSwap:
Uniswap al 16esimo posto
PancakeSwap lo troviamo al 45esimo posto
AAVE al 47esimo posto
Sushiswap lo troviamo al 88esimo posto
CONCLUSIONI
Il fatto che questa piattaforma giri su Binance Smart Chain è un vantaggio, perché oggi la BSC è una rete blockchain piuttosto performante rispetto alla concorrenza e le tasse di transazione sono davvero contenute. Quindi, nei prossimi anni, gli utenti del mondo blockchain potrebbero iniziare ad utilizzare sempre di più PancakeSwap.
Per quanto riguarda la capitalizzazione di PancakeSwap notiamo che ultimamente ha superato la capitalizzazione di AAVE e questa è una cosa da tenere in considerazione.
---

[ENGLISH]
Translated with www.DeepL.com/Translator (free version)
Today I opened the pancake swap platform
https://pancakeswap.finance/swap
Unfortunately I'm not very familiar with DeFi and I think I have to try to understand better the mechanisms of platforms like PancakeSwap.
PancakeSwap is a decentralised finance platform and at the same time it is a DEX (i.e. Decentralised Exchange).
The platform runs on the Binance Smart Chain.
Below I leave a guide in Italian where it explains some details of the platform:
https://www.criptonauti.it/guida-a-pancakeswap-cose-e-come-funziona-su-binance-smart-chain/
The DeFi platforms that I know for popularity are: Sushiswap, Uniswap, AAVE.
Let's see on CoinMarketCap where the tokens of the platforms mentioned above and the platform that is the subject of this post, PancakeSwap, are located:
Uniswap in 16th place
PancakeSwap in 45th place
AAVE in 47th place
Sushiswap is in 88th place.
CONCLUSIONS
The fact that this platform runs on the Binance Smart Chain is an advantage, because today the BSC is a fairly high-performing blockchain network compared to the competition and transaction fees are very low. So, in the coming years, users in the blockchain world might start using PancakeSwap more and more.
Regarding the capitalisation of PancakeSwap we note that lately it has surpassed the capitalisation of AAVE and this is something to take into account.

penny4thoughts
Questo post aderisce al progetto #penny4thoughts, suggerito da @famigliacurione, un esperimento programmato da @remlaps che ha lo scopo di migliorare e aumentare l'interazione tra gli utenti della piattaforma, infatti i commenti inerenti al post e più interessanti verranno premiati con un upvote.
Istruzioni per penny4thoughts: https://steemit.com/hive-184714/@famigliacurione/un-penny-per-i-tuoi-pensieri