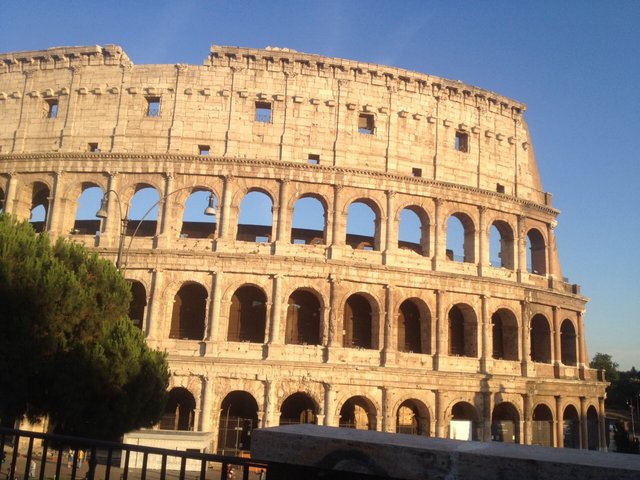 In tutti questi mesi ho volutamente evitato di postare fotografie del Colosseo, mi sembrava giusto lasciare questo splendido monumento patrimonio dell'Unesco, alle tante persone che hanno avuto l'opportunità di visitare Roma e di fotografarlo!
Però ritrovando tra le tante foto sul pc, questo scatto di qualche anno fa, uno dei pochi senza persone, non ho resistito, e questa volta ho deciso di postare la mia versione del Colosseo.
Il Colosseo per chi vive a Roma sta lì, immobile nella sua magnificenza e lo si incontra ogni volta che di corsa sia in auto o bus, si va in centro città!
Quasi mai è una passeggiata, più frequentemente si gira frettolosamente intorno a lui per andare al lavoro, a scuola o in qualche ufficio pubblico!
E anche questo scatto non fa eccezione!
E' la vista deI Colosseo da Colle Oppio, quindi più in alto e senza l'affollamento di persone che generalmente lo circonda.
Ovviamente non vi racconterò la sua storia e gli innumerevoli aneddoti, però un fatto accaduto in questi giorni devo proprio raccontarlo.
Riguarda due turisti americani, che durante la notte si sono arrampicati sul secondo anello del Colosseo per bere una birra e gustarsi il panorama!
Sono rimasti increduli all'arrivo della polizia e nel ricevere una multa di 400 euro ciascuno, in fin dei conti non hanno fatto niente di male!
Voglio concludere raccontandovi della colonia felina del Parco del Colosseo, 35 gatti che vivono indisturbati nell'area archeologica e che accolgono i turisti con le loro fusa. Si racconta che addirittura la grande attrice Anna Magnani si occupasse di loro.
Tra questi gatti, la più famosa era Nerina, una gatta nera che viveva nel Colosseo da dieci anni, talmente famosa da finire sulle guide turistiche!
Nerina da qualche mese non c'è più, ma a questa custode felina del Colosseo, la pagina facebook del Parco Archeologico del Colosseo ha dedicato un dolcissimo post!
Tantissime energie positive a tutti voi
Grazie per il tempo dedicato a leggere il mio post
Foto di mia proprietà scattata con il mio vecchio smartphone di prima generazione LG
ENGLISH VERSION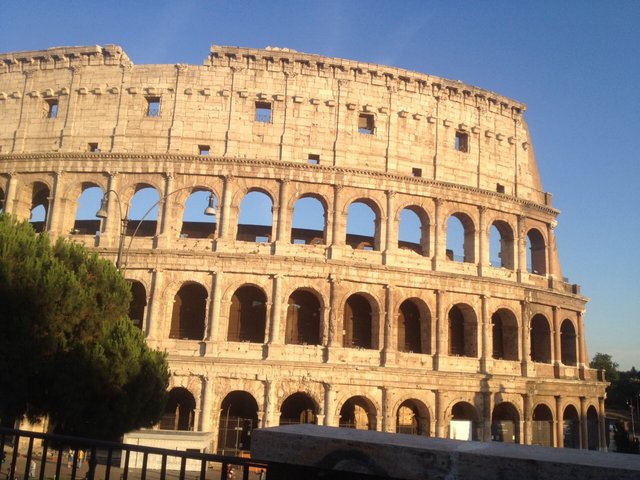 In all these months I have deliberately avoided posting photographs of the Colosseum, it seemed right to leave this splendid monument, a Unesco heritage site, to the many people who had the opportunity to visit Rome and photograph it!
But finding among the many photos on the pc, this shot of a few years ago, one of the few without people, I could not resist, and this time I decided to post my version of the Colosseum.
For those who live in Rome, the Colosseum is there, motionless in its magnificence and you meet it every time you run either by car or bus, you go to the city center!
It is hardly ever a walk in the park, more frequently he hastily turns around him to go to work, school or some public office!
And this shot is no exception!
It is the view of the Colosseum from Colle Oppio, therefore higher up and without the crowding of people that generally surrounds it.
Obviously I will not tell you his story and the countless anecdotes, but I have to tell you something that happened in these days.
It concerns two American tourists, who climbed the second ring of the Colosseum during the night to have a beer and enjoy the view!
They were incredulous when the police arrived and received a fine of 400 euros each, after all they did nothing wrong!
I want to conclude by telling you about the feline colony of the Colosseum Park, 35 cats that live undisturbed in the archaeological area and that welcome tourists with their purrs. It is said that even the great actress Anna Magnani took care of them.
Among these cats, the most famous was Nerina, a black cat who had lived in the Colosseum for ten years, so famous that it ended up in tourist guides!
Nerina has been gone for a few months, but the facebook page of the Colosseum Archaeological Park dedicated a very sweet post to this feline keeper of the Colosseum!
Lots of positive energies to all of you
Thanks for taking the time to read my post
Own photo taken with my old first generation LG smartphone