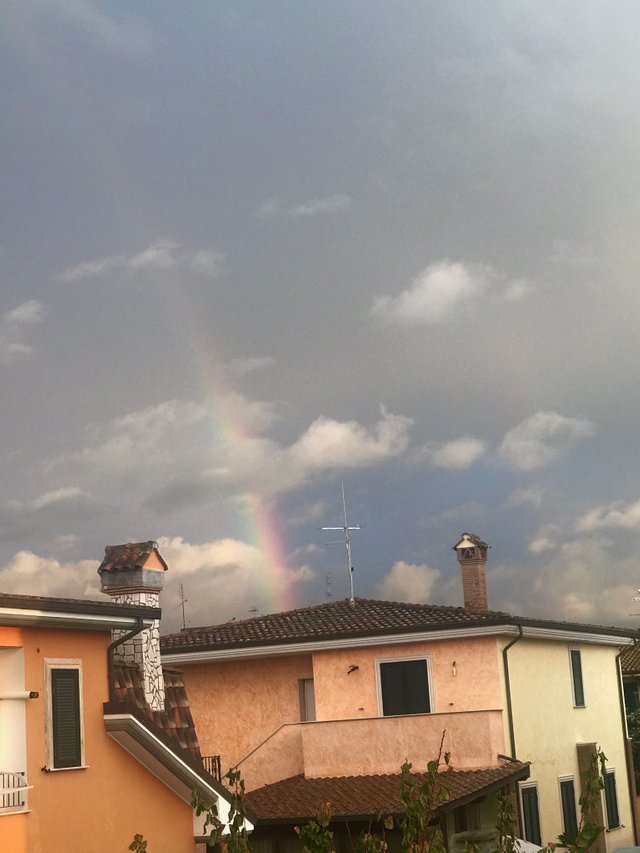 Buona giornata a tutti amici di Italy e di tutto Steemit.
Novembre ci ha regalato un mese di grandi piogge e anche di giornate molto fredde tipiche dei mesi invernali.
Possiamo dire ufficialmente che fino ad oggi è stato davvero pessimo, un po' poi come accade nel mercato delle crypto, questo doveva essere Moovember per Bitcoin e tutte le altcoin con una previsione di chiusura mensile di $ 98K se non di più secondo alcuni analisti di mercato.
A questo punto non ci resta che confidare nel mese di Dicembre e la magia del Natale che fa diventare tutti più buoni magari anche tutti quelli che vogliono affossare il mercato ed entrare in una fase BEAR!! Vedremo cosa troveremo sotto il nostro albero..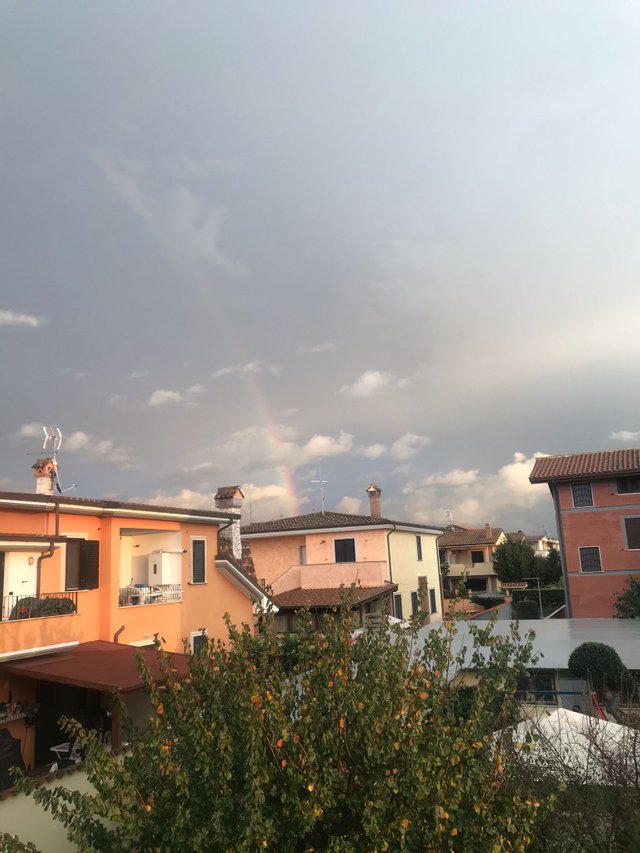 Però ieri in un momento di tregua dalla pioggia, affacciandomi dalla finestra mi sono accorta che un arcobaleno stava tentando di tagliare in due il cielo e aprirsi un varco tra le nuvole nel cielo sempre più limpido.
E' un fenomeno naturale meraviglioso, una perfetta combinazione di colori che si crea quando la luce del sole attraversa le gocce d'acqua rimaste in sospensione dopo un temporale.
Non è facile da vedere e soprattutto da fotografare, almeno col mio cellulare, ma al momento del bisogno la mia macchina fotografica è sempre scarica.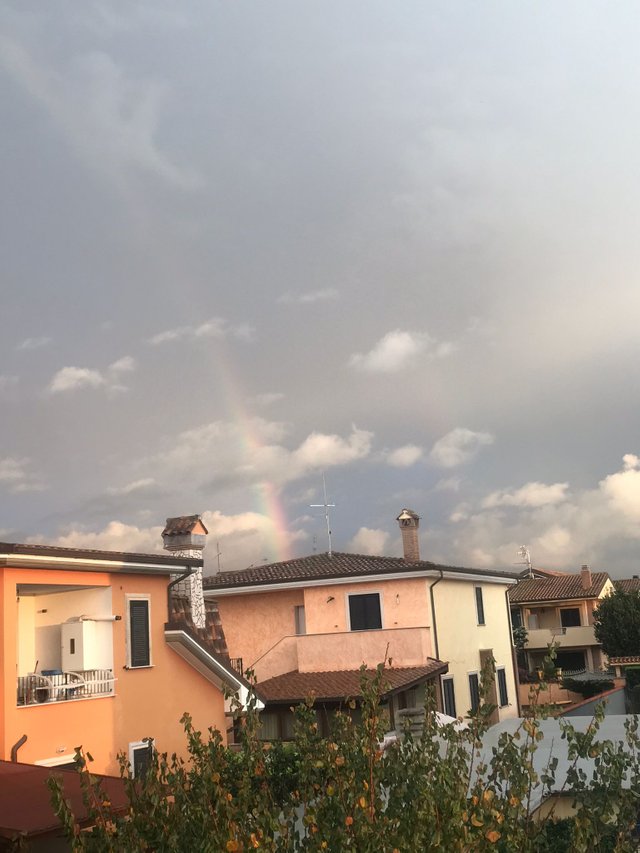 Secondo qualche detto popolare vedere un arcobaleno è un segno di buon auspicio, chissà?! Comunque già riuscire a vederlo è una fortuna.. allora voglio proprio condividere un po' di fortuna con tutti voi.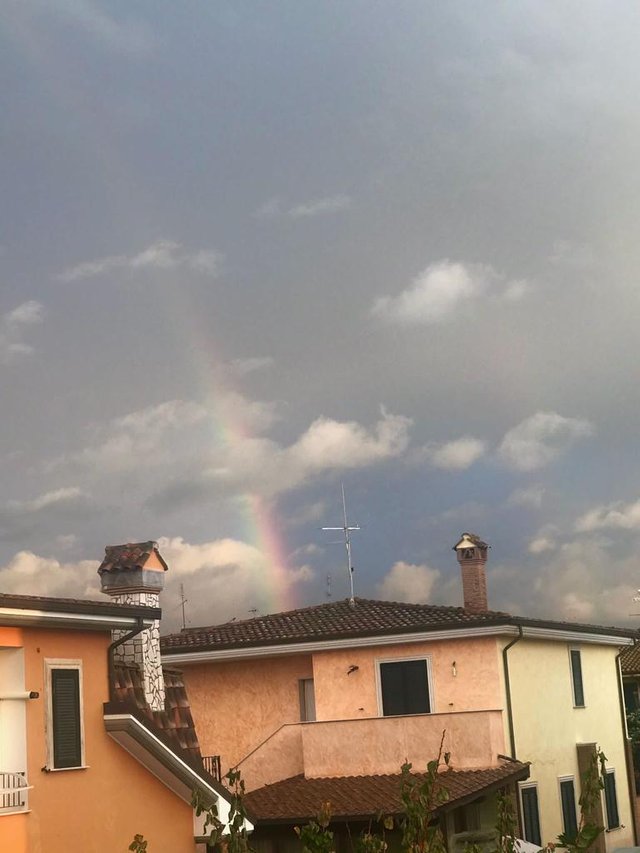 PS. Dopo un'oretta ha ripreso a piovere e non ha più smesso per tutta la notte!
Grazie per aver letto il mio post.

- ENG -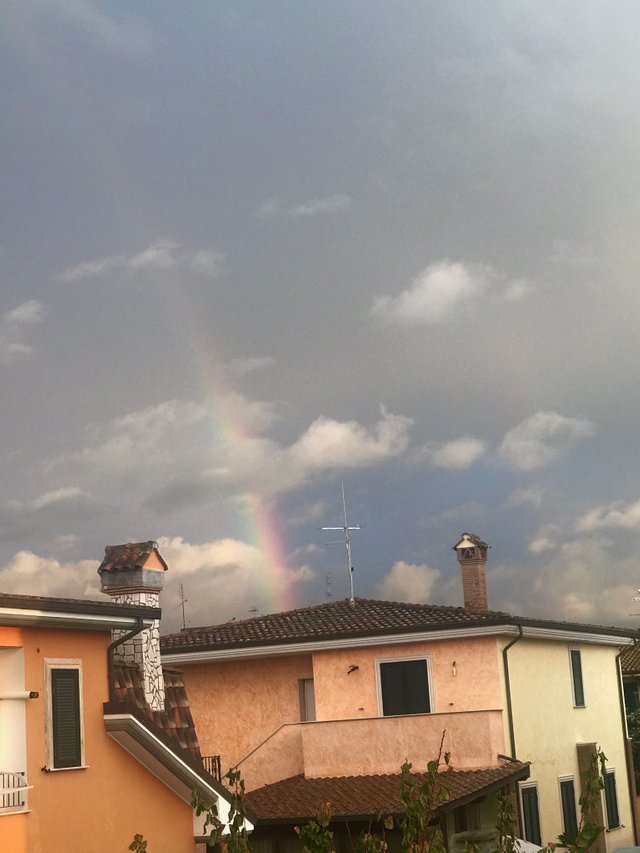 Good day to you all my friends of Italy and all Steemit.
November has given us a month of great rains and also of very cold days typical of the winter months.
We can officially say that it has been a really bad month so far, a bit then as it happens in the crypto market, this was supposed to be Moovember for Bitcoin and all altcoins with an expected monthly close of $98K if not more according to some market analysts.
At this point we just have to trust in the month of December and the magic of Christmas that makes everyone better, maybe even those who want to kill the market and enter a BEAR phase! We will see what we will find under our tree...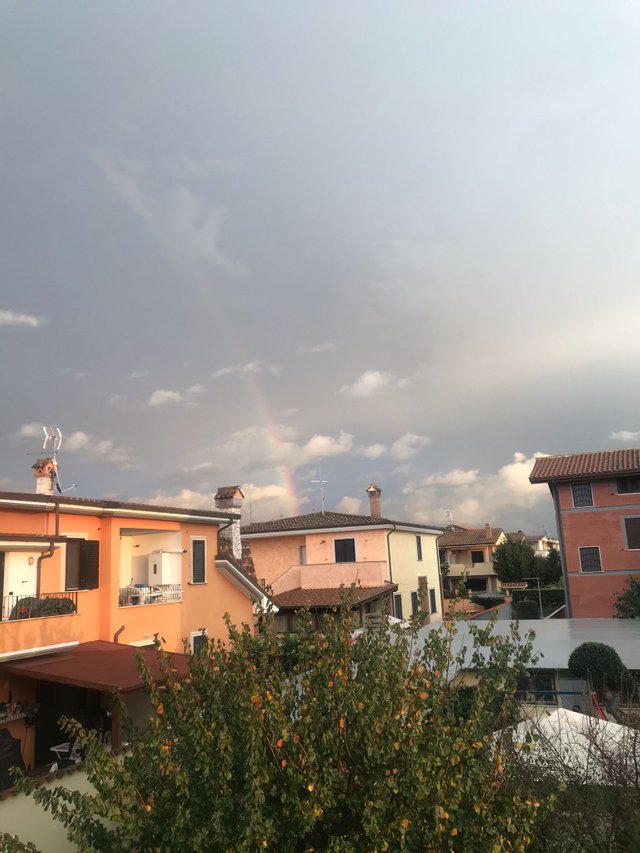 But yesterday in a moment of respite from the rain, looking out the window I realized that a rainbow was trying to cut the sky in two and break through the clouds in the increasingly clear sky.
It's a wonderful natural phenomenon, a perfect combination of colors that is created when sunlight passes through the drops of water left in suspension after a storm.
It's not easy to see and especially to photograph, at least with my cell phone, but at the time of need my camera is always without charge.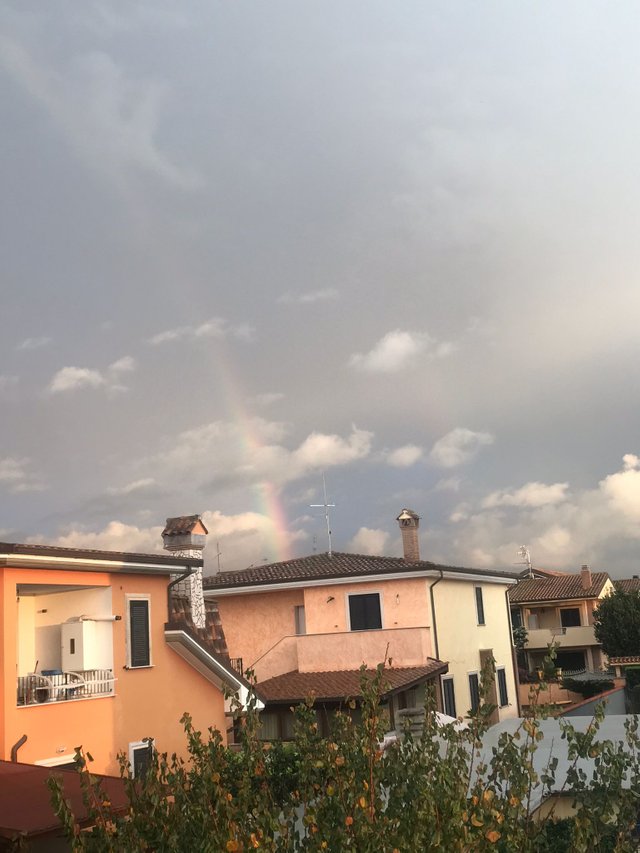 According to some popular saying to see a rainbow is a sign of good luck, who knows! However, already being able to see it is a fortune ... then I really want to share some luck with all of you.
IMG-20211122-WA0007.jpg](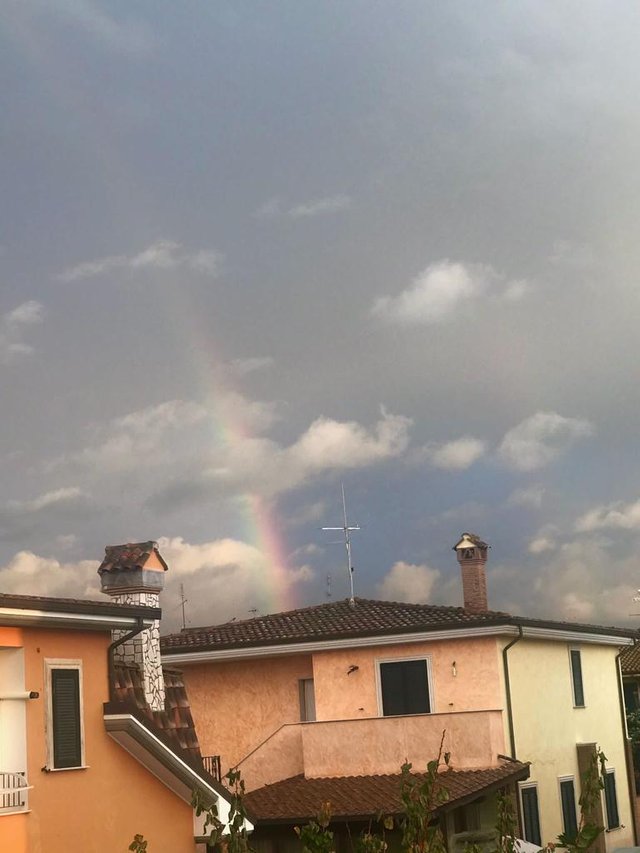 PS. After an hour or so it started raining again and didn't stop all night!
Thanks for reading my post.


Quality Comments deserve to be Rewarded. Read more.
I'm part of ITALYGAME Team
together with:
@girolamomarotta, @sardrt, @mad-runner, @ilnegro, @famigliacurione