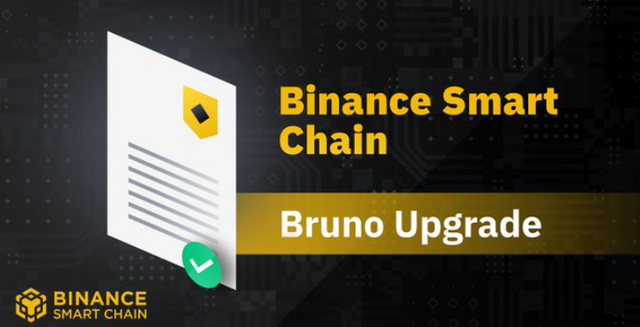 Source
No, Bruno non è un amico di CZ (Changpeng Zhao) CEO di Binance, ma un nuovo hardfork che farà evolvere la piattaforma migliorandone le sue funzionalità.
Bruno Upgrade, dovrebbe avere luogo il prossimo 30 novembre, se tutto rimane confermato, quindi segnatevi questa data!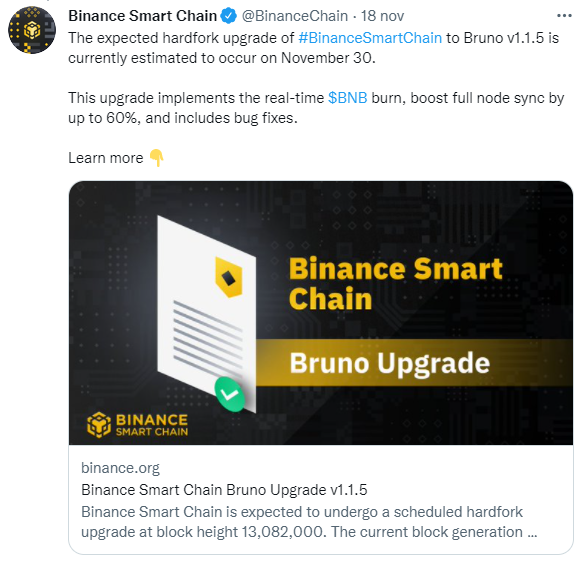 Source
Bruno – v1.1.5 vuole rendere sempre più decentralizzata Binance Smart Chain, la piattaforma più performante della DeFi, seconda soltanto ad Ethereum, che solo pochi giorni fa ha raggiunto un nuovo record con oltre 14,7 milioni di transazioni blockchain in un giorno quando nello stesso giorno il network di Ethereum ha registrato 1,3 milioni di transazioni in totale. Rif.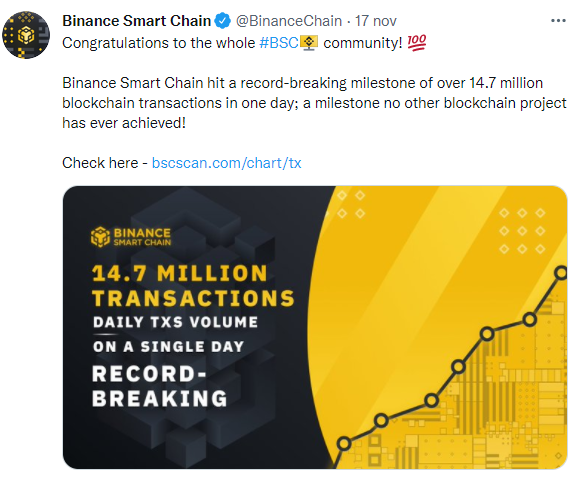 Source
I cambiamenti avverranno all'altezza del blocco 13.082.000 e consentiranno alla blockchain di gestire una serie di nuove funzionalità ed eliminare i bug esistenti.
Ma in cosa consiste questo nuovo fork?
Bruno Upgrade inserirà un burning in real time di Binance Coin.
Una parte delle fee di BNB non torneranno ai validatori, ma saranno inviati verso wallet inaccessibili e quindi persi per sempre.
Sarà il modello di governance proprio del protocollo a stabilire il ritmo con il quale distruggere BNB, insomma nel modo più decentralizzato possibile.
Cosa aspettarci dall'Upgrade?
Trattandosi di un meccanismo deflativo, gli investitori si aspettano delle pressioni rialziste sul prezzo di $BNB.
Cosa possiamo dire di più? Binance è sicuramente pronta competere con Ethereum e tutto il suo percorso e gli obiettivi raggiunti lo possono confermare, rimane sempre la terza criptovaluta per capitalizzazione di mercato.
Grazie per aver letto il mio post.
RIFERIMENTI:

- ENG -
No, Bruno is not a friend of CZ (Changpeng Zhao) CEO of Binance, but a new hardfork that will evolve the platform improving its functionality.
Bruno Upgrade, should take place next November 30, if everything remains confirmed, so mark this date!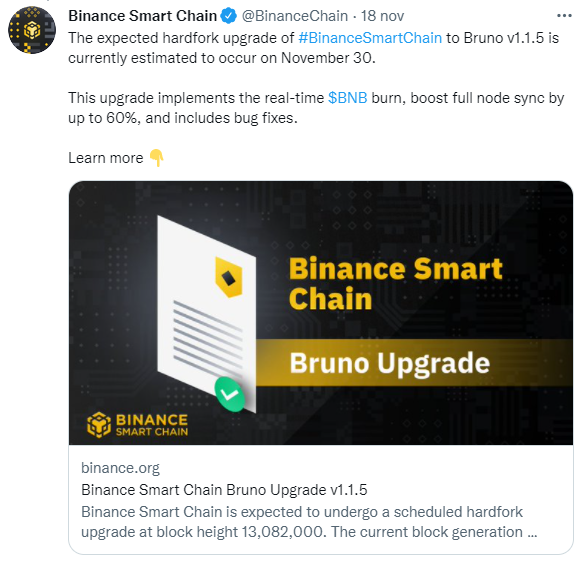 Source
Bruno - v1.1.5 wants to make more and more decentralized Binance Smart Chain, DeFi's best performing platform, second only to Ethereum, just a few days ago reached a new record with over 14.7 million blockchain transactions in one day when in the same day Ethereum's network recorded 1.3 million transactions in total. Ref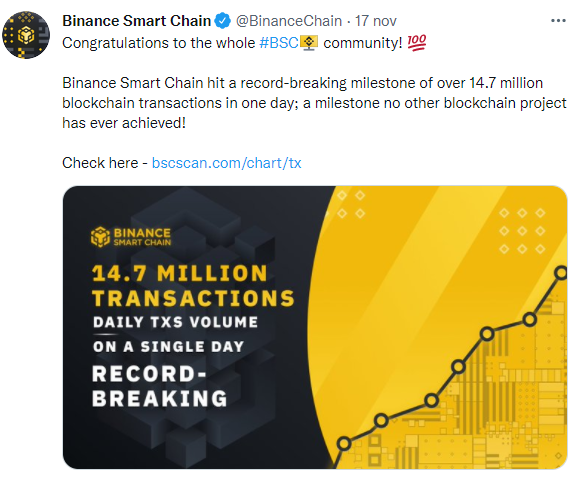 Source
The changes will occur at block 13,082,000 and will allow the blockchain to handle a number of new features and eliminate existing bugs.
But what does this new fork consist of?
Bruno Upgrade will insert a burning in real time of Binance Coin.
A portion of BNB fees will not return to validators, but will be sent to inaccessible wallets and thus lost forever.
It will be the protocol's own governance model that will determine the pace at which BNB will be destroyed, in short in the most decentralized way possible.
What can we expect from the Upgrade?
Since this is a deflationary mechanism, investors expect bullish pressures on the price of $BNB.
What more can we say? Binance is definitely ready to compete with Ethereum and all its path and achieved goals can confirm it, it still remains the third cryptocurrency by market capitalization.
Thanks for reading my post.
REFERENCES:


Quality Comments deserve to be Rewarded. Read more.
I'm part of ITALYGAME Team
together with:
@girolamomarotta, @sardrt, @mad-runner, @ilnegro, @famigliacurione