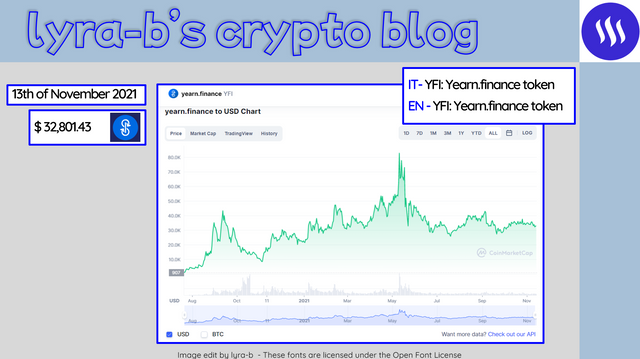 ---
Steem logo source: https://steem.com/
YFI logo source: https://yearn.finance/
Central image source: https://coinmarketcap.com/currencies/yearn-finance/
Price source: https://coinmarketcap.com/currencies/yearn-finance/
---
Versione italiana
Yearn Finance è una piattaforma di Finanza Decentralizzata, la quale offre servizi ai propri utenti per ottimizzare i propri guadagni sulle proprie crypto attraverso servizi di prestito e trading.
Lo scopo di Yearn Finance è quello di semplificare la DeFi anche per gli investitori che non sono molto pratici nel mondo della finanza.
YFI è la cryptovaluta nativa di di Yearn Finance, e ad oggi 13/11/2021 il suo prezzo è pari a 32,801.43 $.
Quello che colpisce di questa crypto a prima vista, è sicuramente il prezzo elevato. Ed allora ho cercato di capire che cosa fosse, ma devo essere sincera, non ho capito molto al riguardo.
Leggendo la documentazione di Yearn Finance al link https://docs.yearn.finance/, ho capito che sono presenti due token YFI e WOOFY, con questo fattore di conversione: 1 YFI = 1,000,000 WOOFY.
Ho capito che il token YFI permette ai suoi possessori di poter votare e prendere decisioni per la piattaforma Yearn Finance. Inoltre, la quantità totale del token YFI è tutto in circolazione (per un totale di 36,666 YFI).
Conclusioni: Il progetto è complesso, e nemmeno di mio interesse. Inoltre mi sembra di aver capito che il tutto si appoggia sulla rete Ethereum, che ad oggi non è tra le mie reti preferite su cui operare.
Domanda: Conoscete Yearn Finance? Cosa ne pensate?
Disclaimer: Non sono un consulente finanziario, quindi ciò che è scritto in questo post è un'opinione personale, non un consiglio finanziario. Se volete investire dovete farlo consapevolmente e sotto la vostra responsabilità.
---
English version
Yearn Finance is a Decentralised Finance platform, which offers services to its users to optimise their crypto earnings through lending and trading services.
The aim of Yearn Finance is to simplify DeFi even for investors who are not very familiar with the world of finance.
YFI is Yearn Finance's native cryptocurrency, and as of today 13/11/2021 its price is $32,801.43.
What is striking about this crypto at first glance is definitely the high price. And so I tried to figure out what it was, but I have to be honest, I didn't understand much about it.
Reading the Yearn Finance documentation at the link https://docs.yearn.finance/, I understood that there are two tokens YFI and WOOFY, with this conversion factor: 1 YFI = 1,000,000 WOOFY.
I understand that the YFI token allows its holders to vote and make decisions for the Yearn Finance platform. In addition, the total amount of the YFI token is all in circulation (a total of 36,666 YFI).
Conclusions: The project is complex, and not even of my interest. Furthermore, I understand that it all relies on the Ethereum network, which to date is not one of my favourite networks to operate on.
**Question: Do you know Yearn Finance? What do you think about it?
Disclaimer: I am not a financial advisor, so what is written in this post is a personal opinion, not financial advice. If you want to invest, you have to do it consciously and on your own responsibility.