Versione italiana
Non so se lo sapete, ma in Romagna abbiamo anche il Vulcano più piccolo di Italia!! Il piccolo vulcano in realtà è una fuoriuscita di idrocarburi, che dal XVI secolo bruciano formando una piccola fiammella. Attorno a questa fiammella sono stati posti dei sassi e ciò ne dà la forma caratteristica di un Vulcano in miniatura.
Il Vulcano più piccolo di Italia è situato sul Monte Busca a Tredozio, a qualche km da Forlì.
Ne avevo sentito parlare dai miei amici, e settimana scorsa sono voluta andare di persona a vedere questo piccolo vulcano, e devo dire che questa fiammella in cima alla collina, con la vista della valle di sfondo, non è per niente male!
Se passate nei dintorni vi consiglio di visitare questo luogo.
Le foto sono di mia proprietà, scattate con il mio smartphone Samsung A6 (fotocamera da 16Mpx).
---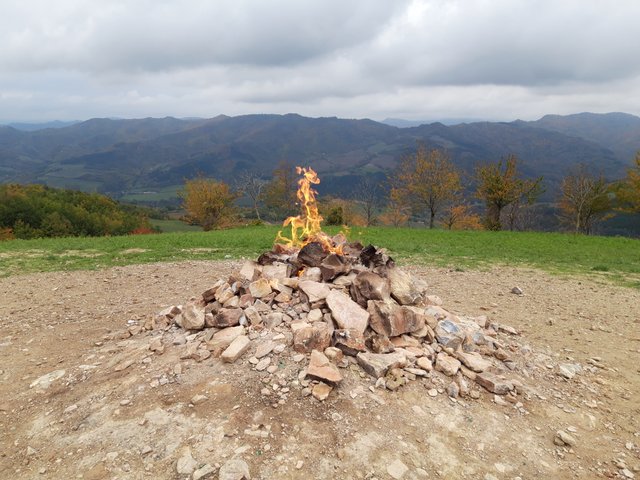 ---
English version
I don't know if you know it, but in Romagna we also have the smallest volcano in Italy! The small volcano is actually a hydrocarbon leak, which has been burning since the 16th century, forming a small flame. Stones have been placed around this flame, giving it the characteristic shape of a miniature volcano.
Italy's smallest volcano is located on Monte Busca in Tredozio, a few kilometres from Forlì.
I had heard about it from my friends, and last week I wanted to go in person to see this small volcano, and I must say that this little flame on top of the hill, with the view of the valley in the background, is not bad at all!
If you are passing through the area, I recommend you visit this place.
The photos are my own, taken with my Samsung A6 smartphone (16Mpx camera).
Grazie per aver letto! Thanks for reading!