Versione italiana
L'11 Novembre di ogni anno si festeggia San Martino! A san Martino il detto dice che "ogni mosto diventa vino", ovvero è tempo di assaggiare il vino nuovo, che avendo preso i primi freddi, comincia a formarsi e diventare più corposo!
Ho sempre festeggiato San Martino a Sorrivoli, nel mio paese del cuore. Per questa ricorrenza, negli anni passati ci si trovava tutti insieme e si mangiava gnocchi di patate al ragù, salsiccia e olive, castagne arrosto accompagnando tutto con i vini nuovi delle cantine della zona! Infatti, in questa occasione si è sempre fatto una gara per il miglior vino nuovo della zona, il quale veniva eletto da una giuria di persone del luogo ed esperti di vino. E per finire, la serata si concludeva con una tombola!
Quest'anno, la formula è stata un po' diversa: ci siamo trovati all'aperto ma tutti insieme. Il solito menù non c'è stato, ma ci siamo trovati in compagnia a degustare i vini nuovi della stagione e a mangiare le castagne insieme.
Un modo per festeggiare questa giornata un po' diversa!
Un'ultima curiosità su San Martino. Quando si dice "fare San Martino", intendendo il fatto di traslocare da un posto all'altro, è perché in questo periodo dell'anno, i contadini molto spesso si spostavano da un fattore all'altro, portandosi dietro sul carro i pochi mobili e averi che si possedeva, per trasferirsi in una nuova campagna da un novo padrone. E da qui nasce il detto "fare San Martino"!
---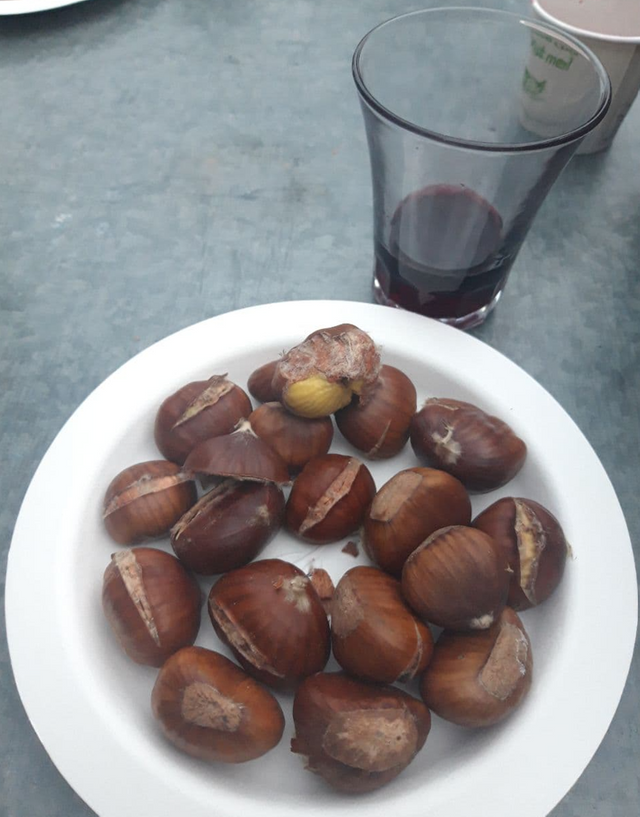 ---
English version
Every year on 11th of November we celebrate St. Martin's Day! On St. Martin's Day, the saying goes that "every grape must becomes wine ", meaning that it is time to taste the new wine, which, having taken on the first cold weather, begins to form and become more full-bodied!
I have always celebrated St Martin's Day in Sorrivoli, in my heartland. On this occasion, in years gone by, we would all get together and eat potato gnocchi with meat sauce, sausage and olives, roast chestnuts, all accompanied by new wines from the local wineries! In fact, on this occasion there was always a competition for the best new wine in the area, which was chosen by a jury of local people and wine experts. And to top it all off, the evening ended with a tombola!
This year, the formula was a bit different: we were outdoors but all together. We did not have the usual menu, but we did get together to taste the new wines of the season and eat chestnuts together.
A way to celebrate this slightly different day!
One last curiosity about St. Martin's Day: when people say " doing St. Martins", meaning moving from one place to another, it is because at this time of year, farmers very often moved from one farmer to another, taking with them on their carts the few pieces of furniture and possessions they owned, to move to a new countryside with a new owner. And this is where the saying " doing St. Martins " comes from!
La foto è di mia proprietà, scattata con il mio smartphone. The photo is my own, taken with my smartphone.
Grazie per aver letto! Thanks for reading!