IT
Scorrendo tra le foto che ho in memoria, ho trovato questa foto scattata a fine 2020: un tramonto scattato da casa dei miei genitori, con all'orizzonte San Marino illuminata. Se c'è una cosa che mi manca del vivere in campagna, è il cielo. Il cielo al mattino quando albeggia e che illumina la campagna, il cielo la notte con le stelle, e il cielo al tramonto i cui colori sono sempre diversi ogni giorno dall'altro. Ecco, e questo è il cielo che ho catturato: un tramonto rosa che fa da sfondo ad un panorama che ho visto mille volte, ma che non riesce mai a stancarmi.
La foto è di mia proprietà, scattata con il mio smartphone Samsung A6 (fotocamera da 16Mpx).
---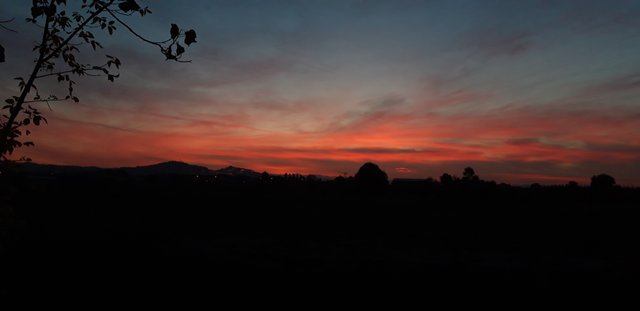 ---
EN
Scrolling through the photos I have in my memory, I found this picture taken at the end of 2020: a sunset taken from my parents' house, with San Marino lit up on the horizon. If there's one thing I miss about living in the country, it's the sky. The sky in the morning when it dawns and lights up the countryside, the sky at night with the stars, and the sky at sunset whose colours are always different every day. Here, and this is the sky I captured: a pink sunset that forms the backdrop to a view I have seen a thousand times, but which never manages to tire me.
The photo is my own, taken with my Samsung A6 smartphone (16Mpx camera).
Grazie per aver letto! Thanks for reading!