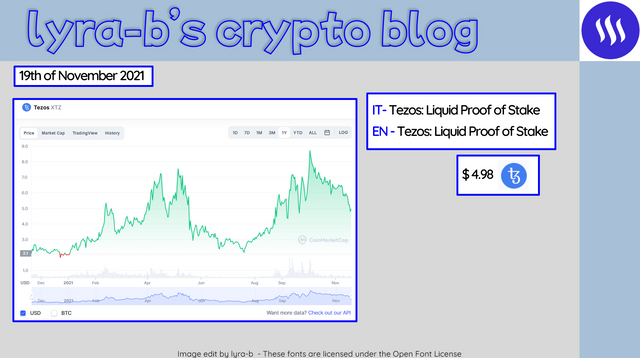 ---
Steem logo source: https://steem.com/
Tezos logo source: https://coinmarketcap.com/currencies/tezos/
Central image source: https://coinmarketcap.com/currencies/tezos/
Price source: https://coinmarketcap.com/currencies/tezos/
---
Versione italiana
Tezos viene definita come una blockchain "Liquid Proof of Stake". La differenza tra una Liquid Proof of Stake e una Delegate Proof of Stake (come lo è Tron), è spiegata di seguito.
In una DPoS (Delegate Proof of Stake ), il numero dei delegati (chiamati Super Rappresentanti in Tron) a validare un blocco nella catena di blocchi è un numero fisso (ad esempio Tron ne ha 27), e i delegati (o rappresentanti) vengono eletti durante un turno di elezione, e chi può eleggerli deve avere messo in stake dei token nativi (come sono i TRX per Tron) della blockchain.
In una LPoS (Liquidit Proof of Stake), un blocco è prodotto ("baked" nel gergo di Tezos) da un stakeholder casuale e convalidato da 32 stakeholder casuali.
Tezos ritiene come fondamentali aspetti come la decentralizzazione, il coordinamento e la sicurezza piuttosto che la scalabilità.
Conclusioni: Ritengo Tezos un progetto da tenere d'occhio, anche per il fatto cha ha annunciato una collaborazione con la McLaren per una collezione di NFT. Inoltre è un nuovo tipo di PoS, che non avevo mai sentito prima, e per questo sono stimolata a saperne di più.
Domanda: Avete mai sentito parlare della Liquid Proof of Stake?
Disclaimer: Non sono un consulente finanziario, quindi ciò che è scritto in questo post è un'opinione personale, non un consiglio finanziario. Se volete investire dovete farlo consapevolmente e sotto la vostra responsabilità.
---
English version
Tezos is defined as a "Liquid Proof of Stake" blockchain. The difference between a Liquid Proof of Stake and a Delegate Proof of Stake (as Tron is), is explained below.
In a DPoS (Delegate Proof of Stake ), the number of delegates (called Super Representatives in Tron) to validate a block in the blockchain is a fixed number (e.g. Tron has 27), and the delegates (or representatives) are elected during an election round, and those who can elect them must have staked native tokens (such as TRXs for Tron) on the blockchain.
In a LPoS (Liquidit Proof of Stake), a block is produced ("baked" in Tezos jargon) by a random stakeholder and validated by 32 random stakeholders.
Tezos considers aspects such as decentralisation, coordination and security rather than scalability as fundamental.
Conclusions: I consider Tezos a project to keep an eye on, also for the fact that it has announced a collaboration with McLaren for a collection of NFTs. Also, it's a new kind of PoS, which I've never heard of before, so I'm excited to learn more about it.
Question: Have you ever heard of Liquid Proof of Stake?
Disclaimer: I am not a financial advisor, so what is written in this post is a personal opinion, not financial advice. If you want to invest, you have to do it consciously and on your own responsibility.