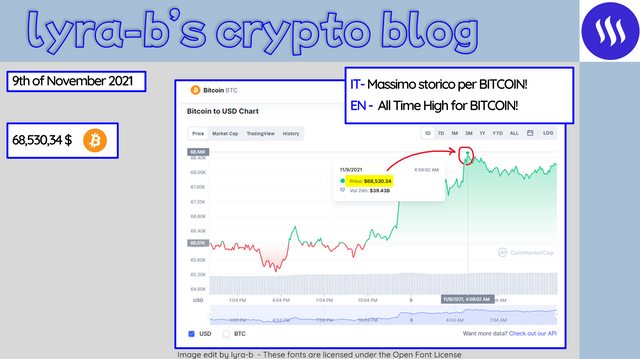 ---
Steem logo source: https://steem.com/
Bitcoin logo source: https://bitcoin.org/it/
Central image source: https://coinmarketcap.com/currencies/bitcoin/
Price source: https://coinmarketcap.com/currencies/bitcoin/
---
Versione italiana
Il prezzo di Bitcoin ha raggiunto il suo massimo storico! Oggi 9/11/2021 alle 4:59 AM ora italiana il suo prezzo ha toccato il valore 68,530,34 $ (fonte: https://coinmarketcap.com/currencies/bitcoin/).
Che cos'è Bitcoin? Bitcoin è un sistema di pagamento elettronico peer-to-peer, ovvero un sistema di condivisione decentralizzata su internet che ha come scopo quello di eliminare gli intermediari nelle transazioni di denaro. Dal whitepaper di Bitcoin leggiamo "È dunque necessario un sistema di pagamento elettronico basato su prova crittografica invece che sulla fiducia, che consenta a due controparti qualsiasi negoziare direttamente tra loro senza la necessità di una terza parte di fiducia." (fonte: https://bitcoin.org/files/bitcoin-paper/bitcoin_it.pdf)
Conclusioni: Bitcoin ha rivoluzionato il modo di intendere lo scambio di denaro elettronico e il modo di fare transazioni. Essendo la quantità di Bitcoin finita, è probabile che il suo prezzo possa salire ancora nel tempo.
Disclaimer: Non sono un consulente finanziario, quindi ciò che è scritto in questo post è un'opinione personale, non un consiglio finanziario. Se volete investire dovete farlo consapevolmente e sotto la vostra responsabilità.
---
English version
The price of Bitcoin has reached an all-time high! Today 11/9/2021 at 4:59 AM Italian time its price touched $68,530.34 (source: https://coinmarketcap.com/currencies/bitcoin/).
What is Bitcoin? Bitcoin is a peer-to-peer electronic payment system, i.e. a decentralised sharing system on the internet that aims to eliminate middlemen in money transactions. From Bitcoin's whitepaper we read "What is needed is an electronic payment system based on cryptographic proof instead of trust,
allowing any two willing parties to transact directly with each other without the need for a trusted third party." (source:https://bitcoin.org/bitcoin.pdf)
Conclusions: Bitcoin has revolutionised the way we think about electronic money exchange and the way we do transactions. As the amount of Bitcoin is finite, its price is likely to rise further over time.
Disclaimer: I am not a financial advisor, so what is written in this post is a personal opinion, not financial advice. If you want to invest, you have to do it consciously and on your own responsibility.