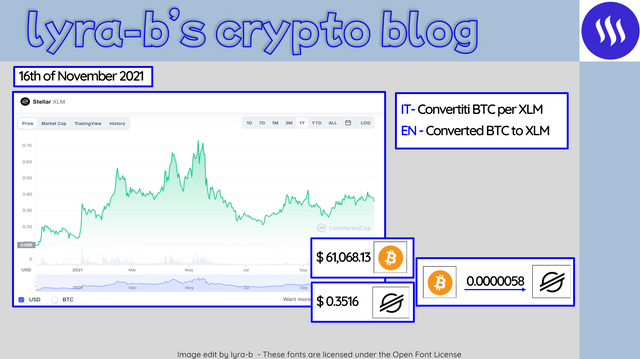 ---
Steem logo source: https://steem.com/
Bitcoin logo source: https://bitcoin.org/it/
Stellar logo source: https://www.stellar.org/
Central image source: https://coinmarketcap.com/currencies/stellar/
Bitcoin price source: https://coinmarketcap.com/currencies/bitcoin/
Stellar price source: https://coinmarketcap.com/currencies/stellar/
---
Versione italiana
Oggi ho impostato un ordine del tipo BUY-LIMIT scambiando BTC per XLM al prezzo di conversione di 0.0000058 BTC/XLM.
Oggi 16/11/2021 il prezzo del token XLM è di 0.3516 $ (fonte: https://coinmarketcap.com/currencies/stellar/)
XLM è Lumen, il token di Stellar, una blockchain nata nel luglio 2014 dall'hard fork con Ripple.
Stellar è un sistema decentralizzato adatto allo scambio di denaro in modo fluido, semplice e soprattutto con bassissime tasse di transazione. La sua rete infatti, è molto veloce nello scambio di XLM, e le tasse per ogni transazione sono di circa 0,00001 XLM.
Personalmente utilizzo molto questa moneta nel trasferire dei fondi da un exchange all'altro, sia per le bassissime tasse di transazione, che per la velocità dei trasferimenti. Credo che il futuro di XLM possa essere proprio questo: permette micro-pagamenti in modo rapido e a basso costo di transazione.
Se volete saperne di più vi lascio il link al sito https://www.stellar.org/learn/intro-to-stellar
Conclusioni: Mi piace Stellar, e mi piace come le transazioni siano veloci e supportate da molti exchange. Credo che XLM possa avere un buon futuro.
Disclaimer: Non sono un consulente finanziario, quindi ciò che è scritto in questo post è un'opinione personale, non un consiglio finanziario. Se volete investire dovete farlo consapevolmente e sotto la vostra responsabilità.
---
English version
Today I set a BUY-LIMIT order swapping BTC for XLM at the conversion price of 0.0000058 BTC/XLM.
Today 11/16/2021 the price of the XLM token is $0.3516 (source: https://coinmarketcap.com/currencies/stellar/)
XLM is Lumen, the token of Stellar, a blockchain born in July 2014 from the hard fork with Ripple.
Stellar is a decentralized system suitable for exchanging money smoothly, easily and above all with very low transaction fees. In fact, its network is very fast in exchanging XLM, and the fees for each transaction are about 0.00001 XLM.
I personally use this currency a lot when transferring funds from one exchange to another, both for the very low transaction fees and the speed of the transfers. I believe that the future of XLM could be just that: it allows micro-payments in a fast way and with a low transaction cost.
If you want to know more I leave you the link to https://www.stellar.org/learn/intro-to-stellar
Conclusions: I like Stellar, and I like how fast transactions are and supported by many exchanges. I think XLM can have a good future.
Disclaimer: I am not a financial advisor, so what is written in this post is a personal opinion, not financial advice. If you want to invest, you have to do it consciously and on your own responsibility.