AMP è un token della blockchain di Ethereum che viene utilizzato per fornire una garanzia ogni volta che un certo valore viene trasferito. Nel mondo delle blockchain si da maggiore priorità alla sicurezza dello scambio rispetto alla velocità, ad oggi quando si effettua un pagamento possono essere necessari diversi minuti di attesa perché la transizione sia considerata permanente, AMP viene utilizzata come garanzia della transizione, per cui questa viene garantita immediatamente, mettendo subito i fondi a disposizione dell'acquirente, mentre la transazione vera è propria è ancora in fase di elaborazione sulla blockchain. Amp non solo funziona su tutte le blockchain, ma fornisce garanzie anche per le conversioni fra le varie monete. In breve AMP garantisce la velocità e le transazioni delle varie operazioni.
Oggi 2021-11-09 AMP vale 0.0602 $ e questo è il suo grafico ad un anno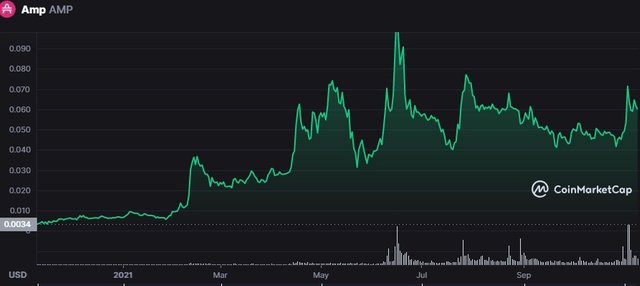 Considerando l'importanza della sicurezza negli scambi su blockchain potrebbe valere la pena investire su questo token
Questa naturalmente è una mia opinione personale che non deve influenzare nessuno.
Ringrazio CoinMarketCap per il grafico che ho utilizzato
[ENG]
AMP is a token on the Ethereum blockchain that is used to provide a guarantee whenever a certain value is transferred. In the blockchain world, the security of the exchange is given higher priority than speed, to date when making a payment it can take several minutes of waiting for the transition to be considered permanent, AMP is used as a guarantee of the transition, so this is guaranteed immediately, making the funds available to the buyer right away, while the actual transaction is still being processed on the blockchain. Amp not only works on all blockchains, but also provides guarantees for conversions between coins. In short, AMP guarantees the speed and transactions of the various transactions.
Today 2021-11-09 AMP is worth $0.0602 and this is its one year chart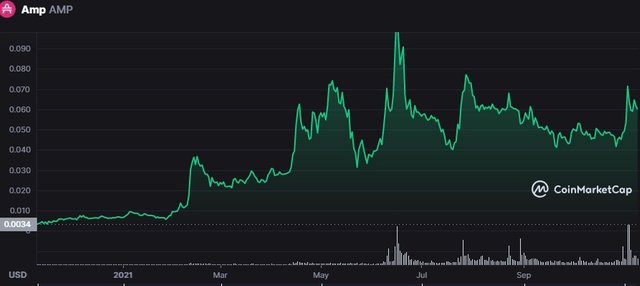 Considering the importance of security in blockchain exchanges it might be worth investing in this token
This of course is my personal opinion that should not influence anyone.
I would like to thank CoinMarketCap for the chart I used.