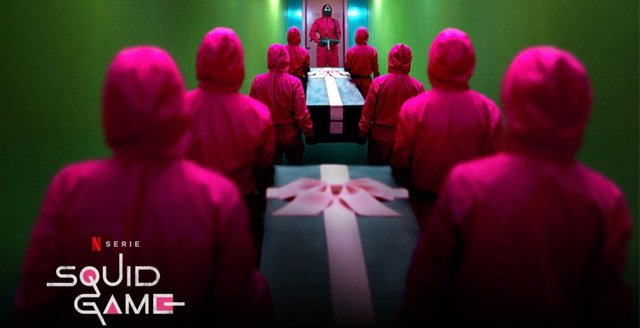 I think there are very few young people left who did not watch Squid Game, the new Netflix film production, which broke the mouth of the fair. But what did the spectators not do? They did not try to decipher the symbols of this series, which, obviously, is not just about violence and competition.
But let's see what this fight hides for life and death. After the nine episodes in which I shuddered thousands of times, I think I'm ready to unravel the mystery of this film that wants to be a new The Hunger Games.
At the heart of our story is Seong Gi-hun, a man we can say is a loser: a gambler addict, a father more absent than present, and a kind of parasite who lives with his old mother, extorting and thousands of ₩. Caught in the throes of moneylenders who want to shake him money, he accepts the offer of a stranger who proposes to him to be part of a game.
Boom, from that moment the seemingly slow story turns into a series of events and facts that can effectively torment any spectator. Players are put in front of six games from which, be careful, they have to come out alive. Rivers of blood, violence, secrets and addictions - this is what brings the series to the forefront.
But beyond that, the film has a few hidden symbols that give it weight beyond its commercial character. For example, creating an egalitarian society with well-defined rules of the game. This kind of almost utopian arrangement catches the players, making them grit their teeth at the possible win, which amounts to several billion. But society is egalitarian only on the surface, and the perfect soldiers are no better than the fringes involved in the game. Basically, they were given weapons and free will to decide how quickly to eliminate those who do not keep pace.



Another symbol is that of the masked man, who seems to be a ruler of society but has become a puppet of the world's financial powers. By the way, the appearance of the so-called VIPs is a unique interpretation of Orwell's Animal Farm, only this time in the form of a fable with rich but unhappy animals, which seeks to have a lot of fun on the edge of those who are at the mercy their.
I understand both viewers' camps, because the film is quite outrageous, even horrifying (if you haven't had to deal with movies from the Korean space). The truth is that the series, de facto, does not bring new topics. It is about marginalization, unemployment, poverty, contrasts. It's just wrapped in a way that makes you tremble. How far can evil and greed go? What is ready to make a man face imminent death? Can anything human remain in the midst of unleashed hell?


Put aside the commercial noise and watch this movie as a metaphor for the world we try to survive in every day. I'm sure the pink glasses will be shattered. Are you ready to play?
Image Sources:
Netflix cresce di 4,38 milioni di utenti anche grazie a Squid Game
YouTube Sources:
Squid Game | Trailer ufficiale | Netflix