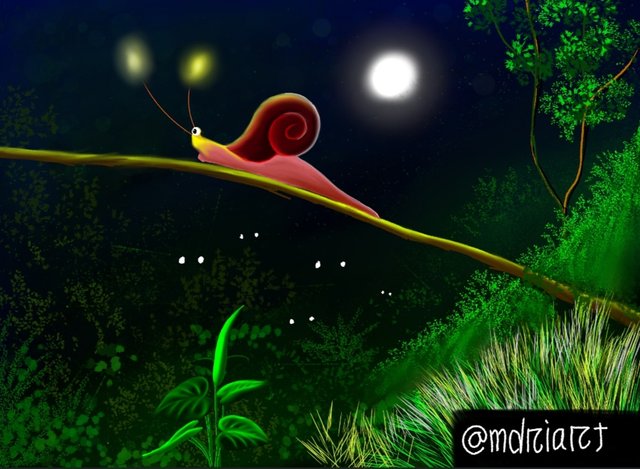 Hi all my dear friends. How are you.? I hope fine. I'm also fine by the grace of Almighty. As you all know that I'm an artist. I like to draw any kind of drawing or painting. Most of the time I like to draw a meaningful painting and drawing. Today I have come to share another nft art to show you all.
About the art.
Today I have come to show another nft art. Today I draw the nft art of the beautiful art of the moonlit night of the wild life . It's a meaningful art. I draw this art from my own imagination. It's another meaningful art . I made it so colourful using different colour. . I draw the art by me . I took about an hour to draw this art.
My feelings.
I feel really well to share this art with you all. Drawing is my most favourite hobby. When I sit to draw unique something I get so much pleasure. Today it's not different. I'm so much happy to share this art.
Drawing instruments.
mobile phone &
infinite painter Android app
Step by step drawing process.
Step : 01
At the first step I use black and blue colour to and make a beautiful colour combined page.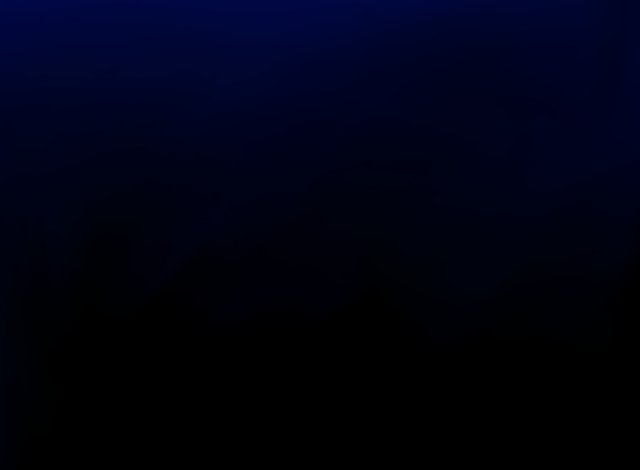 Step : 02
Then I use green and yellow colour to draw some little plants leaf on the ground. And I draw a long little branch of tree.

Step : 03
Then I use red colour line and draw the shape of the little snail on the long branch.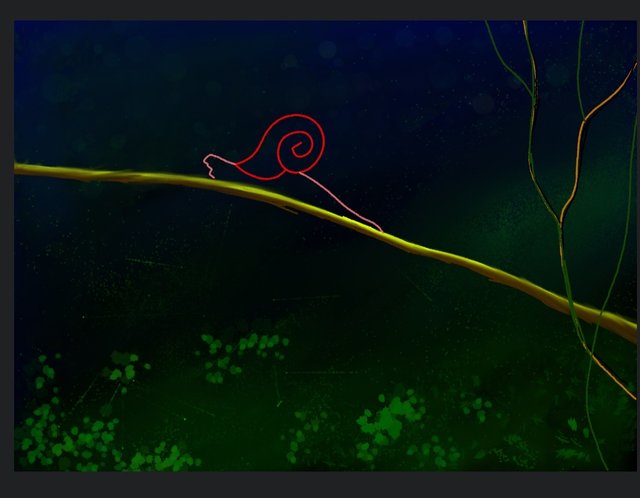 Step : 04
Then I started colour to the snail using pink and red colour. And I also make a perfect blending on its body.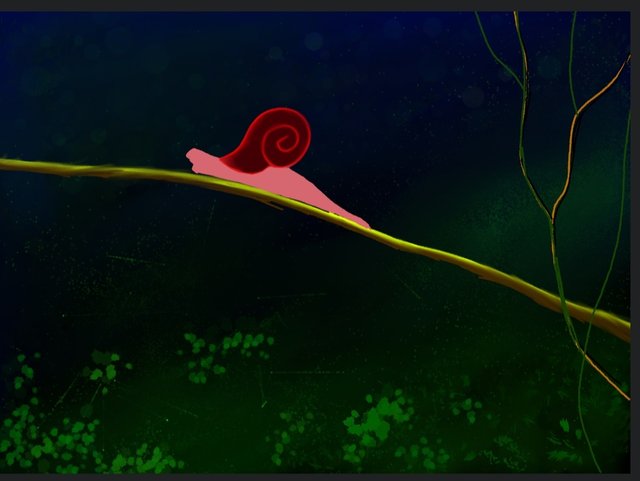 Step : 05
Then draw two antenna of the snail and I made the antennas brightest using yellow and white colour.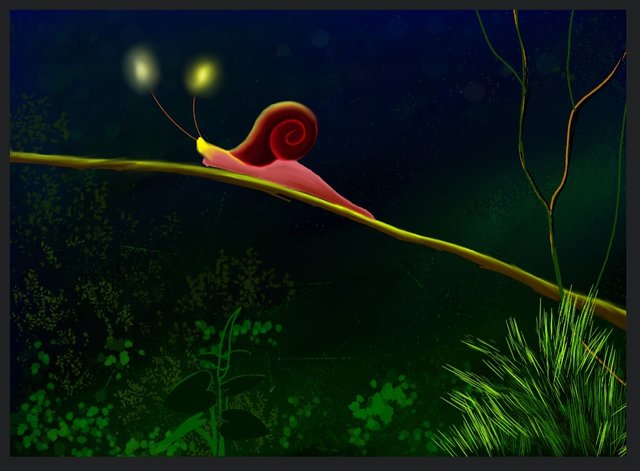 Step : 06
Then I draw some little trees on the ground. I used here green and yellow green colour.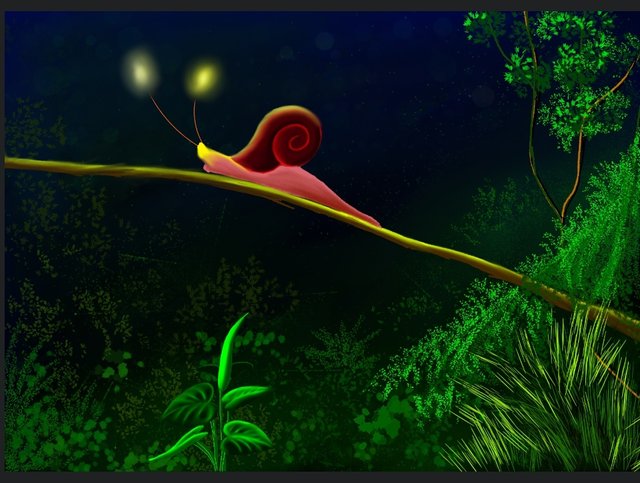 Step : 07
Then I draw the moon on the sky using white colour and blended around the moon.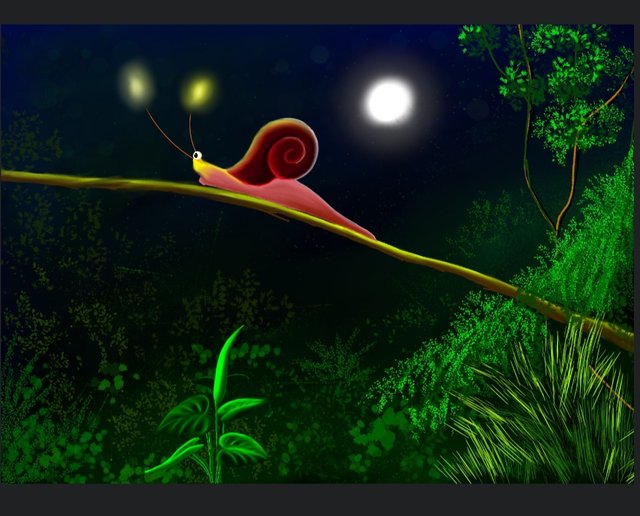 Step : 08
And at the last step I draw some couple of eye of the wolf in the dark spot.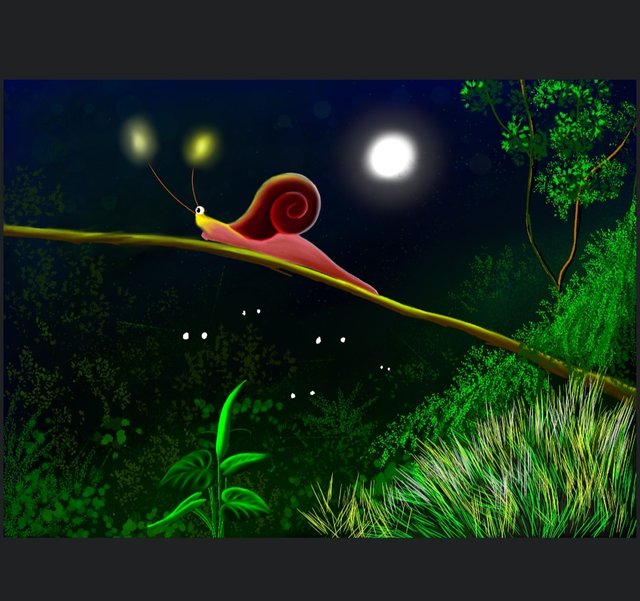 Final output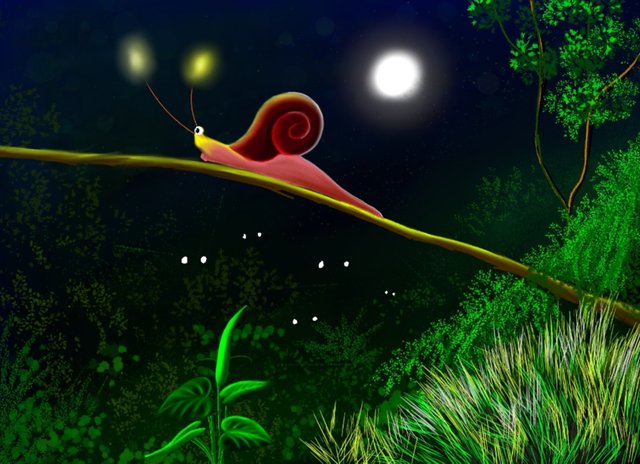 Concept of the art
You all know that I'm an artist and I like to draw any kind of creative art using different colour and digital app. Today I also draw a beautiful nft art of the moonlit night view of the wild. I like to enjoy the animated and adventurer movie. Because in the movie there are many beautiful fairyland and natural sceneries are seen. Thinking all about it I started to imagine the beautiful scenery and draw with my creativity.
I minted this art in the largest nft market place OPENSEA, recently.
https://opensea.io/assets/matic/0x2953399124f0cbb46d2cbacd8a89cf0599974963/20023465072169362056309417709497668136320776874716080784628987297283063152641/
| A | B |
| --- | --- |
| Categories | nft art |
| Artist | @mdriart |
| Device | poco x2 |
| Location | Khulna |
| Software | Infinite painter |
Thanks all for visiting my post.