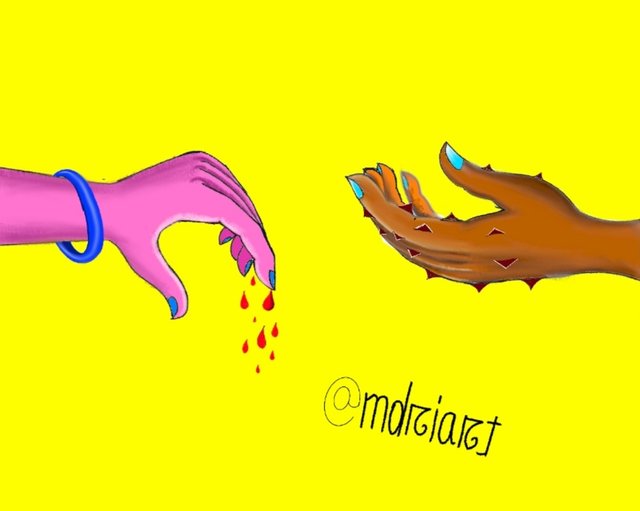 Hi all my dear friends. How are you.? I hope fine. I'm also fine by the grace of Almighty. As you all know that I'm an artist. I like to draw any kind of drawing or painting. Most of the time I like to draw a meaningful painting and drawing. Today I have come to share another nft art to show you all.
About the art.
Today I have come to show another nft art. Today I draw the nft art of the beautiful art of the two hand. It's a meaningful art .. I draw this art from my own imagination. It's another meaningful art . I made it so colourful using different colour. . I draw the art by me . I took about an hour to draw this art.
My feelings.
I feel really well to share this art with you all. Drawing is my most favourite hobby. When I sit to draw unique something I get so much pleasure. Today it's not different. I'm so much happy to share this art.
Drawing instruments.
mobile phone &
infinite painter Android app
Step by step drawing process.
Step : 01
At the first step I draw the shape of a hand using black line and 2b digital pencil brush.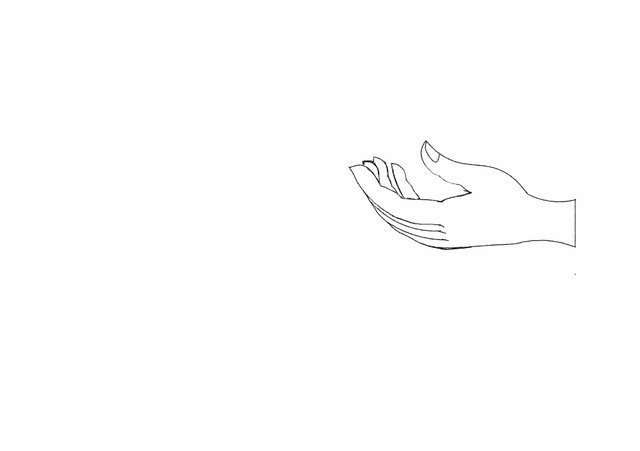 Step : 02
Then I draw another hand using the black line again.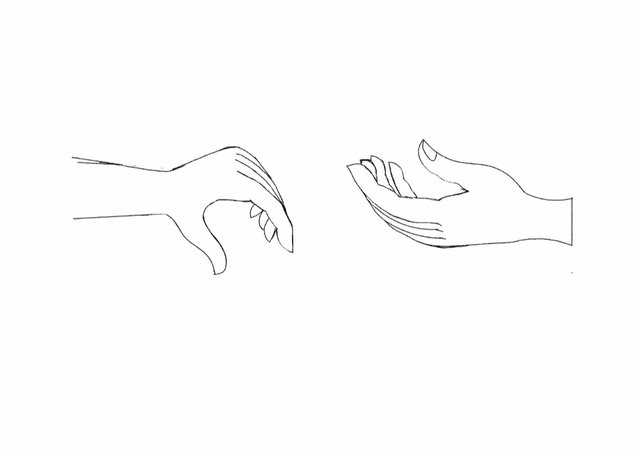 Step : 03
Then I started to colour of the hand using yellow brown colour.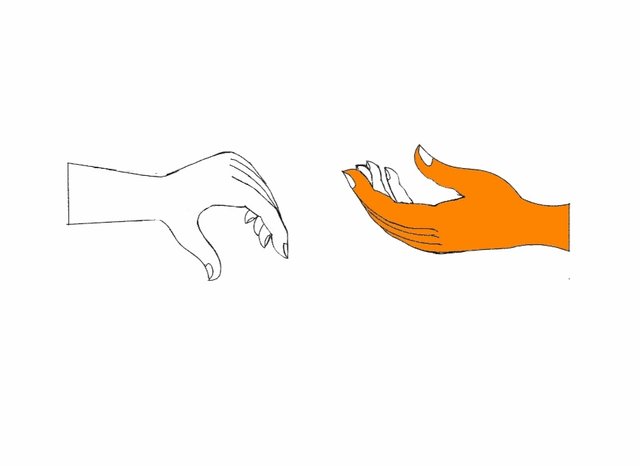 Step : 04
Then I used lite blue colour to draw the nails. And I also draw some thorn to the hand.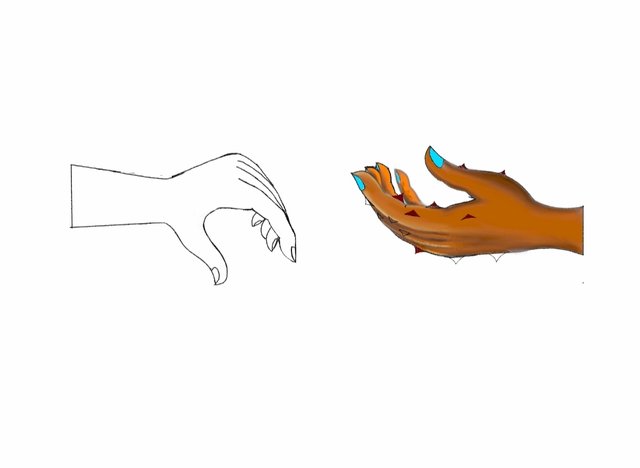 Step : 05
Then I changed the background colour of the art to yellow. And I applied pink colour to another hand.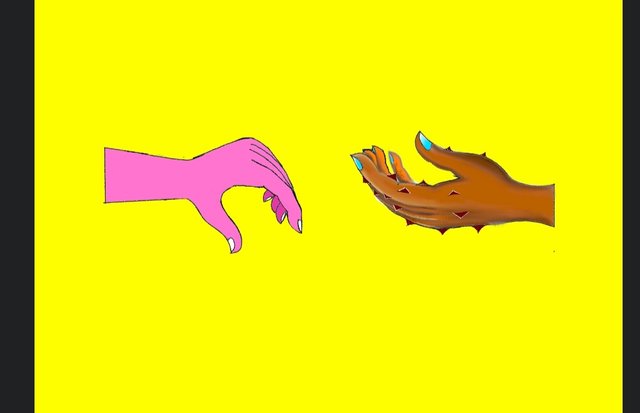 Step : 06
Then I started to draw details of the hand using black colour.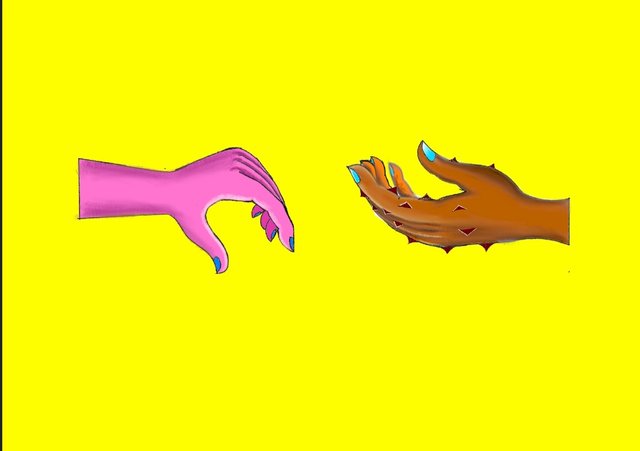 Step : 07
Then I used red colour to draw the blood falling fron the hand.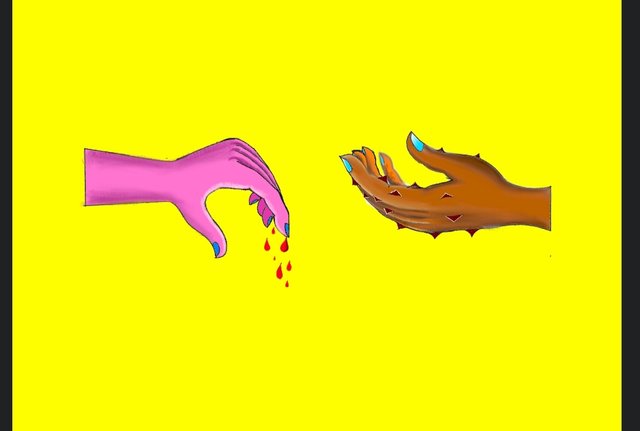 Step : 08
Then I draw the ring to the 2nd hand by red colour.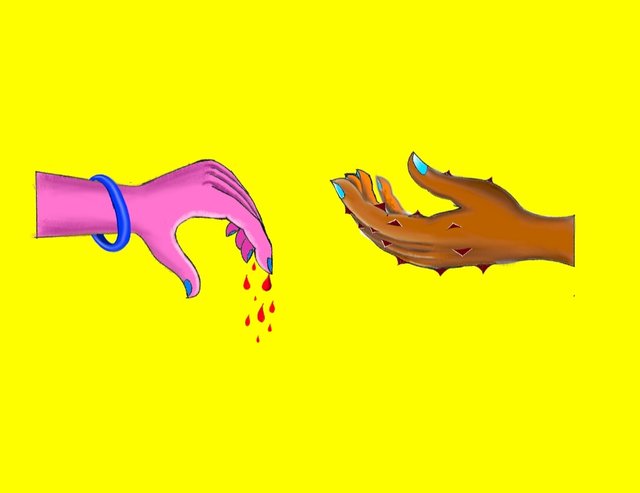 Final output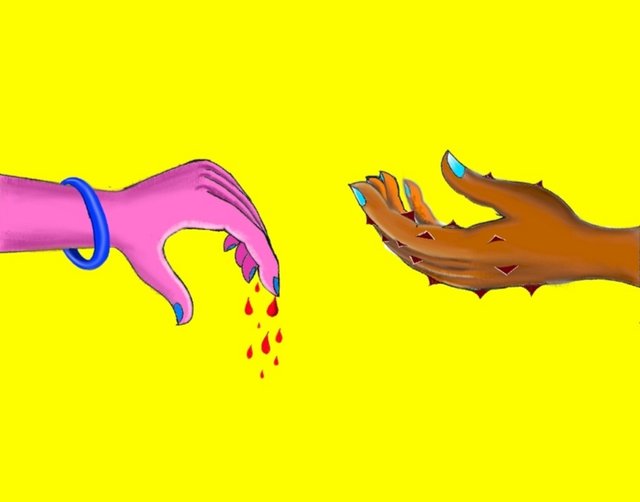 Concept of the art
You all know that I'm an artist and I like to draw any kind of creative art using different colour and digitally. Today I also draw a creative and meaningful nft art of the two hand. The main theme of the art is bad companion. Here I draw two different hand. One hand is full of thorn. And it the hand of our close evil. Who always try to hart us. As result we fall in any kind of problems. Throughout this art I want to send a message to identify and avoid them. Thinking all about it I made this nft art.
I minted this art in the largest nft market place OPENSEA, recently.
https://opensea.io/assets/matic/0x2953399124f0cbb46d2cbacd8a89cf0599974963/20023465072169362056309417709497668136320776874716080784628987295084039897089/
| A | B |
| --- | --- |
| Categories | nft art |
| Artist | @mdriart |
| Device | poco x2 |
| Location | Khulna |
| Software | Infinite painter |
Thanks all for visiting my post.