INTRO
TRONIX (TRX) staking contest is going on every week in the Tron Fan Club community. We have fixed Friday as a day of staking TRX. Here, tron lovers can find this initiative very useful for them. We reward 100 trx to top five participants every week for staking TRX on Friday. You can check the original post of that initiative from the LINK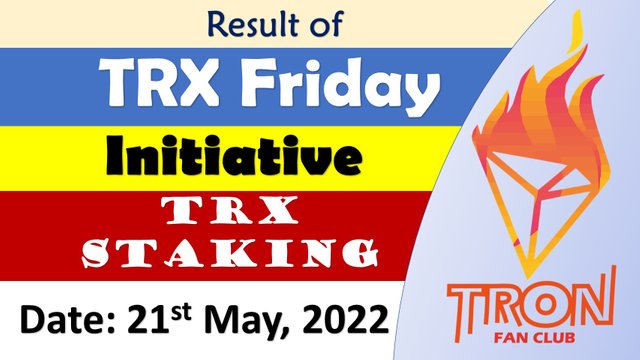 RULES ON TRX FRIDAY CONTEST
There is no hard and fast rules. Just you need to share your TRX staking and voting to SRs at GMT on Friday GMT.
Your Post Title Must be: TRX Friday Initiative || (Your Title)

You have to mention amount of TRX collection on that specified week, staking amount in the week and total TRX stake in a table. Besides, you have to share at least three screenshots of staking process along with tronscan link of staking.

Tron Fan Club community Admin and moderator's participation will not be considered for the contest.

You cannot Unstake TRX during participation in the initiative. You have to inform us by creating "Support Ticket" in our

Discord server

in case of any emergency requirements of Unstake. So, be loyal and try to stake a few every week regularly. If unstaking found, you will be permanently banned to participate in this initiative.

PARTICIPANTS
PARTICIPANTS THIS WEEK
WEEKLY STAKING
| Week. No. | Date | Total TRX Stake | Participants |
| --- | --- | --- | --- |
| 01 | 6th May, 2022 | 907 | 14 |
| 02 | 13th May, 2022 | 789 | 12 |
| 02 | 20th May, 2022 | 832 | 13 |

WINNERS THIS WEEK
I am disappointed again today with the entries this week. In last two weeks, i talked about the rules of participating post but nothing changed by the users. That means, they are not reading posts. So, today i shall not describe the mistakes done by the participants. They should check my previous result posts and contest rules post to know the rules first before participating.
In the comment section, i have specified the reason of disqualify the users. Although the rules is not so strict but still i always focus on reading of contest post by contest participants. This week, again i am considering the participants for vote. Hopefully, from next week, your participating posts will not curated if you again not follow the rules properly. Its odd looking to see you people not to read the contest post rules. Best of luck for you.
---
LIST OF WINNERS THIS WEEK
@emranhasan
@swaylee
@moneyster

---
PROOF OF TRX TRANSFER TO THE WINNERS
https://tronscan.org/#/transaction/e0eb91665df18fe36915c953e1a15f3940762f4c21c175e9f0591289ce48b77a
https://tronscan.org/#/transaction/ab94cc11c7a09de0ade3faffd52601d1a0d2d47f4e0a6c5becba2f730c9c4345
https://tronscan.org/#/transaction/a76fd51332c43616661270f3c40898971afc92c91afdca2ea00f7f928693eb5a

SPONSORS OF THE INITIATIVE
@veigo
@engrsayful
@sagor1233
@labib2000

CONCLUSION
Keep on staking TRX regularly. It's an initiative to aware members of this community about TRX staking and mining system. Don't abuse the platform and keep on following rules. You will have possibility of handsome upvote along with contest prize. Thanks and best wishes of all.


---