It is great to see that Steem Infinity Zone (SIZ) is growing day by day and we have crossed +400 subscribers in a short span of time. In this context, SIZ is taking the initiative to find some seriously talented individuals in the community.
We know that many people on steemit have some great individual talents and it is one of the missions of Steem Infinity Zone (SIZ) to find such talent and support them through our platform. This will provide an opportunity to have seriously talented people adding valuable content to steem blockchain.
It is very important to appreciate the talent of such individuals who have great skills that are practical in life and add value to your life. It would be a great idea to have such individuals in the community and motivate them to share their valuable knowledge & skills with their fellow community members.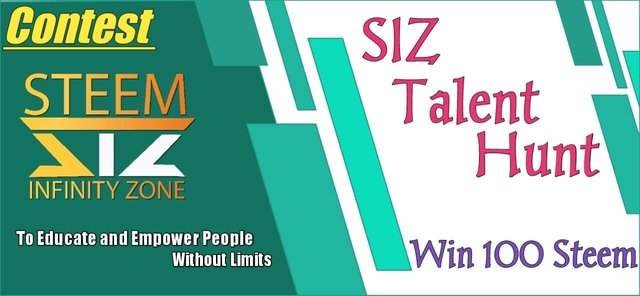 SIZ Talent Hunt is a Contest where we will allow everyone on the whole steemit platform to showcase their individual talents and skills. To make it more competitive, we have set 100 Steem Reward Pool. Show us your talent and get a chance to win Steem from this Reward Pool.
In addition to prizes, we will add talented individuals to SIZ Experts Panel that will be making training tutorials/guides and sharing valuable content in Steem Infinity Zone (SIZ). SIZ Experts will get additional support and rewards for their efforts.

How to Participate in this Contest ?
You should subscribe and make a new post in our community Steem Infinity Zone (SIZ). Your Post must have these parts.
1 - Post Title
Your Post Title can be anything but you should add these words "SIZ Talent Hunt"
---
2 – Post Contents
Post 01 tutorial or step-by-step guide on any topic you have good knowledge and command

You can share informative and valuable content in your area of expertise as well

Your post must be original and not plagiarized.

If you are taking any reference material from another source, full reference should be provided

There are no restrictions on topic selection and you can write on any topic you want.

You can write in any language you prefer.

At the end of your post, tell us how you can Benefit SIZ community with your talent and skills

SIZ will add you to Experts Trainers Panel if you have solid skill and support you in every best possible way
---
3 - Tags

Eligibility Criteria
In order to be eligible for this contest, you must follow these rules.

100 Steem in Prizes
We encourage you to make a great post with original and valuable content.
Top 3 Best Posts will get the following rewards
1st Place : 25 Steem

2nd Place : 15 Steem

3rd Place : 10 Steem

Motivation Prizes
To encourage maximum participants we will be giving away 10 prizes of 5 Steem each to individuals having some great skills.

DEADLINE
You can post your entries upto next Monday till midnight to be eligible.
Best Wishes to everyone

Special Invitation
I would like to invite @pennsif who is keeping track of all the contests on steemit platform. I hope you will find this contest interesting and we can do it at a global level if Steem Team likes this idea. This will definitely provide an opportunity to have seriously talented people adding valuable content to steem blockchain.