October 3, 2022 Nutbox Team
Nutbox TVL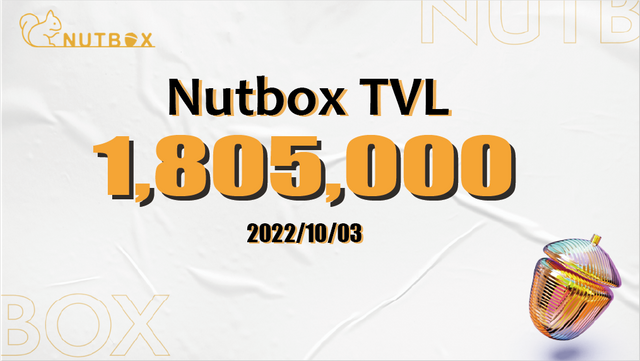 Nutbox has created 28 DAOs, with 758 members, combined TVL:$1,850,000
Development Progress
Launched the polygon mainnet
Added airdrop test currency function
Added recommendation function
Added black and white night mode
Weekly Events
Wormhole3 created an on-chain community of #token2049 to keep youth, passion and entrepreneurship on the chain
Wormhole3 created Token2049's on-chain community and developed a tool that any Token2049 participant can tweet (with #token2049 #iweb3) to sync tweets to Token2049's on-chain community.
@web3cc_dao organized the activities of Token2049 and released it to the Token2049 on-chain community through Twitter. You can follow the activity of Token2049 on the token2049.wormhole3.io and Twitter #token2049 tabs.
While participating in the Token2049 event, anyone can share the dynamic and make these exciting moments on the chain TOKEN2049. Event participants can also socially interact and connect with each other at the event. In the future, there may be NFTs of Token2049.
Coincidence Labs wins 2022 Wanxiang Fall Hackathon runner-up
Since Coincidence Lab entered the finals of the 2022 Wanxiang Autumn Hackathon Competition, from September 21st to September 27th, 2022, users can earn points by watching the 2022 Wanxiang Autumn Hackathon live broadcast and vote for Coincidence Labs.
After a week of hard work, the winners of this competition were finally announced before the closing of the Wanxiang Autumn Hackathon Summit on September 28th, 2022. With the joint efforts of all the friends, Coincidence Labs won the runner-up of the 20.22 Wanxiang Autumn Hackathon.
Thank you for your great support to Wormhole3 during the 2022 Wanxiang Autumn Hackathon, thank you very much!
Wormhole3 version0.2 switched to Polygon for testing
In order to adapt to more networks and ensure the stability of Wormhole3 version0.2, Wormhole3 version0.2 has been switched to Polygon for testing on September 29th. Hope more people join Wormhole3, Wormhole3 will provide you with more new features.
Global Ambassadors' Work
Nutbox Ecosystem currently has two teams of global ambassadors, namely, Peanut community ambassadors (5 in total) and Walnut community ambassadors (6 in total), which are committed to the development and promotion of Nutbox in different regions. This week the Ambassadors made the following contribution, let's thank the ambassadors for their work.
Walnut Community Ambassador:
https://www.notion.so/nutboxwalnut/1c0e590bb97647a68c71d7e920f6e810?v=d81c59d99d64478b8f288796020458ec
The Peanut Community Ambassador:
https://www.notion.so/fcf4b57995fb49a69a9402cdd0c2bbc5?v=09f9e7308d404a97a84bd561cfeaa774
About Us
About Nutbox
Nutbox is the community center of Web3.0, providing out-of-the-box functionality for creating a DAO, hosting users, and launching communities.
Website:
Walnut DApp:
Walnut Docs:
https://nutbox-io.gitbook.io/walnut/
Contact Us
Twitter: https://twitter.com/NutboxDao
Telegram: https://t.me/nutbox_defi
Discord: https://discord.gg/3XPGFbEAjJ
GitHub: https://github.com/nutbox-dao
Notion:
https://nutboxwalnut.notion.site/Nutbox-WiKi-f771539074914594b162975739bd7eb7