August 15, 2022 Nutbox Team
Nutbox TVL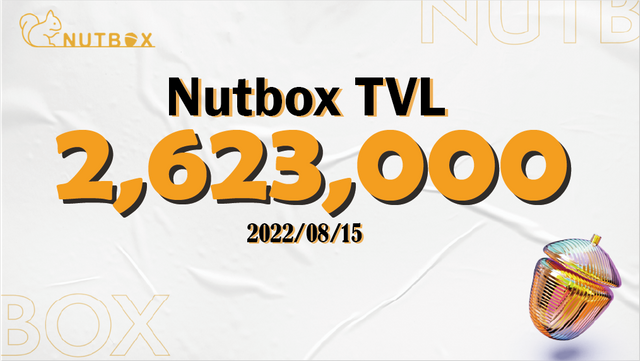 Nutbox has now created 25 DAOs with total 752 members, and combined valid TVL of $2,623,000
Development Progress
Added multi-language function
Added the function of displaying tweet posting location
Wormhole open beta: https://alpha.wormhole3.io
Tweets and likes are synced to steem
Completed the task contract coding
Improve the follow-upvote function
Adjusted some pages' UI
Weekly Events
Wormhole3 is about to Launch open beta
Wormhole3 makes it easy for everyone to create a Web3 social media channel for their project, community or DAO with the help of the bridge between Web2 and Web3.
Wormhole3 will be meeting all users on August 15, 2022 as its public beta is launched. By then, all users are welcome to participate in the public beta of Wormhole3 to help its development.
Peanut burned 10,000,000 PNUT on August 12, 2022.
After discussion by the Peanut Committee, 10,000,000 PNUT were burned on August 12, 2022, and the rarity of PNUT will continue to increase.
Global Ambassadors' Work
Nutbox Ecosystem currently has two teams of global ambassadors, namely, Peanut community ambassadors (6 in total) and Walnut community ambassadors (7 in total), which are committed to the development and promotion of Nutbox in different regions. This week the Ambassadors made the following contribution, let's thank the ambassadors for their work.
Walnut Community Ambassador
https://www.notion.so/nutboxwalnut/1c0e590bb97647a68c71d7e920f6e810?v=d81c59d99d64478b8f288796020458ec
The Peanut Community Ambassador
https://www.notion.so/fcf4b57995fb49a69a9402cdd0c2bbc5?v=09f9e7308d404a97a84bd561cfeaa774
About Us
About Nutbox
Nutbox is the community center of Web3.0, providing out-of-the-box functionality for creating a DAO, hosting users, and launching communities.
Website:
Walnut DApp:
Walnut Docs:
https://nutbox-io.gitbook.io/walnut/
Contact Us
Twitter: https://twitter.com/NutboxDao
Telegram: https://t.me/nutbox_defi
Discord: https://discord.gg/3XPGFbEAjJ
Github: https://github.com/nutbox-dao
Notion:
https://nutboxwalnut.notion.site/Nutbox-WiKi-f771539074914594b162975739bd7eb7