Hi Everyone....?
Good night and how are you, Wherever you are I hope you are well. And all activities go according to expectations, hopefully it will be fun.?
Well, on the occasion of this pleasant night I am back and want to share again about one of the plants that we often encounter as fruit and vegetables, namely tomatoes.
Tomatoes have abundant potential and benefits because tomatoes are one of the fruits that are very much needed by everyone even at any time to fulfill additional dishes or food. In addition, tomatoes have also been widely used as industrial ingredients, such as making sauces. And other preparations in the current healthy drink packaging are Tomato Juice 🍅+🍅
---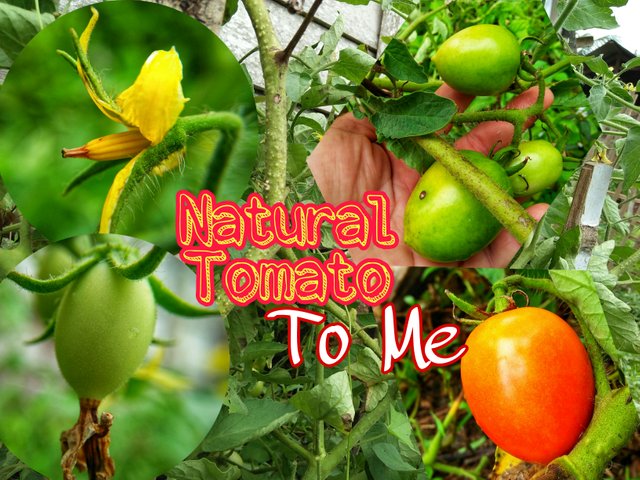 It started by accident. A few weeks ago, it's hard to remember when I started. At least, I often throw away the water used for washing fruit pieces in the backyard of the house, even every rotten tomato I throw on the ground in the backyard too.
Not much hope and intention to make it grow on purpose because I'm not sure to form tomato seeds from rotten fruit that can live and become fertile and perfect seeds what else until the harvest arrives. Not confident.
Days go by with the passing time I see the progress is changing + increasing faster. and I became interested in taking care of it modestly just a little to help its growth by sprinkling organic fertilizer (NPK), but I just thought it would be a waste. then I changed my mind and forgot about it until the weeds covered the roots and twigs of the leaves until the end of the tomato showing flowers and young fruit that attracted my attention again, to take care of it.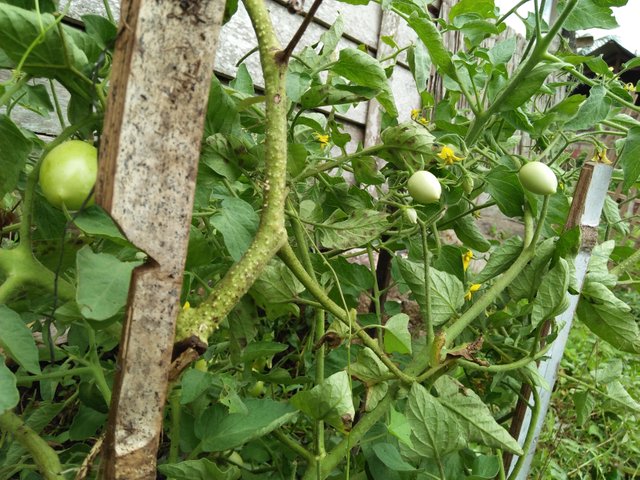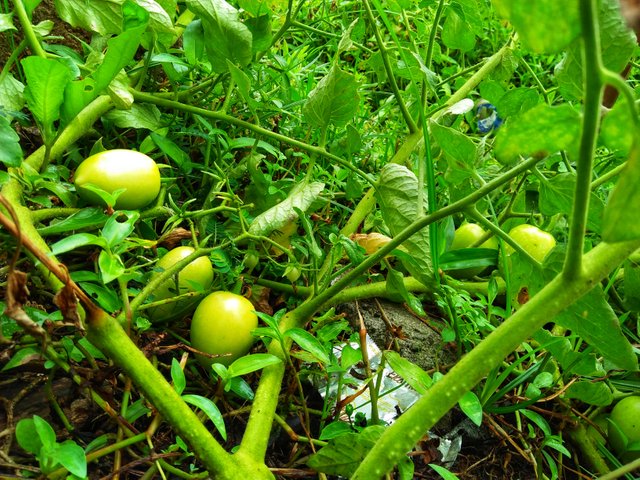 Even though weeds and grass covered half the tomato twigs, it wasn't very clear when you saw the fruit that had grown between the branches. Now I have to make sure the fruit remains intact and continues to be healthy by cleaning the weeds and grass first very carefully and more thoroughly so that the tomatoes do not fall or rot before harvest time comes. It's not even easy for pests to come.
In fact, I also tried to erect several poles to keep the weight of the fruit branches from hanging. At least it's an easy way to keep tomatoes from touching the ground and away from soil pests that damage the quality of the fruit.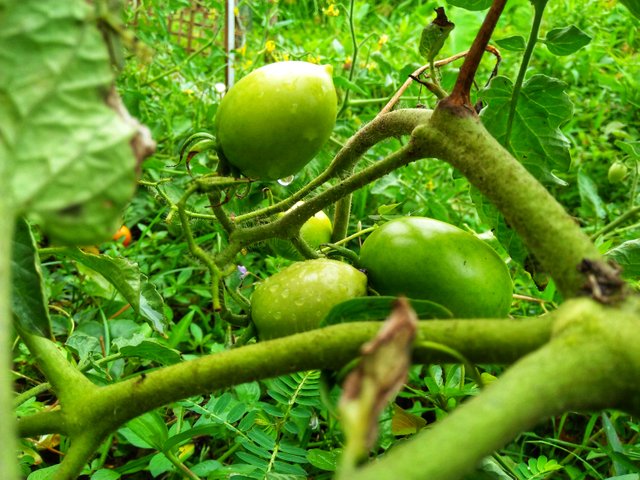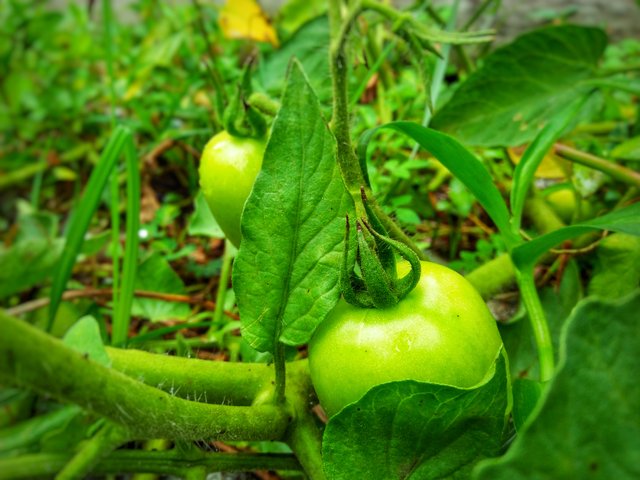 I just want to do a light treatment for now. I don't want to spoil it with strong herbicide/Fungisida stimulants and even contaminate it with chemicals because this is a healthy fruit that I will eat when the time comes. Although there is no stimulant and spraying on a daily basis that I have to apply. Some twigs also have new flower stalks for harvesting at the next stage.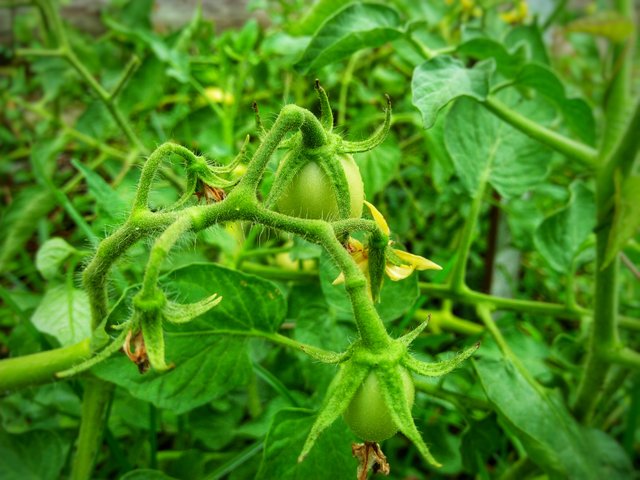 Tomato is a plant that has fruit flowers. Each tomato shoot has a flower branch, and in one stalk there are 2 to 5 discarded shoots to build large fruit.
Tomato flowers have an ideal and attractive shape. The color is so bright when it blooms reflecting the yellow color covered by the thick green flower skin. And starch as the flower sac is very filled before turning into a fruit that glows yellow.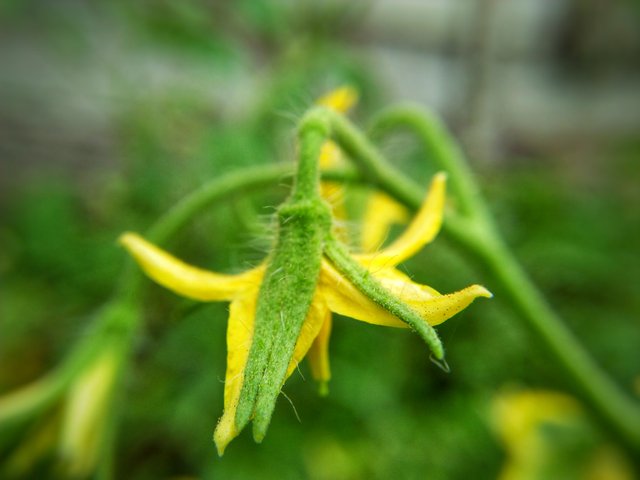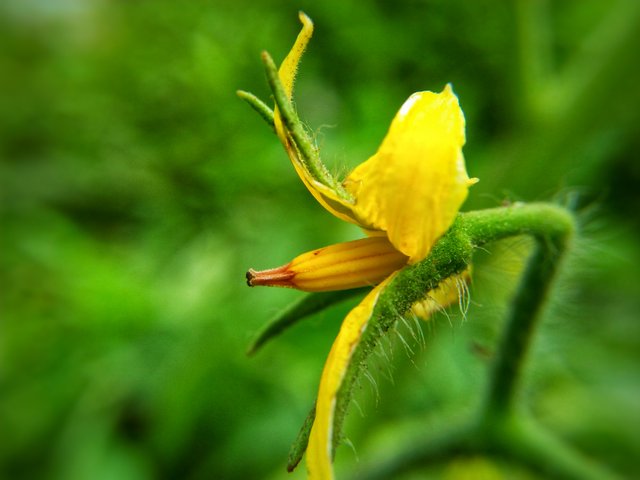 Apart from flowers. When the time came, I also saw the development of His flower changing into fruit, the small Tomato hanging so tightly on the stem I even saw the flower marks at the bottom end that were about to dry up, The skin color was very smooth and soft. The growth of the fruit will be one of perfection for me to wait for the harvest time to come,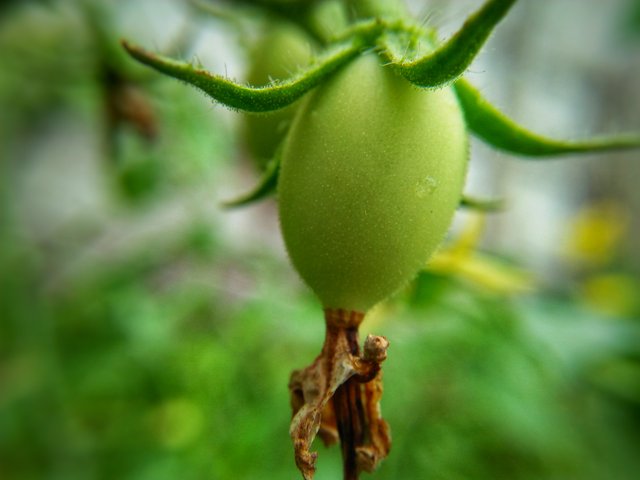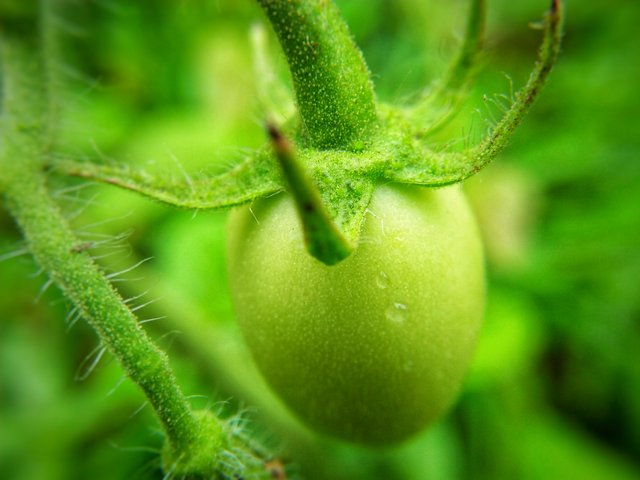 Keep in mind, not all fruits have good results. There is a condition that the nutrients do not know when they abort the fruit apart from the stalk before the time comes. Without good care, the size or weight of the fruit makes it unstable, even the fruit will get effects such as defects or shrinkage due to lack of nutrient fungicide stimulation. And with the possible influence of the weather is also a big problem for growing tomatoes.
When I run my cleanup, I find the tomatoes are falling faster which I don't know the root cause. This is not a good time to harvest at a young age due to lack of growth which makes it fall out of season.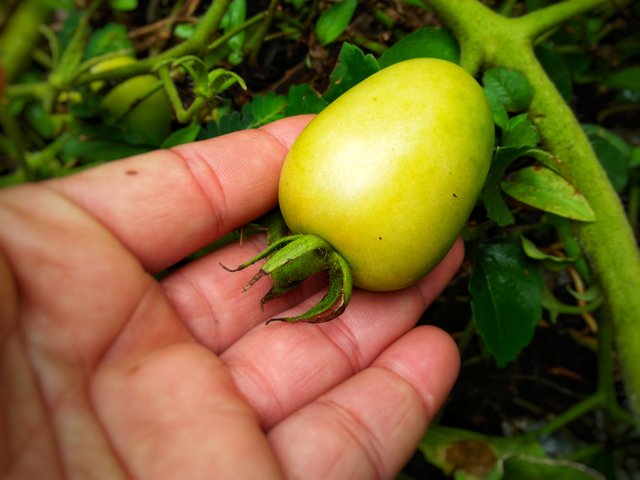 Tomato is one of the plants that has good potential with high economic value which is a great opportunity for us to become a farm that can be used as a business field, tomatoes are also one of the market stocks that are needed every day.
When the harvest arrives, there are many benefits that can be made from the source of tomatoes. if that's his forte, tomatoes are one way to build a low-key economy.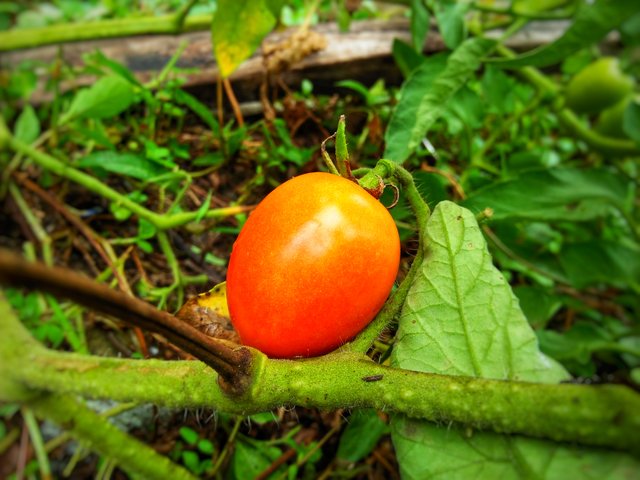 And when harvested, the tomatoes change color from green, yellow to finally a shiny red, this is the perfect time to pick and remove the tomatoes from the stalks. But usually, tomatoes have a large size. But with light care without chemicals or fungicides (Zpt) it makes it a little small as big as a chicken egg.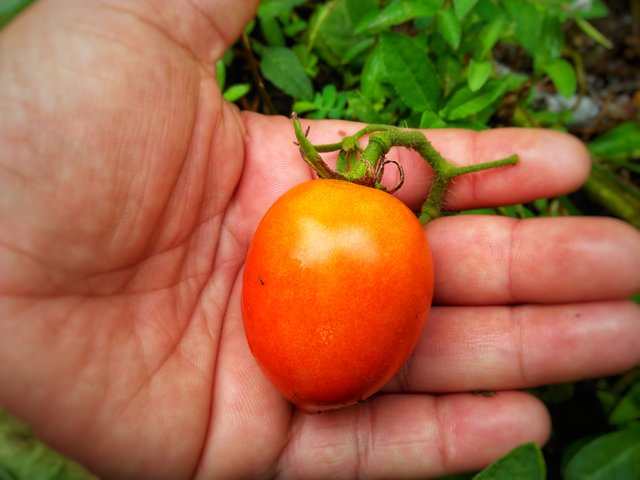 Even though tomatoes live in the wild, I am very lucky to still be able to consume them naturally (fresh) and more without having to go to the market, maybe in the future I will harvest them for my cooking at home.
That's all from me, hopefully useful. Happy gardening, success is with you, friend. Thank you for visiting. A fun day. ️
Regards @maulidar