Hello..!!
My Dear steemians,
I am @alamgir833 from Bangladesh
Today is Monday, January 17/2021
---
---
---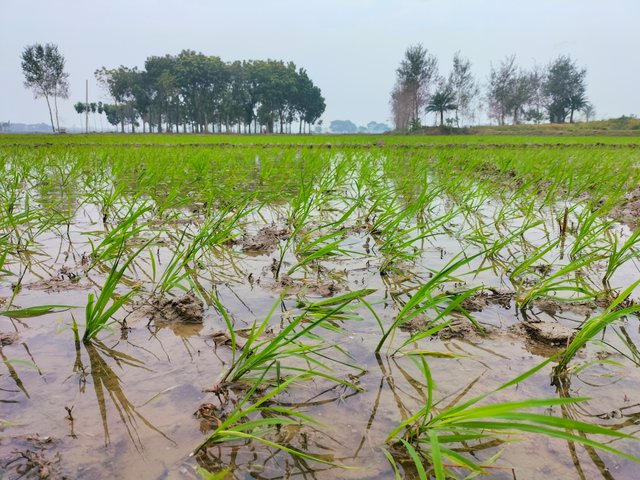 Good morning, all Steemian friends in this community, I hope you are all well, I am going to share with you today how rice is cultivated and what are the processes of planting rice. I am going to write among you how to collect rice seedlings from the seedbed and plant the seedlings in the paddy field. I will share all his work plans with you. Let's get started then.
---
---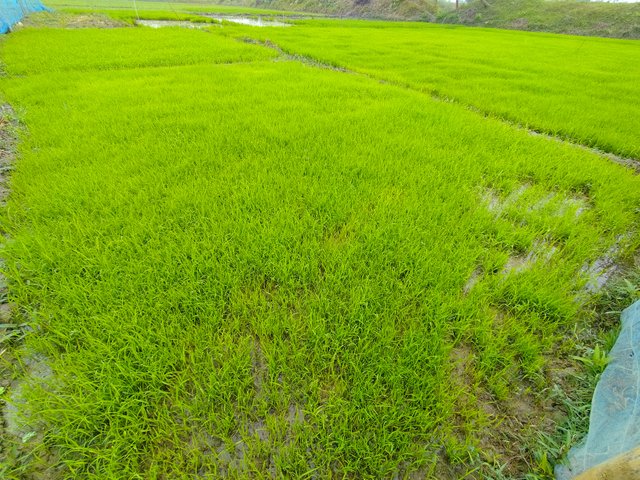 The first thing to be done is to soak the paddy seeds in water for a certain period of time and then scatter them in the seedbed and it is converted into full seedlings within a month. This work is done in December. Through this picture I have tried to explain the seedlings that grow in the seedbed within a month. This is the first place to grow seedlings in the first stage. Where rice seeds are sprinkled and these seedlings are prepared for germination.
---
---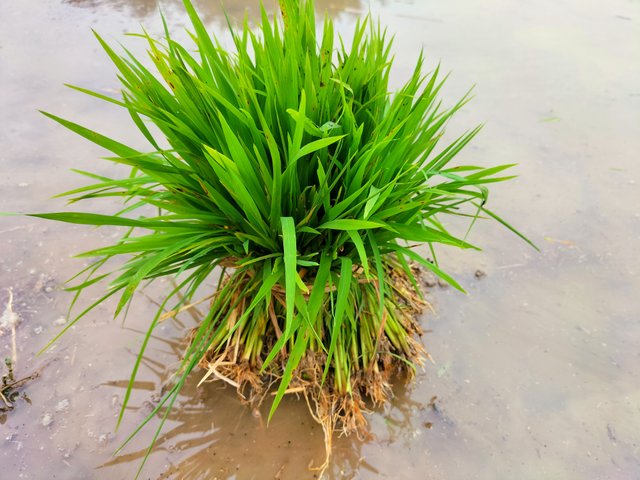 When the rice seedlings grow to a height of 2 to 3 cm, these seedlings are lifted from the seedbed to form small seedlings and are ready for planting. For planting paddy in certain lands in these small bundles. These seedlings are taken away for planting and these seedlings are collected in a very nice way.
---
---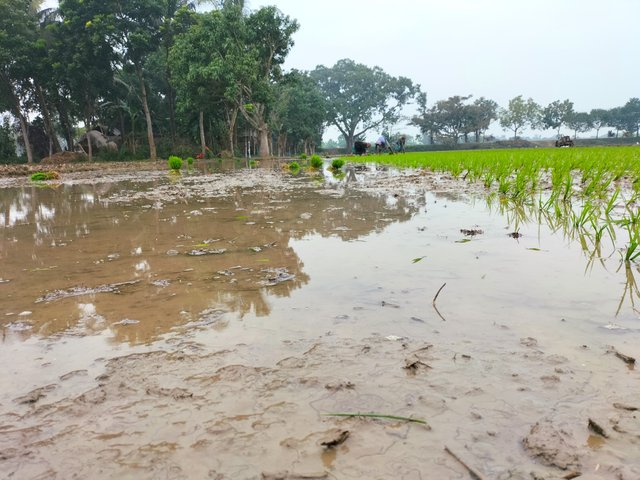 The land for planting rice seedlings is already muddy. This work is done 2-3 days before planting the paddy in the land and it is kept with adequate amount of water. So that it is easy to bury the seedlings in this muddy land and some workers have to be hired to do this work. Those who work for the saplings of this rice plant in return for a fee. And you can see through the pictures how the land is prepared for planting paddy.
---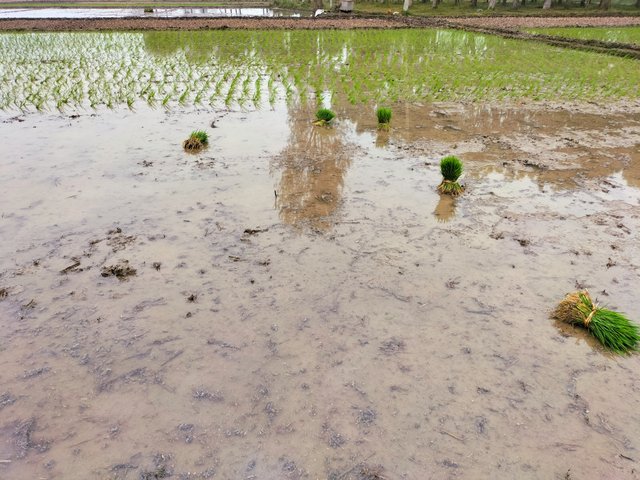 These small stalks are scattered on certain paddy lands. So that a worker can take out the seedlings from these small seedlings and bury them well in the soil. To do this, they collect seedlings from the seedbed in advance and scatter the seedlings to replant the seedlings in the specified land. And a sufficient amount of chemical fertilizer dung manure is applied to the prepared land. Within a few days of planting these seedlings, they are completely absorbed into the soil and you can see through this picture.
---
---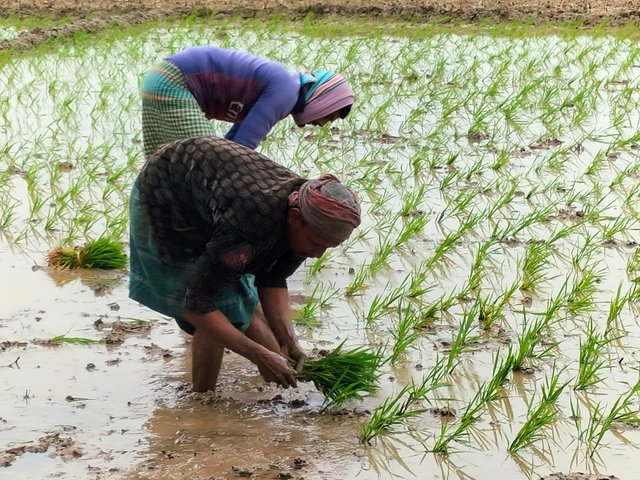 The seedlings are taken from the small seedlings and buried in the soil at a certain distance. And this work is done very nicely. Certain workers do this work. You can see through the pictures. How to plant rice seedlings in the soil. There are some workers working for planting rice seedlings and the scene of planting these rice seedlings looked very beautiful to me.
---
---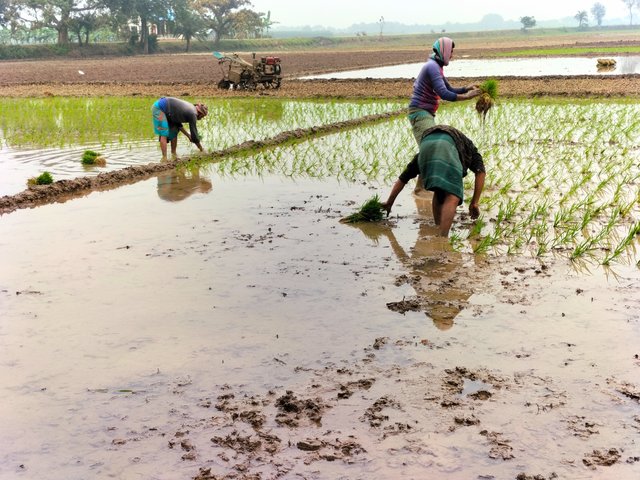 This work of planting rice seedlings is done in January of the year. Because at this moment there is a possibility of winter-spring time and rain. So at this time the land is prepared with timely power tiller, machine and these rice seedlings are planted. As usual, a certain amount of space is required for planting rice seedlings and you can see in your picture that some workers are busy planting seedlings of this rice plant. They are going to take these rice seedlings in a very nice enough space.
---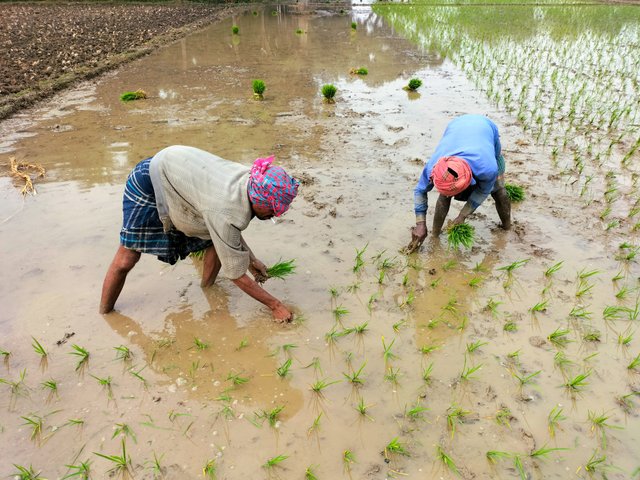 It takes time to plant rice seedlings. It takes about two to three hours to plant rice seedlings in about one acre of land. Although many workers are employed and the number of workers will depend on the planting of this rice plant. The more workers are hired, the more rice seedlings can be planted and these workers are paid a certain amount of money. The landlord hires these workers and completes the work of planting these paddy trees. Here you can see two workers planting rice seedlings at a certain distance. I felt very good in a very nice environment.
---
---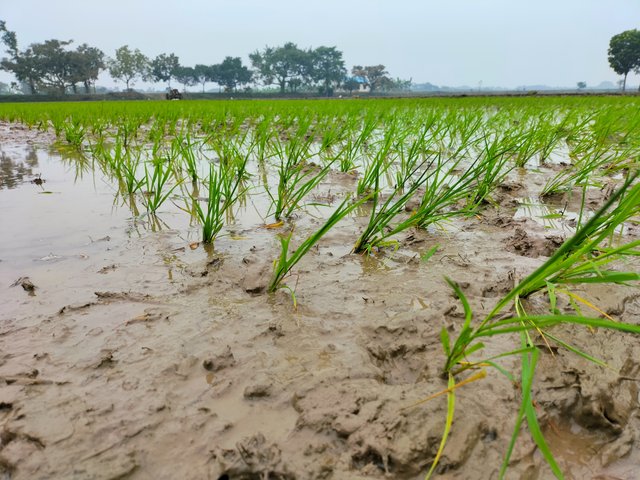 After the last stage of planting the seedlings in the field, they are re-grown within a week by re-application of chemical fertilizers. After about six months of planting from rice seedlings to paddy and after a period of time, these rice seedlings are ready for harvest. With regular care and application of chemical fertilizers, the desired crop can be seen after six months. This is a very nice processing. I have tried to show you how to plant and care for rice seedlings. An example of this is my blog.
---
---
Let's take a look at the qualities and benefits of rice plant below.
---
Rice is a seed national food. This rice is processed and converted into rice. And this rice is a sugary food which is very important for human body. Rice is common in almost every country in the world and rice is processed or cooked from this rice. This rice is very familiar to the people of almost every country and is made from rice. And this rice is made by cooking rice and which is very beneficial for the body and people like it very much.
The rice that is produced from rice and is used as rice, this rice is a sugary food which is very necessary for human energy. And this rice contains calcium, potassium, sodium and other vitamin rich foods which are very nutritious for human body.
Rice is produced from rice and the rice that is cooked from this rice contains various nutrients. Such as regulating the body's blood levels, increasing intestinal activity, eliminating any disease in the body, and increasing adequate amounts. And there are countless diseases of the human brain that can be eliminated in a timely manner by eating this rice.
The bottom line is that eating whole vegetables, fish, meat, etc. with white rice will make an adult stronger and more self-sufficient in time. And much of the energy needed to survive on Earth is found through it.
---
---
Hope you like my blog about rice cultivation and you have been inspired to cultivate rice. That is how I want to be among you. And thanks to all the admin moderators in this community, I got to write my blog about this through this community. So thank you all, I want to say goodbye like today, stay well, stay healthy, thank you.
---
I am a #Bangladesh user. I am not financially self-sufficient, so by participating in #Club5050 I would like to continue my activities on the #Steemit platform. That's why I'm hoping for the support of #Club5050. I am happy to share all the work of my #Steemit platform with Steemian friend
---
---
Photo Description
---
---
---
"Cc:" @pennsif @vipnata @alexmove @allahnawaz03 @liasteem @lachicarebelde
---
Stay home, Stay safe. Be aware of Covid-19.
---
Thanks everyone.
Best Regards.

---