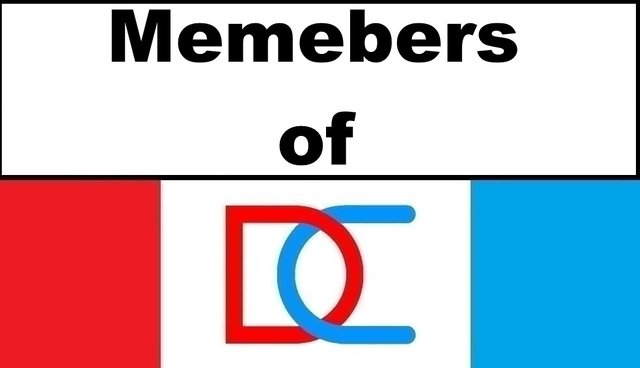 I'm @clixmoney the founder of @dcooperation !
I would like to welcome all the members of our community in steem !
Thanks a lot for subscribing !
---
Those are all the members for now :
---
I would like as well to explain why I gave this role.
Since @dcooperation is created for collaborations and to support dedicated steemians. I added all those steemians who have any social effect in the blockchain.
There are members who are already familiar to the community and others who are known in steem !
I hope I didn't miss anyone. Let me know if I did.
As you see to add a member I have to check this manually and give him/her the role. It consume some of my time that I dedicate to the community. You all deserve it guys. ☺
I'm glad to see @heimindanger the creator of @dtube among us.
@donald.porter one of the founders of @reggaesteem community.
@sgt-dan who is very active in steem communities.
@ura-soul the founder of ureka.org
@emrebeyler a witness in steem.
And all others who are active in steem, bringing value and promoting it to the world !
---
Now this account is autoupvoting 180 steemians and more will be added !
---
Our main principles will be :
The collaboration with steemians and anyone from crypto world to promote steem.
The dedication to steem blockchain to bring any type of value to all communities !
Our needs :
Posts created in our community. ( Any type of content is welcome ).
Content sent us to create on the account and power up all the earning.
Any form of support for the community, including suggestions and helping with the management.
Our goals :
To grow our account and increase the upvote.
To motivate steemians to collaborate !
To build a strong community in steem.
Anyone is welcome to the community !
---

---
Feel free to follow our curation trail and to delegate to us some power to support. You can also donate any amount of steem, we will use it to power up the account.
Please subscribe and create on our community here and get an autoupvote : https://steemit.com/trending/hive-177976
For more details about how our community will work : check this post
---
Promore your content to over 16,000 members in our facebook group !
We are in touch with @helpie and you may get support from them as well. In case your post is related somehow with promoting steem, we ask to use #promo-steem tag and you may get un upvote from @theycallmedan or @oracle-d.
All the earning of this post will go to power up our account ! We will never power down !