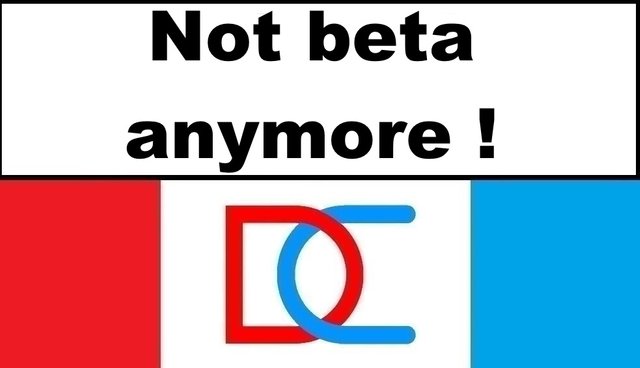 I'm excited to share that @dcooperation community is not beta anymore !
That means that communities are already tested and you can find our content in the main steemit website, but not in the beta one ! Here is the link to create in our community : https://steemit.com/trending/hive-177976
Please subscribe and create any type of content there !
The main idea of DCooperation is ''Decentralized collaboration''.
It was created to make steemians collaborate with each other and with all crypto community to promote steem !
Any kind of collaboration is welcomed. You can create interviews, podcasts, music collaborations any any content that's created with at least 2 steemians or more.
The goal is to motivate and inspire others to collaborate.
DCooperation is non profit project. All the content that's created on the account @dcooperation is going to power up the account. We also have our delegation program, you can check that here : Gamification in DCooperation !. And you can check as well who else we upvote Upvoted by DCooperation
For those who send us content we set autoupvotes for a month. The better is your contribution to the community, the higher the % of the autoupvote will be. We set autoupvotes also for those who create often in our community.
I may also support you with @tipu if you create in our community because I'm a curator there !
You can use for that not only steemit, but other applications as well.
Here is the @steempeak link : https://steempeak.com/c/hive-177976/created
And @threespeak link : https://3speak.online/c/hive-113221
To create a video in 3speak in DCooperation community. All you have to do is to select the community while you upload the video.
In case you want to send any type of content for us to be posted in @dcooperation , please let me know in our discord server. In case it's a video, you can use this website : https://wetransfer.com/ and send the file to : clixsensemoney3@gmail.com and let me know about that.
In case you are not in steem yet, contact me in discord and I'll create for you a free account with @dcooperation. We can create up to 2 free instant accounts a day with the account.

You can follow me in all these social media and let me know in the comments, how can I find you to follow :
---
Facebook group , Twitter, Quora, Reddit, Youtube, Instagram, TikTok , Medium, lbry , Uptrennd.
I'm promoting steem in all of them. Let's connect there and promote it together !
I'm also the founder of @dcooperation , the community where we collaborate. You're welcome to join us in our discrod server.
Here is the community in beta.steemit, you can subscribe and post in it : https://steemit.com/trending/hive-177976. We are giving autoupvotes for that and you can get up to $5 upvote for that.
Check here what else I do to promote steem : The efforts I do to promote steem !