Exactly one month ago, I wrote a little article here presenting my $1000 investment in RobiniaSwap. It was very simple, and I had great hopes for it, considering that RobiniaSwap opened with some fantastic APRs on their products, especially if you added liquituity to the BNB/RBS or to the BNB/BUSD pools. And that is what I did. How did it go?
My thoughts behind investing was simple...
RobiniaSwap sounds great.
RobiniaSwap currently runs with awesome interest on their pools and farms.
I was curious to test it myself!
What did I do?
I add $500 worth of BNB and $500 worth of RBS into the BNB/RBS liquidity pool on PancakeSwap. I harvested my rewards at least weakly, added them to the RBS pool, meaning that I received interest with my earned RBS tokens as well.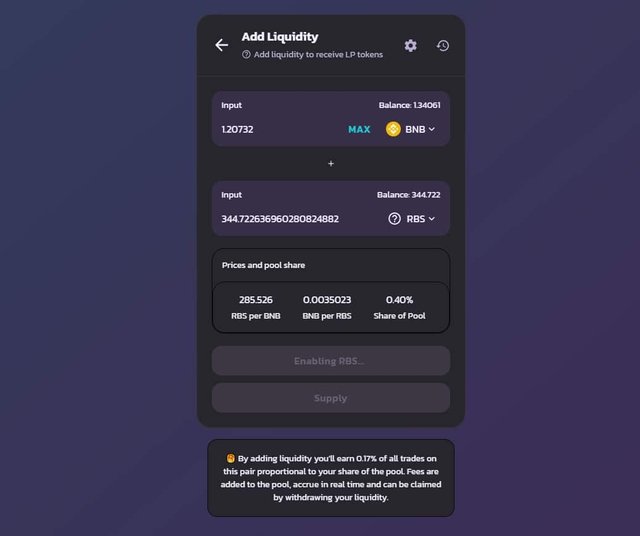 This was my original investment as I added my funds to the liquidity pool.
Now, one month later it was time to see what would happen if I received my tokens. Well, I wasn't surprised because I knew what to expect, but it wasn't the best thing I have seen.

Above you can see what happened.
In one month my original investment of 1.2 BNB and 344 RBS (that was added to the liquidity pool) turned into 1120 RBS and 0.38 BNB tokens.
That might not sound so bad, but the reality is that when I invested the 1.2 BNB was worth $500 and the 344 RBS was worth $500. As I removed the funds from the liquidity pool the 1120 RBS was worth $225 and so was the 0.38 BNB. In other words, $1000 turned into $450.
I earned almost 700 RBS with my investment in the period, and the value of those was $136, meaning that in this period my final result was making $1000 into $586.
Does that make RobiniaSwap bad?
Not at all! In fact, if I would have kept my investment, I would probably only go plus from here. After all, I did something very risky... I invested money in a platform just after launch. That is often disastrous, and it was here. Not only because it is risky, but due to the big RBS rewards the first week, people dumped those tokens like crazy, making the prices drop a lot. So, if I had waited one more week with my investment, I wouldn't have been able to buy only 344 RBS tokens for $500, but instead, I could have bought at least 1000 RBS and probably more, and suddenly the math would have looked much nicer today.
Many people say that RBS is in a beautiful buy-zone now, meaning that the price is very likely to increase from here. So, I guess I might have watched the bottom selling my tokens, but for me, this was first of all an experiment, and I wanted to share my experience right here.
But no matter what, this is a useful lesson on the dangers of investing in general and also of impermanent loss that can easily happen when you invest money in liquidity pools.
So, there is no bitterness from my side, and I am curious to see the further developments of RobiniaSwap in the coming weeks and months, and years. I believe the platform has great potential :)
No matter what, I promised to return with the results of my one-month experiment, so here you have them. If you want to read even more about it, take a look at this article.
---
Do you have any comments or questions related to this? I would love to hear from you!