On January 21st in 2021, Nick Allen posted a tweet saying that he was an idiot. I don't like it when people speak of themselves in that way, but when you see things in perspective, it is easier to understand his words.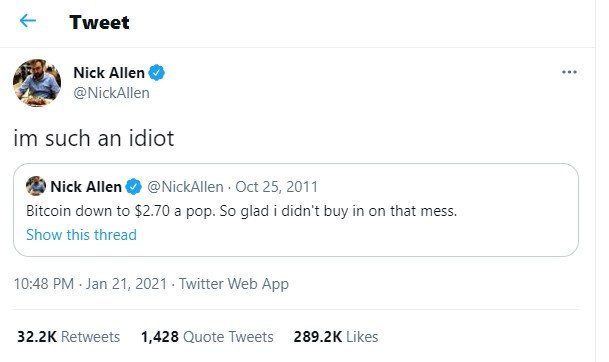 The same guy tweeted on October 25th back in 2011, praising himself for his wisdom not to buy Bitcoin, considering that it just dipped back to $2.70 in value. Who would be so stupid as to buy Bitcoin during the pump that came before the dip?
What is your perspective?
When you sit in front of your screen and see your cryptocurrencies and your portfolio lose 40% of its value in a matter of hours or maybe a day or two, it might feel scary, and you will regret not selling earlier, or you might regret not buying later.
It is so easy to get messed up if you just study your screen all day, and that is also why you have to decide whether you want to be a holder or not. If you plan on having crypto ten years from now, you better start holding them right now and not to keep them in a trading wallet. Just set them aside. You might regret it as you see the prices dump, but you will for sure be happy once you see the prices skyrocketing and reaching new levels.
I don't want to make this a long post!
A post doesn't have to be a thousand words long to be useful. If you have just read the tweet, I guess you have already learned your lesson about investing with a perspective and about having a vision longer than your screen a few centimeters away from your eyes right now.
We need to look into the future and go for a walk (instead of looking at charts all day). Isn't that what passive income is about, letting time and money do the job, while you do something else?