Introduction
---
Axie Infinity is an online video game based on NFT developed by Vietnamese studio Sky Mavis using Ethereum-based cryptocurrency AXS (Axie Infinity Shards) and SLP (Smooth Love Potion). As of the month of May 2021, it is the most expensive NFT collection.
Axie Infinity is a trading and fighting game that allows players to collect, raise, fight, and trade in creatures known as "axies" (characters based on axolotl), which are digitally digitized as NFTs. Eighteen months after the launch, the company estimated the average player to spend about $ 400.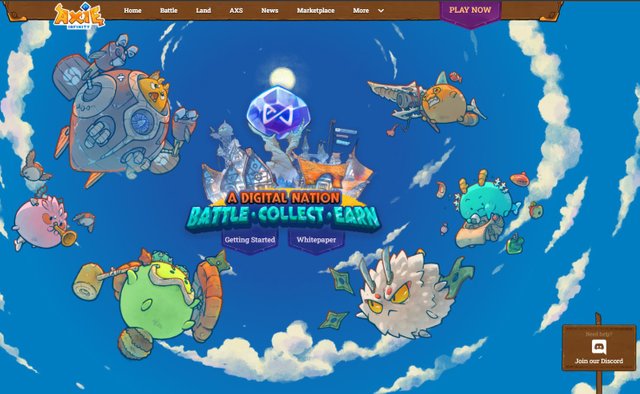 The game uses a "pay-to-earn" "model (also called a" pay-to-play-for-win "model) where participants can receive a token sold on Binance as an Ethereum-based cryptocurrency. Players can also exchange in-game assets as NFT. Axie Infinity allows users to issue their tokens every fourteen days. This Game has been also described as a form of gambling.
In June 2021, when the epidemic closed, CNBC reported that some people in the Philippines were playing the game as their main source of income In August, the Philippine finance ministry clarified that revenue from Axie Infinity is taxable, and suggested that the SEC and I The BSP may classify cryptocurrency as a currency or collateral. As of September 2021, most of the players have been based in the Philippines
About game
---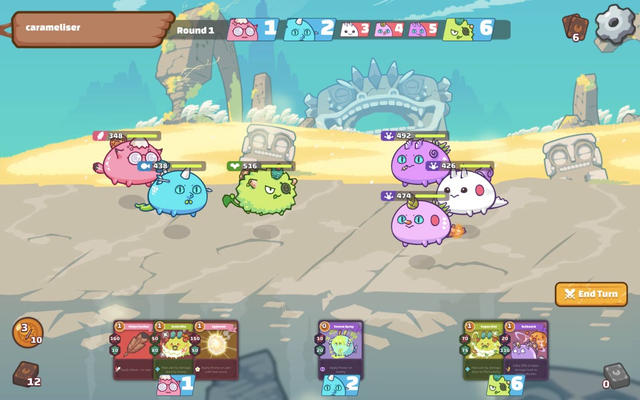 Image sources
In Axie Infinity, the players have beautiful creatures called Axies. Each Axie is a non-disruptive token (NFT), which means it is a unique digital collection of its own. Players can breed and fight Axies, as well as complete demands and farm resources.
There is a whole economy in this game (a world called Lunacia). Players can use their in-game tokens - Smooth Love Potion (SLP) and Axie Infinity Shard (AXS) - to purchase land, a farm, or raise Axies in Lunacia. And since tokens are priced, players can also use them to pay rent or food in real life.
" You should have at least three Axis to take part in the game "
As an investor, you are more likely to buy AXS tokens in the belief that they will grow in value over time. However, Axie Infinity is not intended for investors - a community that encourages token holders to participate.
And participation can be expensive. Especially another part of the success of Axie Infinity is that the price of Axies has gone up. Players used to start at $ 5 to $ 10. Currently, Axie's minimum value is estimated at $ 200, so players need to spend $ 600 to play. Axies can reproduce up to seven times before they become sterile.
You will also need two wallets and a piece of Ethereum (ETH) before you can buy your first Axie.
People were leaving their jobs to play Axie
---
According to the Crypto day newsletter on Substack, the average player can earn about 4,500 SLP a month. At today's prices, that's about $ 1,500.
Axie says more than 250,000 players play daily. The game is time-consuming and strategic. Players not only need to carefully reproduce their Axies to develop certain skills, but they also need to complete requirements to gain the ability to allow them to participate continuously.
As a result, some workers in countries such as Vietnam and the Philippines give up their day jobs to dedicate themselves to Axie. It has helped many people with the epidemic-related economic struggles, though many see it as a side job rather than a day job.
Prices were exceeded 600% per month - and then halve
---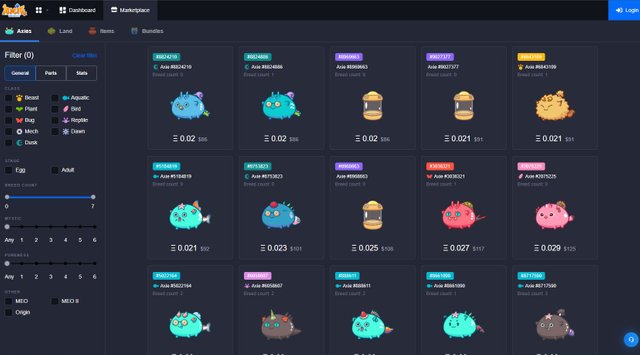 The marketplace of Axis infinity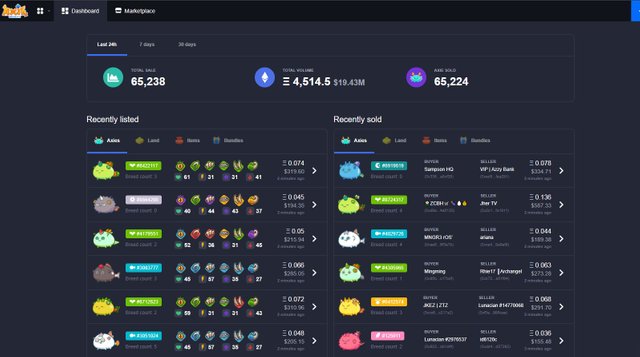 The Dashboard of Axis infinity
From mid-June to mid-July, the AXS exceeded more than 600%. The price peaked at $ 29.13 on July 15 before falling to $ 14.19 on July 20. At the time of writing, AXS was up again.
All cryptocurrency prices fluctuate, and high price volatility is often driven by investors who see the coin rise and fear that they will miss out. Make sure you do your homework and check out Axie's long-term energy before buying.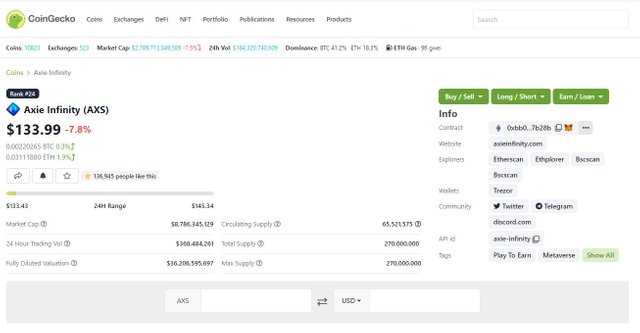 Today the price of AXIE INFINITY (AXS) is 133.99 USD, Coingecko
Axie infinity links
---
Official site: https://axieinfinity.com/
Marketplace: https://marketplace.axieinfinity.com/
White paper: https://whitepaper.axieinfinity.com/
Discord server: https://discord.com/invite/axie

CC: @crypto.piotr @project.hope @lanzjoseg @josevas217 @achim03
Note: All images are screenshots taken by me except one image in which I have given the source
Looking forward to your responses
CHEERS,
@TEKY