I am sure that all the people who are in crypto will be aware of ChainLink. It has been the best performing asset in the bear market and it continues to thrive. It has been hitting all-time highs day after day and it shows no sign of cool off. ChainLink is almost at a market cap of $400 billion with each Link costing $10.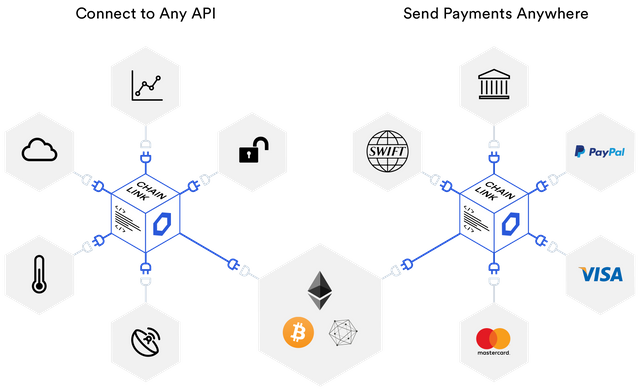 Source
What most people don't know about ChainLink is the tech behind it. ChainLink provides data from the real world to the blockchains with the help of oracles. ChainLink connects the outside world with blockchains in away. ChainLink is obviously the king of decentralized oracles but there are some new players in the market that have seen huge growth over the past week or so.
BAND Protocol
Band is the most popular decentralized oracle for Defi having a market cap of around $150 million. Now, this market cap is tiny when compared to ChainLink. There is still huge room for growth. Band is actually a first Binance IEO to be listed on Coinbase. It is on fire right now and probably will cool off and then continue its run upwards.
Tellor
Teller is relatively older than Band and has been around since October last year. I have seen a few people mention this project but it never really took off until recently. It reached its all-time high of $22.10 just a few hours ago. It is not listed on tier 1 exchanges yet and once it gets listed, the prices might skyrocket. It has a market cap of just $28 million meaning the room for growth is huge.
DOS Network
DOS Network has been around for more than a year but nobody had heard of DOS until recently. This past month has been excellent for DOS as it has risen 30 times in value in the last 30 days. It is still in an uptrend and shows no signs of coming down. This decentralized oracle for Defi comes with a market cap of $27 million just behind Tellor.
DIA
DIA is my favorite project after ChainLink as it just came out recently and has a much lower market cap of just $18 million. DIA just hit the market yesterday and since then it has done almost 3x at price. To be honest, I have been waiting for this thing to correct a hit so that I can buy it but I haven't been able to do so just because it shows no signs of cool off.
I know of these five decentralized oracles for Defi and all of them have recently hit all-time highs. This niche is on a rise right now and we might see more gains over the next few months. Right now this niche is super hot everything related to decentralized oracles for Defi is rising in value. We have seen in the paoraclet similar projects can coexist, therefore, I believe that more decentralized orcale based projects will keep popping up.
This is not financial advice. These are personal thoughts and they are meant for information purposes only.DYOR before investing.
Download Brave and start earning BAT.