Good morning have all dear PH community, recently there was a news in the technology portal "Elchapuzainformatico" this called my attention strongly because "Kingston" one of the most recognized brands in the manufacture of storage memories, unveils its new M.2 SSD memories high speed capacity and durability.


@Rubenp <Drawing made by @rubenp

A couple of months ago I was publishing about the superiority of mechanical disks in storage capacity, but that their read and write speed was much lower than the new SSD technologies, in addition to having a shorter lifespan. Well thanks to the launch of Kingston this is a thing of the past, because this new series of SSD It is superior in all areas to mechanical disks, I will show you what we are talking about.
Kingston KC3000
Uses Pci 4.0
With read and write speed of up to 7000 MB / S
It will come in devices of 512 Gb 1 TB 2TB 4TB and 8 TB plus we must not forget that today the best plates are armed with up to two SSD ports which will allow us to have much larger storage faster and more durable in our computers. The durability of these new storage devices is in the 400 TB of writing before presenting some type of failure. What we can draw in concrete is that the era of Mechanical Disks could be ending especially because its durability is very low 20,000 hours on so from here we give you the recommendation that to keep safe your data on the computer, use SSD memories if you do not have M.2 Port, you could also choose to rent a cloud for the safeguard of your most important data.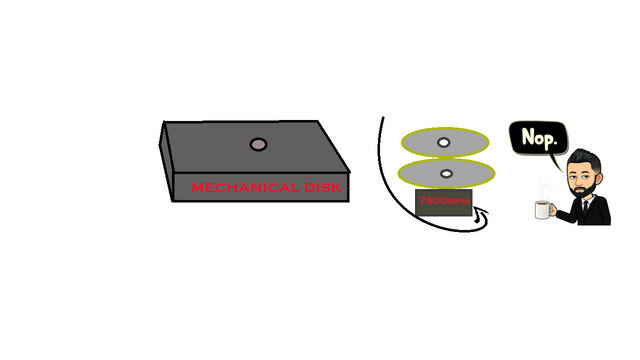 @Rubenp
Drawing made by @rubenp

References:
https://elchapuzasinformatico.com/2021/10/kingston-kc3000-ssd-pcie-4-0-7000-mb-s-de-lectura-escritura/