What could be a double-edged sword, but it has its good side, to access a MetaMask wallet the most important thing of all is to save the keywords they give us, as these will be the only way to recover the account when you change browser or computer or even if the wallet plugin is damaged.
These words must be placed in the same order in which you saved them.
Recommendations for saving the password:
Write it down on a sheet of paper and safeguard it well.
Keep it in your trusted devices, never in your cell phone.
Protect your files with the password by making a RAR file and putting a password on it.
Upload it to your cloud, but first save it to a password protected RAR file, this way it won't matter if your devices are stolen.
Once the password is secure we only need to place a password on the wallet.
Use passwords that have capital letters and numbers and symbols, this will help increase your security level.
Once inside it is ready to use, just like Steem key Chain, it will ask you for a confirmation, which in this case is known as a signature to access the wallet data.
At the top is our link for transfers, this unique address allows us to send it to receive transfers to our MetaMask wallet, at the bottom we have the coins we have added, and at the top we have the network through which we will process our cryptocurrencies.
How to add a new coin in the Wallet?
Step 1: Use the add tokens button at the bottom.

@Rubenp

Capture

Step 2: fill in the form with the token data, for that you must access the token's website, for example using the page:
Step 3: using the Smarth Chain network is always recommended because it does not charge as much interest as Etherium.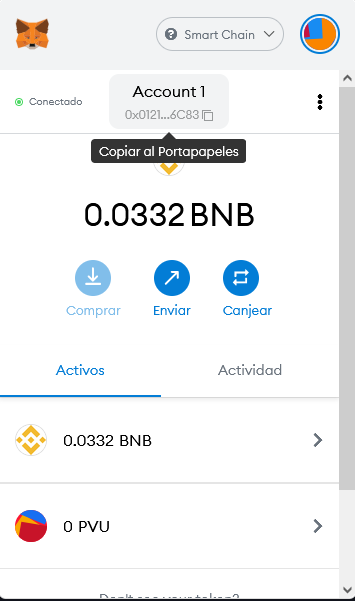 @Rubenp
Capture