Recently I read an article about the company Sega, this called me strongly attention as these will make a strategic alliance to develop video games in the cloud using the platform "Azure" from Microsoft, and this gave me cause to speak now that everyone already understand that video games can be from a means of entertainment, to a job, then I will take the opportunity to get ahead technologically and know what are the video games as a service in the cloud.
Video games are a set of programs that work to give a command experience on avatars in 2D or 3D figures, with different finishes depending on the genre of the video game.
To play a video game, you need a computer or a console with specific Hardware for the video game, otherwise this would not work properly, this is because, to run the complexity of the graphical interface of a video game graphics processing is needed, other than those granted by the CPU processors, is a graphics processor or GPU, now well, then how is it that my computer has games and I do not have a GPU?
You are wrong if you think you do not have GPU, these often come integrated in a sector of the processor itself, and its capacity will depend on the processor version we buy, if you want to know which processors have integrated GPU train I invite you to see my Post of Processors and how they are classified.
The problem is that every time the video games require more and more powerful hardware for its execution that coupled with high prices have presented very viable alternatives for countries with good internet service, not in mine.
These services are the video game in the cloud, I will make a drawing for you to understand how it works: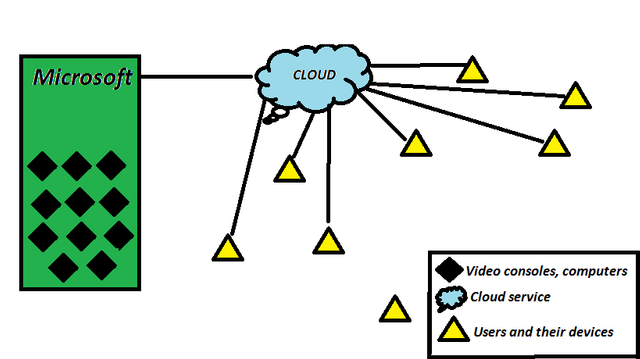 Clip aqui
Drawing made by @rubenp

The service is provided by the company, in this case Microsoft has the hardware you need to play the video game you want, they hang the service in the cloud through a web page, it allows the user to enter the cloud where are the video games you want using only internet connection when you access a video game this will not be using the hardware of your PC, Smartphone, TV but in turn your device will only function as a screen to view and manage the video game that is on a console or computer in the company.
These services work well with internet of 10 Mb / second without having any problems, of course these services are paid, but accessible I hope you liked my post and see you in the next.
Reference :
https://elchapuzasinformatico.com/