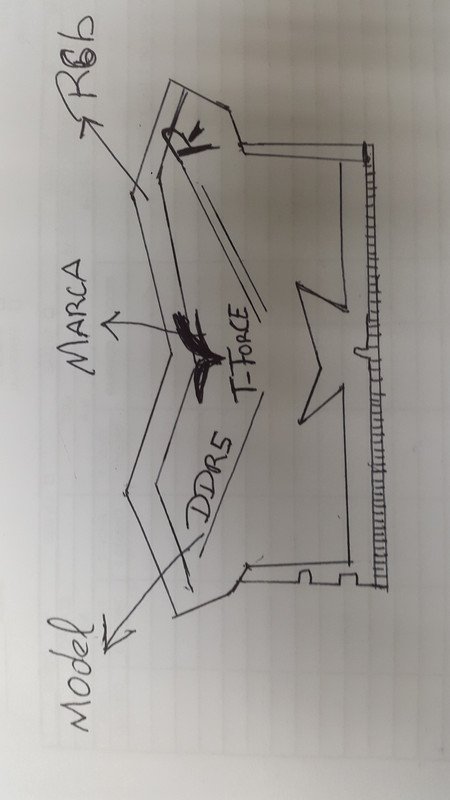 Clip aqui
Dibujo hecho por @rubenp

It is already a reality that DDR5 RAM is here to join the new generation of devices, as the replacement of the previous DDR4 but what is better than these DDR5? The first thing we must understand is that they are not RAM memories with more Storage, that is to say its higher ranges will come 2x64 GB since like the processors we have raised a limit, even it is not necessary to have more RAM storage capacity where these devices really shine is in their response time, with frequencies of 5200 MHz, compared to the ddr4 4800 mhz but perhaps some may wonder, how does the frequency increases the speed?

The RAM memory is responsible for loading the information running on the computer, ie all programs that are running must pass through the RAM memory to be organized and interpreted to send them to the processor, the processor sends back that signal and translated which in turn is sent to the GPU graphics processor to display it on screen, unlike other computer memories RAM memories are the fastest, by far, because it must receive from the hard disk and send to the processor back and forth directories quickly and efficiently.
It should be noted that RAM memories do not store data, they only interpret and send it to the processor constantly, when a program is closed, the RAM memory stops storing it.
Returning to the DDR5 RAM, the model that is already available is T-Force Vulcan and T-Force Delta RGB, which apparently have some super modern models in blue and red, which for Copy issues, I can not show you, but my duty is to inform you of its existence.

T-Force Vulcan DDR5 RAM features
They will be compatible with Asus, ASRock, BIOSTAR, Gigabyte, MSI, and some others that are about to present new boards, come in presentations of 16 GB, 16X2 32, and 32X2 with Overclock capability, also with native frequency of 5200 MHZ.