We often say that life is full of challenges and there is no life without struggle. This applies in our life but does it also apply to crypto? The answer is yes and I can do this at least for the Indian crypto community. Here in India, if one good thing happens then it brings a bunch of other problems and this is why things are looking to be even more challenging and complicated. It seems like this journey is not just going to be long but also tough because even after many good developments and innovations things are getting worse.
We know that anything can grow only when more people participate and if we try not to discourage people from taking part then this will not let the ecosystem grow. Despite all the issues and no regulation scenarios Indian crypto community managed to do well and even the growth rate was significant but things have turned the other way around effective 1 April 2022 and it's all because of higher tax, uncertainty, and lack of banking support. Banks have been creating issues since the beginning and even RBI has never supported crypto. The blanket ban which was implemented in 2018 was because of RBI however in 2020 it was removed by the supreme court.
Now there is another issue that is with almost every crypto exchange in India. Banks have stopped providing banking support to the exchanges and because of this instant deposits and withdrawals are not working. It will take 7 days time to process the withdrawal which is a long period and it's going to affect the investors. I did not try to withdraw for long so thought of checking if it's working or not and yes it is offline.
I use Bitbns exchange so I checked and here is what we can see. There are two ways to withdraw money from the exchange.
Instant - It's disabled.
Normal - this will take 7 days which is a very long time.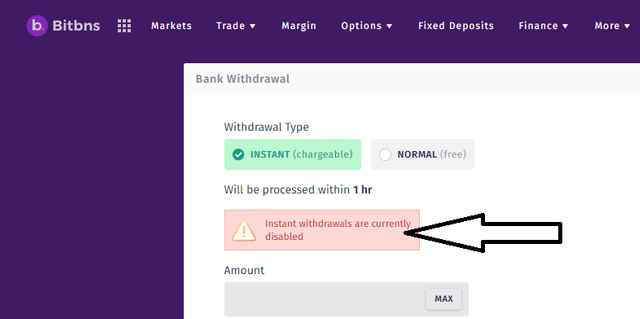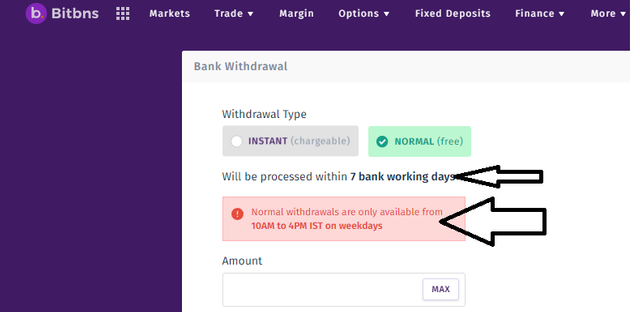 Now in this scenario, if someone wants to withdraw his own money then also he has to wait for 7 days and this is something not good at all. People may have emergencies and they would not be able to get even their money on time because the banking system is not providing the support to crypto exchanges and this is happening even when govt has implemented a 30% tax. How will govt earn tax if people would not get the basic services to trade because of this there is a drastic drop in trading volume across exchanges in India.
This is not a good situation and ideally, this should not happen at all because instead, it's making things worse for the crypto industry in India. Even we can say that the brain drain has started and recently wazirx exchange founder has moved to Dubai because this country is crypto-friendly and this is just the beginning. If this situation continues to happen then probably more such scenarios will be repeated and this will take India behind in the innovation and digital revolution that the world is going to see through crypto.
Thank you so much
Stay Safe