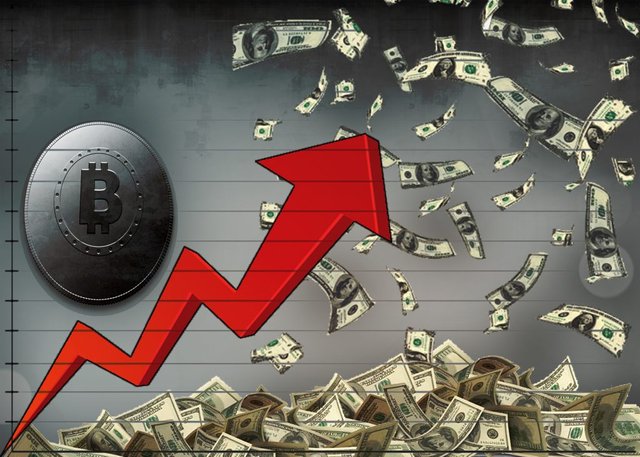 Bitcoin's price shoot of last week after the launch of ProShares's Bitcoin Futures ETF
Wow, so suddenly last week Bitcoin crossed over its 59,553$ resistance, breaking its previous All TIme High(ATH) price levels, with BTC having touched the price of 67,000$ before correcting now to 62,000$ levels, having formed support at its previous resistance level at 59,553$ .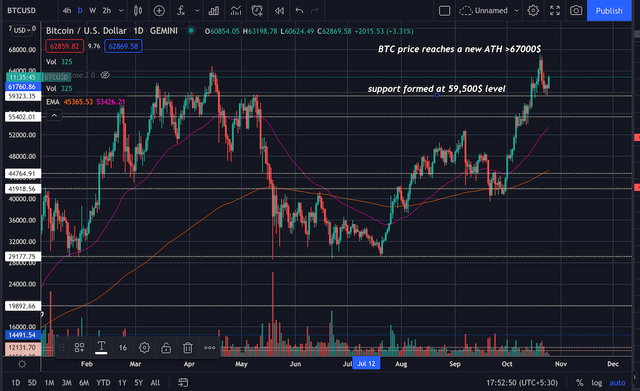 BTC's price - Trading view chart
The catalyst for this was being screamed all over crypto news media, with the news that finally a BTC ETF launched in the US, with the launch of the ProShare's Bitcoin Futures ETF in the New York Stock Exchange.
Launched Bitcoin related ETFs in the US, don't track the price of a actual Bitcoin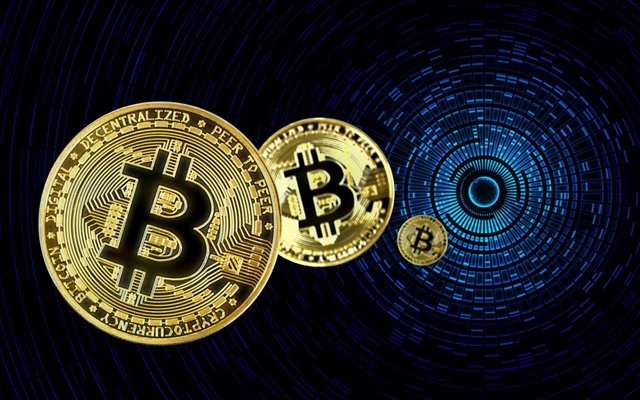 Image Source
After this, more Bitcoin futures ETFs got launched last week, so BTC's price skyrocketed nicely. However, it's important to understand that all these Bitcoin futures ETF products are not ETFs that track the spot price of Bitcoin, they only track the price of Bitcoin Futures Contracts that are traded in CME (Chicago Mercantile Exchange).
Here, prices are based on futures contracts that are agreements to buy or sell BTC at a predetermined price at a future date. These contracts are settled in cash with there being no actual Bitcoin changing hands between the parties involved.
These Bitcoin futures ETF products will not track the actual price of Bitcoin, and the price of these Bitcoin futures ETFs would even differ from the price of an actual Bitcoin.
SEC's reluctance of approving a real BTC ETF product
So, this is not the kind of BTC ETF product that retail investors want, they actually want a real BTC ETF product that tracks the price of actual Bitcoins, pure and simple.
However, SEC is reluctant to approve a ETF product that tracks the spot price of Bitcoin, even though it has received several applications from well known companies outlining their plans of introducing such a BTC ETF product. The reason the authority gives for its stance is that they fear manipulation of Bitcoin prices in such a BTC ETF product.
The approved ETFs are regulated since they track prices of CME Bitcoin futures contract
SEC gave its green signal for these launched Bitcoin Futures ETF products because the CME futures trading market that these ETFs track is regulated and supervised by the Commodity Futures Trading Commission(CFTC).
Even these Bitcoin related ETF products were a superhit, with institutional investors buying them up, then imagine how popular a real BTC ETF product would be!!
It would be practical for the SEC to give way for real BTC ETFs products to launch
There are early investors who are exposed to BTC by owning real BTC cryptos, nothing like it. However, there are still many investors who want exposure to BTC, but don't want to custody BTC by their own in wallets etc, so the market demands an actual BTC ETF product which the US SEC is still not willing to approve!!
Once a real BTC ETF product is approved, it would increase adoption of Bitcoin and would do great in growing the crypto industry. SEC may have their reasons to not want to approve a BTC ETF, but it is time for them to change their stance as countries like Canada and Brazil have already given their approvals for BTC ETF products that track spot prices of BTC so there are various spot BTC ETF products out there for US investors to invest in anyway.
Thank you for reading!!