Introduction
A curation trail is a mechanism for our community account to vote authors with outstanding content inside our community for the benefit of new users joining our community. The more users who sign up for a curation trail account, the more valuable it becomes. We have urged members of our community to join our curation trail, however some are unsure how to do so. As a result, anyone interested in joining the @ph-support curation trail - or any other trail - will find this guide useful.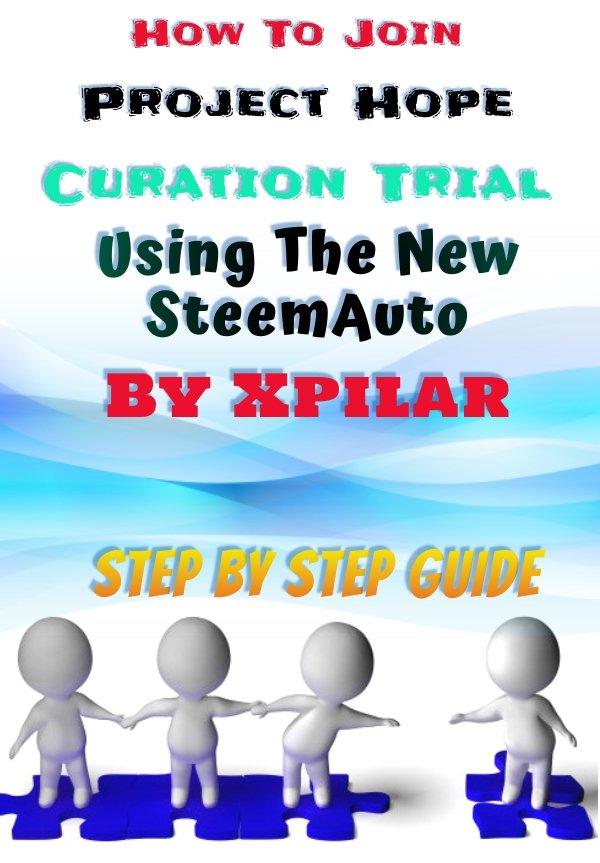 Design made by me
Today I will talk about the step by step guide on how to join project hope curation trial called ph-support
Steps to join @ph-support curation trail using the SteemAuto by Xpilar
Note: For a better understanding, compare each step to the graphic illustrations below the text. The screenshots were taken from a mobile device.
Step 1: Visit https://worldofxpilar.com/ on your browser
Step 2: Scroll down and click "Login/Register"
Step 3 Click on "Continue", enter your username and posting key and click on "Get Started"
Step 4: Click on "Login", scroll down a bit and click on "Steem Login" to proceed.
Step 5: Click on "Continue"
Step 6: Enter your Username and Active key and click on "Get Started"
Step 7: Click on "Continue to worldofxplilar.com"
Step 8: Click on "Authorize" to proceed
Step 9 You will be redirected to another page select "Curation trial" option.
Step 10: All the list of the Curation trial will pop up according to thier ranking, but you can decide to search for "ph-support".
Step 11: The ph-support Curation trail will pop up Click on "Follow"
Step 12 Click on "Ok" to confirm and it's done
Step 13: You can decide to change the setting of your voting percentage from default (50).
Step 14: To do this click on "Setting", enter 100 in the box and click on " Save Settings"
Congratulations you have successfully join ph-support curation trail
Benefit of Joining ph-support curation trial
With the ph-support curation trail, you get a better curation rewards because it's set up in such a way that followers get more curation rewards. After you have upvote, a huge upvote from another project hope voting trail called ph-fund curation trial will follow. ph-fund is followed by account with large SP this will ensure larger curation reward.
You will have the previlage to support Authors that produce original and quality contents, cause project hope aim is to support original content creator

If you are following the Curation trial, as a content creator who intend to grow his/her account instead of powering down and cashing out reward, you have the upper hand to receive support from the curation trial since project hope aim is to support hardworking users.
Conclusion
This curation trail intends to promote original content creators as well as those who are dedicated to the platform and are not planning to leave anytime soon. The Project Hope team strives to improve the Steem platform by adding value. With the new SteemAuto by Xpilar, user can easily follow our curation trial and earn huge curation rewards, the platform is user friendly and very easy to understand all you have to do is to follow the above illustration, the image I provided can also be helpful.
Thank you all for reading, I hope the new and existing users find this article useful 🥰🥰
Cc: @crypto.piotr
Cc: @project.hope
Cc: @xpilar
Note: You can use the guide to Join ph-fund and other curation trial all you need to do is follow the above steps, instead of searching for ph-support, search for your preferred curation trail and you are good to go..
This is my Introduction post here