It's a new year and hopes are really high for Bitcoin to set a new all-time high during the early part of this year. Will January be the month when that happens?
Bitcoin has been trading below 200 DMA for a number of days now. That is a cause of concern for me. RSI is not gaining any significant momentum and has been moving sideways. Volumes have also been declining during the last few months, as shown in the chart below.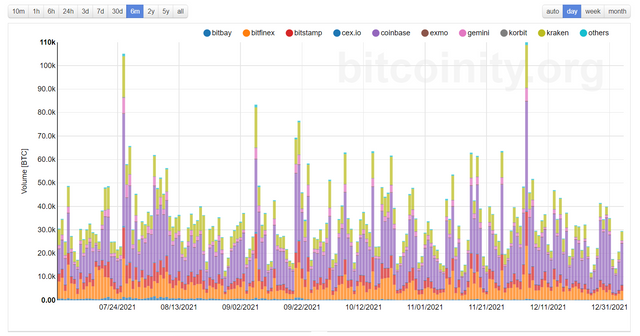 Source
Volume and price action suggest negative performance from Bitcoin in the near-term horizon. It looks more likely to me that Bitcoin is headed to $40k or below.
Bitcoin Open interest has been on the rise, as shown below.


Source
Some reports suggest that Bitcoin's open interest is back at levels when Bitcoin had hit its current all-time high. I do not have the updated chart but I think we are far from that level. The good thing is that open interest in the futures market is rising.
The other thing to look at is the funding rate.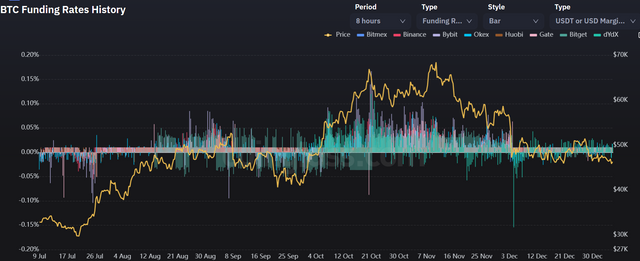 One needs to compare this chart with the price chart and that will tell us that when markets are overbought, funding rates are high. When markets are oversold, funding rates are negative. Funding rates indicate that Bitcoin is in fact quite neutral and a move in either direction is possible.
The last factor, that I do not think is very significant is seasonality.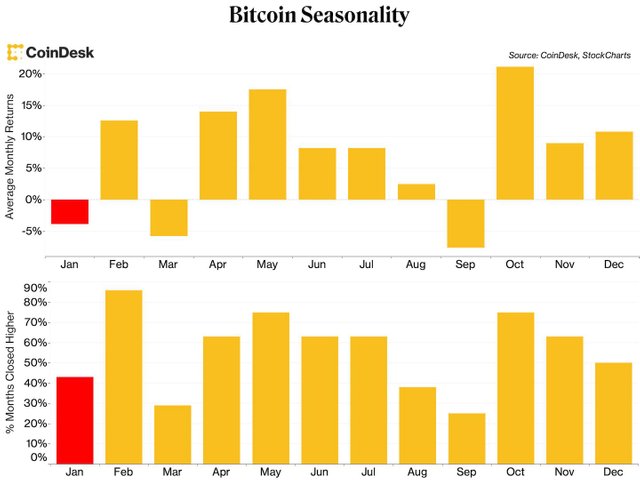 Source
January has not been a great month for Bitcoin historically. 60% of the times Bitcoin has had a negative return for the month of January.
Overall, price action, volume, funding rates and seasonality, all point to a drop in Bitcoin price from current levels. Open interest is rising but that optimism can go away quickly and Bitcoin needs more fuel for liftoff. I feel sub $40k is on the cards.