Hello Project Hope Community, I come with another post in which I want to show in a clear way how to operate in the RobiniaSwap exchange. I repeat that the same applies to any other DeFi system.
Well, a question that may arise in many of the current RobiniaSwap platform users is: what to do next with the RBS I earn?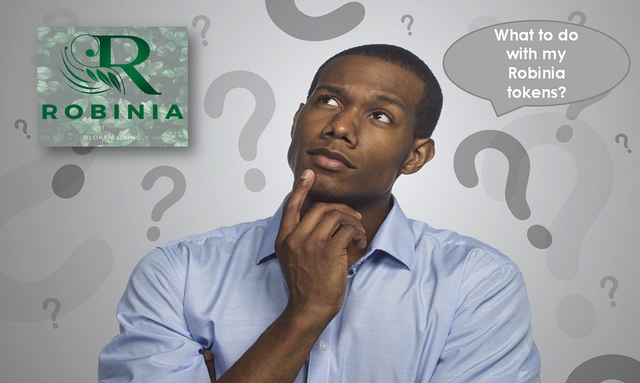 Edited in Power Point / SourceSource
Well, at this point I must say that the project has a BIDbot system, which even though it is not active, it is expected to start working soon, so we could change the RBS earned by votes in favor of our publications in Steemit, thus integrating in another way with this platform, but hopefully this will be a reality to be able to use it, hopefully very soon.
On the other hand, and it is something you need to know, to be able to understand the other way to mine RBS tokens is the management of the platform's exchange.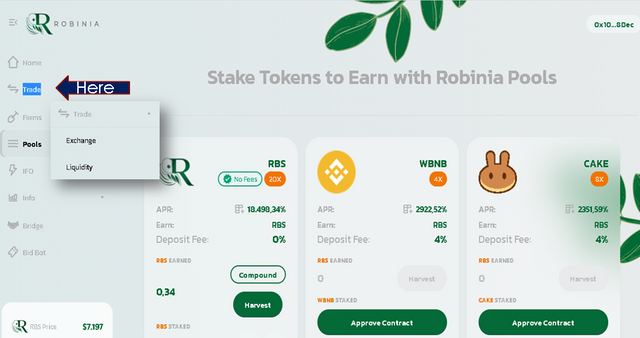 Source
We go to where it says Trade, to the left of the screen (image above), when we click on it we will see that two options are opened:
Exchange: to exchange our tokens, for example BNB for BUSD, or vice versa.
Liquidity: is the space we use to add liquidity in the system, that is to say, to join two cryptos, example: BNB and RBS, that we would have individually, and convert them into a token BNB RBS LP, and this is the way in which we could then make Stake and generate interest.
But in this Post I am going to focus on Exchange:
Here the operation is very similar to any exchange house like Binance, the difference is that we can not see the different prices of the token offered by buyers and sellers. Here it is direct, it is a smart contract that takes care of the process, practically.
In this case, to be able to add the Robinia Token we do the following process, we go to Trade, then Exchange, and it takes us to the following space, in which we will perform the following steps that are seen in order in the image below: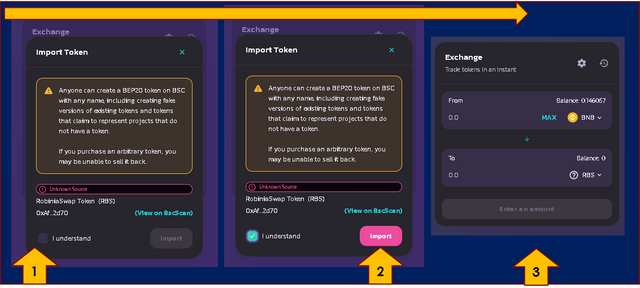 Source
At (1) they should check that they understand the above notice, then (2) import, and subsequently they will immediately see that the RBS token has been added to the Exchange(3).

Let's move on to the next point. As you can see in the image below, we must choose in the back the token that we have and we want to change for another one(1). When we click on it we will see that it offers us the option to select. In my case I select BNB.
At the bottom we must do the same procedure, only in this case we will place the token that we want to acquire, in this case, I select BUSD. (2)

Source
You can see that below it tells me the amount of BUSD I will receive for that amount of BNB I am exchangingI click on confirm (3).
As in all the process within the DeFi system it will ask us to confirm the transaction through Metamask (4). What we should do, simply, with an extremely low commission charge (0.12$).
This way we could exchange our RBS into BSteem, or vice versa. Or to a Stablecoin, or change BNB to RBS, whatever we wish to do.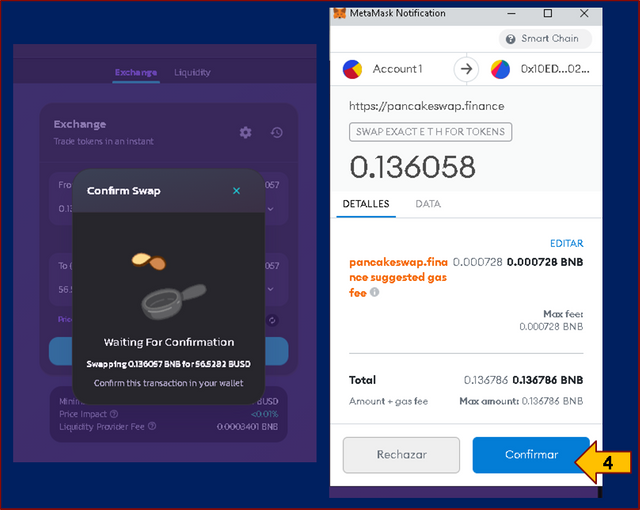 Source
---
To summarize, what seems to me could be the answers to the question What do I do now with my RBS tokens?, I have several options:
Keep the tokens to wait for the BIDbot to become active and be able to exchange for upvotes on Steemit.

Exchange them on the Exchange to a Stablecoin or another currency of your choice.

All the earned tokens can be exchanged on the Exchange to BSteem and continue to make Stake, to earn much more RBS each time.

Stake the RBS tokens, which is totally free, and in this way generate more RBS.
There are many things you could do with your earnings, everything will depend on your investment plan and obviously your confidence in the project. Particularly the RBS earned I put them in Stake in the RBS Pool, and continue generating tokens.
I hope I have been clear in this opportunity. This is not a Financial advice, you must analyze the market, establish your investment plan and take your position from your analysis.
Greetings.


I authorize the use of this banner to everyone who wants to do it.