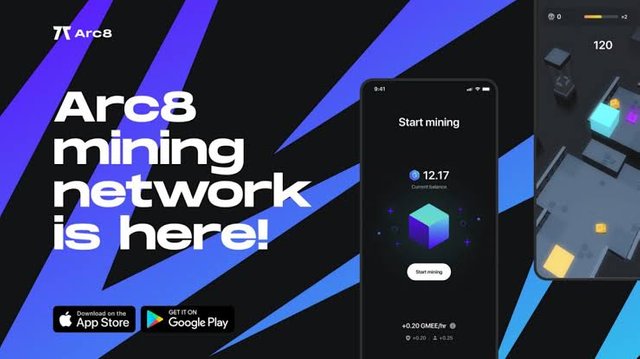 Everyone!!! I hope you are having a great time over there? It's really nice to see you visit my blog today and I must say I'm really happy to have a great personality like you visiting my blog today 😊. Thank you once again 💕
Today I'll be sharing with you a great mining app I came across with the help of a friend of mine. This new mining app is known as ARC-8 . This app enables you to start earning free GMEE tokens easily just by mining with the application on your mobile phone. In case you don't know what GMEE token is all about, I'll take my time to give a few description of GAMEE to ensure you understand what the project is all about.
Brief Description About GAMEE
GAMEE is a play to earn gaming platform which rewards users with GMEE tokens for playing games on it's platform. As stated on their official light paper;
We strongly believe in true ownership of digital assets in the new era of gaming, where tokenized game currencies and blockchain-based game characters will revolutionize the industry. All players should have the opportunity to earn from their skill in the games, and to be rewarded for contributing to the success of these games.
As we all know that the number of users playing games on blockchain to earn cryptocurrency rewards is drastically increasing more than we can ever imagine. A good scenario can be observed in that of Axie Infinity and The Sandbox which has over 500k daily active users and $670 million market capitalization as of August 2021 and this can also be observed in the rapid growth of AXS token.
According to GAMEE lightpaper , the team claimed that the GAMEE platform has attracted 30 million users globally who played over 4.7 billion games and earned over $9M in real rewards. This really shows how the level of development and prospect of the project. I suggest you hop in as early as possible to be part of the early adopters of such a wonderful project.
GAMEE TOKEN (GMEE)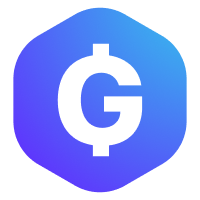 According to GAMEE light paper, the team defined GMEE token as "an ERC-20 utility token that is designed to be the currency of purchase, utility, reward and action in supported play-to-earn games provided on the GAMEE casual gaming platform". This implies that users can earn free GMEE just by playing games on GAMEE platforms. You can also decide to purchase GMEE on exchanges where the token is listed for investment or trading purpose.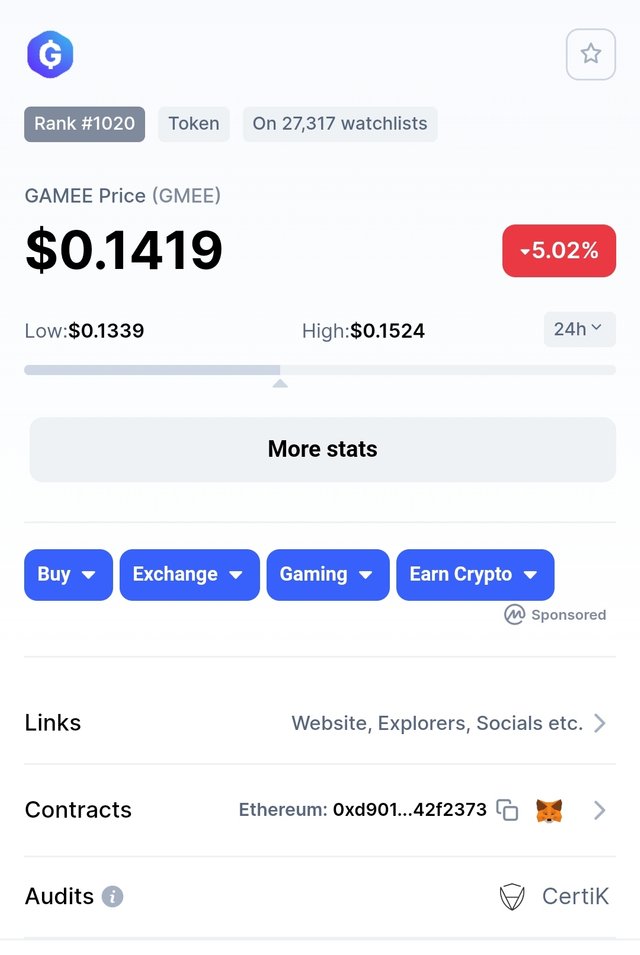 The coin currently as a circulating supply of 56,370,273 GMEE with a total and maximum supply of 3,180,000,000 GMEE according to coinmarketcap. The total supply of GMEE will be disbursed as shown in the project tokenomics below;
GMEE TOKEN TOKENOMICS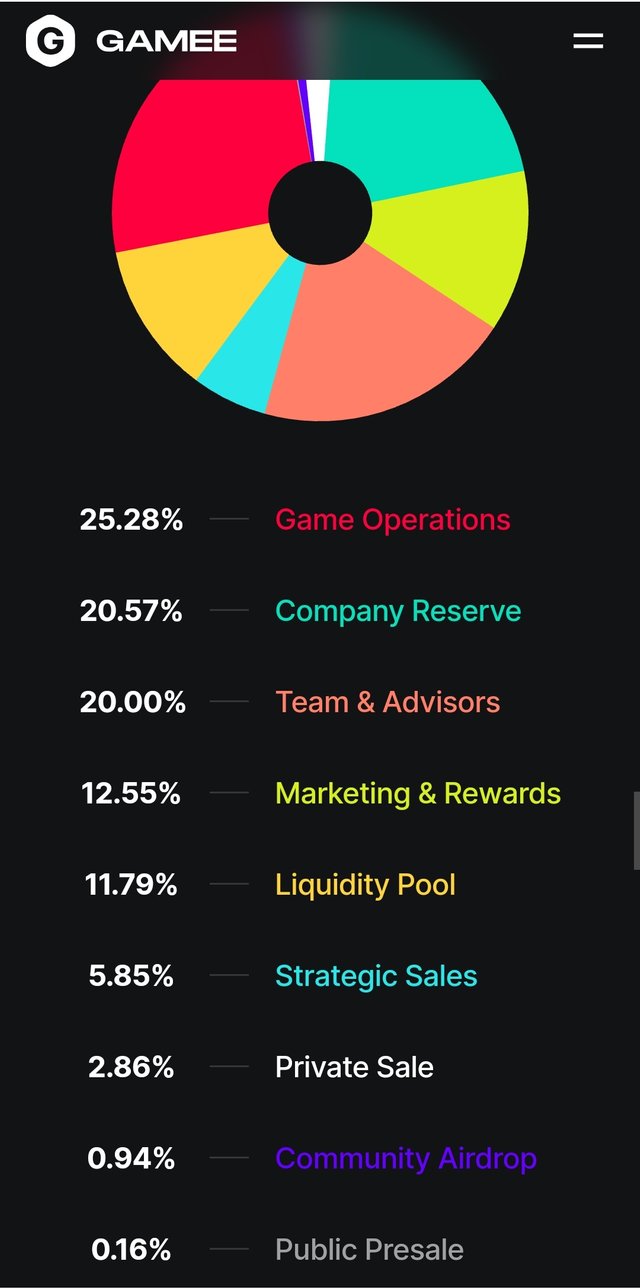 As shown in the image, 25.28% will be used for 25.28% game operations, 20.57% will be stored or held for Company Reserve, 20.00% will be for the Team & Advisors, 12.55% will be used for Marketing & Rewards, 11.79%will be used or stored in the Liquidity Pool, 5.85% will be used for Strategic Sales, 2.86% will be used for Private Sale, 0.94% will be used for Community Airdrop and lastly, 0.16% will be used for Public Presale.
EARN FREE GMEE TOKENS BY MINING WITH ARC-8 MOBILE APP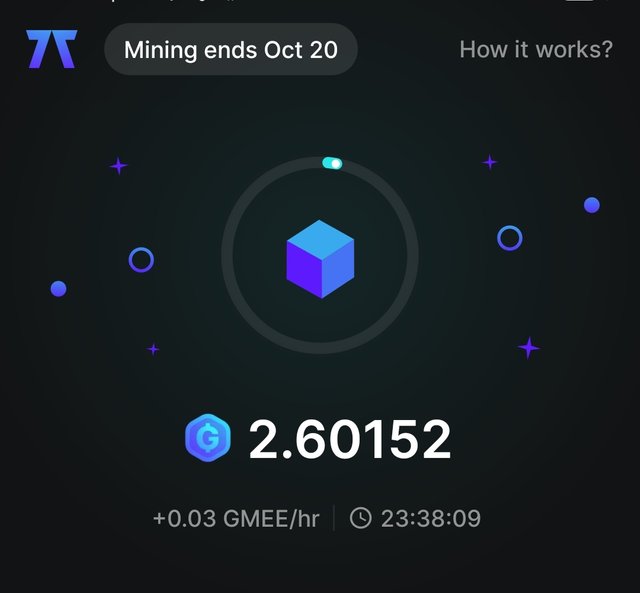 As a means to reward early adopters and other users who also wishes to own some GMEE tokens, ARC-8 gives you the opportunity to earn GMEE tokens for free just by mining with the mobile app. All you need to do is listed below;
Download ARC-8 mobile app from Google playstore (for android users) or Apple store (for iPhone users).

Login directly with either your Facebook or Google account

You can use my referal code AyanlajaAdebolaDebo when asked for referal

Then start mining every 24 hours to acquire more GMEE tokens.
NOTE: Mining of GMEE tokens on ARC-8 ends on October 20 and your GMEE tokens will also be transferred into your ARC-8 wallet which makes it easy for you to withdraw your earned GMEE tokens.
Thank You for your time and I hope you have a great day ahead with love from @hardaeborla
💕❤️💕❤️💕

Please Support the Project

Special thanks to @crypto.piotr (Founder) and the team.
Learn more about Project Hope Community by clicking here here

Swap/convert your steem easily without KYC using steemscan. Learn more about how to use steemscan here