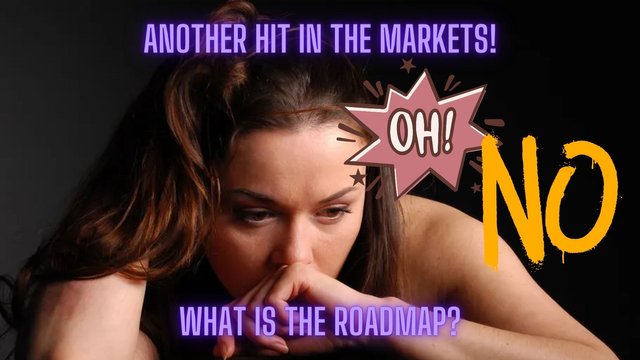 source
One of the most awaited events in June happened yesterday and it was the FED meeting where they announced the next interest rate hike. Before the meeting the capital markets signalized that they really would want a 75 Basis Points increase and their "wish" was granted. The FED raised interest rates with exactly the 75 Basis Points that were expected. On behalf of this news, the markets rallied a bit, before coming crashing the next day. As of now, the S&P 500 is down around 4% and it does not look like a bettering is in sight. This reaction was expected as this hike was the highest since 1994!
What Is The Plan Going Forward?
The current situation is not something people hoped for and the worst thing is that we are not at the worst point yet. So what are the things that are going to happen in the future? Well, for starters there will be another four FED meetings in this year. It is expected to see some more interest rate hikes that could bring the economy down to its knees. With the current interest rate hike the economy still looks very strong and the labor market seems to be very constant. In general these things could be seen as good signs but in order to battle inflation, consumer demand must go down.
The problem with such a high inflation is that you really need to cool the economy down in order to bring down the consumer demand. This could lead to a lot of lay offs which would then result in the cool off that is needed. It seems like this goal is very cruel but it also seems like it's the only tool the FED has currently to stop the inflation. This will mean that the economy will end up in a recession and once these news are out, we can start hoping for a turning point.
Some good news during the meeting was that the FED is not considering any interest rate hikes higher than 75 Basis Points. The problem with this is that during the last meeting a hike for 75 Basis Points was not considered as well. This means that 100 Basis Points or more are certainly still on the table. It will all depend on how the inflation will change over time and whether it will look like the measures are effective or not.
Without a doubt this ride will continue to be bumpy if not very downhilly. For the stock market, it is predicted to fall around 35% of its top. This means we are certainly not at the bottom as we lost only around 25%. The predicted bottom is around October but it will probably all depend on how inflation will develop from here on out. But not only the stock market is affected. Since the crypto markets are very heavily correlated with the tech stocks right now, it looks like crypto will make its way down along the stocks. While many thought that the Terra collapse was the bottom, it looks like we will see another crypto winter which includes yet again 90% losses from the bull-highs.
How Can We Protect Ourselves?
The real question now is: How can we protect ourselves? Is it even worth to invest right now and why waste your hard earned money on things that go down anyways? Well, these would be all valid questions and I am sure a lot of stock and crypto "teachers", "gurus" or "pros" will know an immediate answer to these questions. But I would be really honest right now: I wouldn't know what to say during times like these.
For myself I will stick to things that I already know. I will try to educate myself more and do my own research before investing into risky crypto projects. I am sticking to all the projects that I believe in and invest into them no matter what their current price is, because I am looking to invest into them long term. This goes for crypto as well as for the stock market.
What I will do additionally is to search for interesting crypto project, especially in the Play2Earn sector. As gaming is the most favorite thing to do right now, it makes sense to find a game that might blow up once the bull market starts again. But the beauty of crypto is that there are so many other sectors that are currently interesting and developing! It is truly the future and there is no way around it, which is why I am staying bullish and hope that I will have time to accumulate enough coins and tokens during this bear market aka crypto winter.
Conclusion
Yes it looks very red and cruel right now. There is literally no hope in sight and rumors of the liquidation of Michael Saylor might not help the FUD. This situation is exactly the test that will separate the long term serious investors from all those "hype boys" who just wanted to do a quick buck. Which side are you on?
Published by ga38jem on
Steemit
On 17th June 2022