Hello dear friends.
Bitcoin is trading today (at the time of writing) at $19717, which is its worst record in the last two months, but, as it seems that historically September does not seem to be a good month for Bitcoin.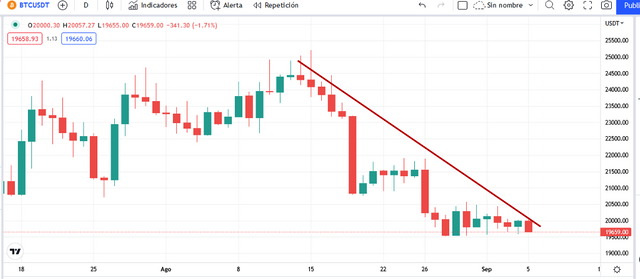 Source: screenshot taken from Tradingview.com.
We have seen how, since a local high of $25200 was recorded in mid-August, Bitcoin has been trading below a downward resistance line, a move that has caused BTC to drop below the $20000 level entering the month of September. And as we can see in the chart below, September is usually a down month for this asset, registering declines in this period over the last 5 years.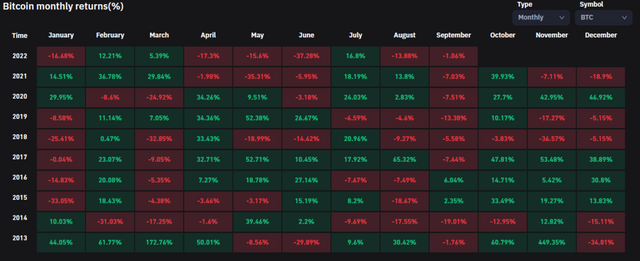 Source: screenshot taken from Coinglass.com
So, the data seems to indicate that September in a bearish month for the Bitcoin, if we look at the following monthly candlestick chart for the BTC, we can see that in September 2019, 2020 and 2021, the Bitcoin price recorded bearish candlesticks, an interesting fact is that both in 2020 and 2021 these candlesticks were enclosed by bullish candlesticks, which highlights the particular bearish behavior occurring in this month.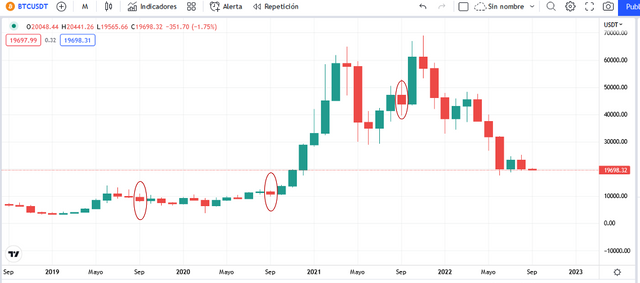 Source: screenshot taken from Tradingview.com.
The current bearish movement is supported with an On-Chain metric, the Realized Price; which as we know, is a metric that is obtained by dividing the sum of the value of the coins they had at the time of their last transaction by the amount of coins in circulation, resulting in a more accurate representation of the value of BTC, as it subtracts from the equation the Bitcoin that have not moved in a long time or has been lost. This is a very important metric to consider, as every Bitcoin price movement below the line of this indicator has been linked to a bottom in the market.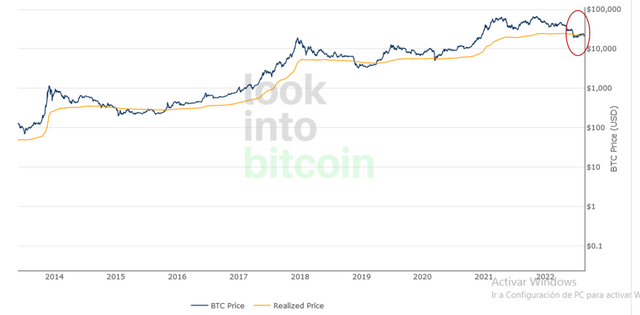 Source: screenshot taken from lookintobitcoin.com.
And as we can see from the above chart, currently the BTC price is moving below the realized price.
Why is it that September is generally a month of losses?
Last August 29 cryptocurrency analyst Thomas Kralow explained to his YouTube subscribers a possible reason for this behavior, according to the analyst the reason is that it has become customary that in this month investors in the northern hemisphere shed their assets upon returning from their summer vacation. It seems that they do so to take profits if any, or to stop their losses, since, as he mentions, it is a period in which they must cover children's school costs, causing many to abandon their positions in the market to meet these types of expenses.
Although he also made mention that the current bearish movement has been accentuated after the statements of the US Federal Reserve (Fed) chairman, which discouraged the acquisition of risky assets.
While there are reasons to consider that September is not a good period for Bitcoin, many long-term investors may be waiting for this opportunity to buy, considering that BTC will rise in price after it manages to bottom.
---
Thanks for coming by to read friends, I hope you liked the information. See you next time!