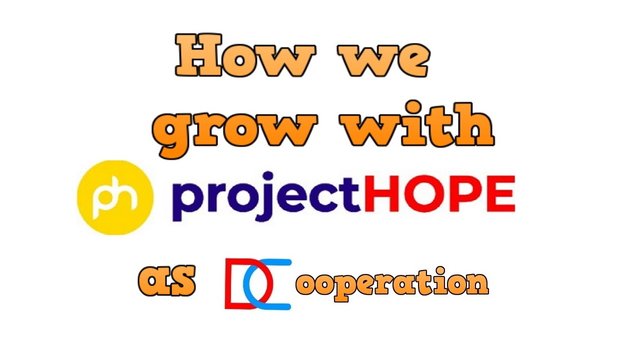 I'm @clixmoney the founder of @dcooperation
I already wrote in this post why I decided to build @dcooperation again, if you want to read the story of the project, check it here : Supporting ProjectHope by DCooperation !.
You may even call @dcooperation a subproject of Project HOPE. Not because I work in the team or something, but because I am a member of the same blockchain and I like how the community is supporting so many people on the blockchain. Maybe some here will call this buying votes or something, but that's not true. It's just a business relationship and noone is forcing the members to shares 50% beneficiaries. There is a fund of this community and of course if someone participate in the fund will be rewarded. Never lie to anyone that you are on the blockchain not for money. Maybe you are here for the community or the content or people, but you still have a part of your existence here for money. The fact that trending posts are that commented and others are not, proves my words. So, let's be honest. Hypocrisy doesn't make anyone looks better.
Anyway, enough of my crazy philosophy, let's move to the topic I'm writing this post about !
I started to curate only Project HOPE's content about a week ago. I set more than 30 members of the community to autoupvote and I will update the list. Those members are supported by the community because they always support the fund. Their content is also a good quality content. Most of them are active commenting in the community. That's why the community is so strong and solid.
I always check the earnings from the curation rewards in : https://steemworld.org/@dcooperation . Before curating the community I was earning about 1 steem power a week. With the community now I'm earning more than 3 steem power a week. And I'm always delegating all my power to the account. So, with time the curation will just grow. I also hope that I'll find delegators who will support the account to grow.
The goal after doing that is to support the main community Project HOPE and then to start doing something with @dcooperation. Of course I will try to create some collaborations again. I hope I'll find time for that.
Let me set the goal of having 2000 steem power first and then I will see what I can do with the account.
When the community was active, I was considering anyone joining as a partner, because I'm sure anyone can have the potential to bring value. So, I would like to ask you, what else I can do with the account besides powering up all the earnings and always delegating power to it. I need your feedback.
Maybe to prove my seriousness, I need to create a discord server to start discussing the idea.
The main idea of @dcooperation was to promote crypto to the world creating collaborations and interviews. So, I hope to start the community in all possible blockchains. But, since it all started by steem, I have to start here. I already have a community created here : https://steemit.com/created/hive-177976 . You may find content created there.
Maybe you still following the account, you may tell me in the comments, what I should do now, or if you were in my place, what would you done ?
Anyways, I'm glad I have the energy now to do something again.